The Happy Hollow Park and Zoo has been a place where young families and grandparents have made memories for 46 years.  Moms and Dads who themselves were once tots tearing through this whimsical land of fairytales, furry animal friends, and of course the beloved Danny the Dragon,  have the happiest memories of Happy Hollow.  It's no wonder that when the Happy Hollow magic started to fade after years of service, the residents of San Jose came to it's rescue by passing a bond measure to fund the renovation of their special place.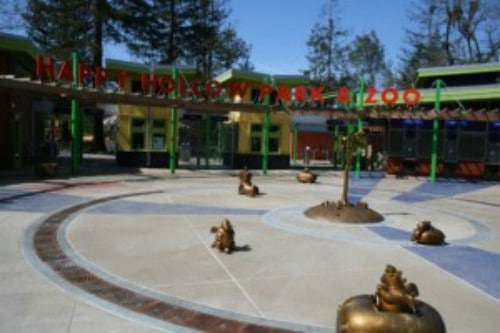 Now 20 months and $72 million later, Happy Hollow is reopening its gates following an extensive overhaul and expansion.  The grand opening of Happy Hollow is this Saturday, March 20, 2010.  Trekaroo got a special sneak peak last week and my oh my, are we excited to tell you that your younger children will be in heaven.  Grab your calendars, call some friends, and make a play date right now to visit the new Happy Hollow Park & Zoo.
From the moment I set eyes on the new entry way with it's delightful display of whimsical animal sculptures created by artist Tom Otterness, I knew we were in for a treat.  If you have a kid between the ages of 2 and 10, you've got to come check it out for yourself.  Here's what we loved about the new Happy Hollow:
Delightful playgrounds – At Happy Hollow Park & Zoo, you aren't going to find any pre-fabricated playground structures. Instead, you'll find custom-designed playgrounds that resemble works of art.  The Redwood Lookout playground was absolutely stunning. I just couldn't help myself and climbed atop this two-story tree house structure and slid down one of those magnificent slides.  Despite its size, there's a smaller redwood structure on the other side for the little ones to enjoy.  Parents can feel part of the fun by resting on the big boulders in the middle of Redwood Lookout and keep an eye on their "little monkeys."
In addition to Redwood Lookout, there were several bump-out areas for kid's needing a smaller playspace. Integrated into the new petting zoo is another fantastic playground called Lemur Woods geared towards a younger crowd.  At first glance, you might think it's another pretty fabulous playground, but it's strategic placement next to the goat pen and lemur exhibit was purposeful to encourage children to parallel play with their furry friends.  Don't be surprised to find your 4-year old prancing little a billy goat or swaying around the play structure like a lemur.
Read what other parents are saying about Happy Hollow Park and Zoo>>
Plentiful Learning Opportunities – Teaching about animal and environmental conservation is at the very heart of Happy Hollow.  No dreary alarmist documentary here to get the point across.  Instead, children learn about conservation through having fun observing, discovering, and exploring. In fact, Happy Hollow is working on getting it's LEED  silver certification.  The Learning L.O.D.G.E. which is the center for educational activity is constructed of hay bales and kids can see proof of it for themselves.  Right outside the learning center is an on-site rain water catchment system that filters and cleans rainwater and keeps it in the park for the health of the abundant vegetation. Throughout the park, kids have multiple opportunities to learn about environmental conservation whether it's through the abundance of recycling bins (and the lack of trash cans), the radiant floor cooling/heating in place of traditional energy sucking A/C, or the use of recycled materials throughout the park.
"Double H" Ranch is the wonderful new animal contact area where kids can get up close and personal with goats, sheep, lemurs and more.  As they learn to care for their animal friends, children are also learning about the species conservation projects that Happy Hollow participates in.  Down in the lower zoo, most things are the same except for two new areas: Dinosaur Dig for your budding paleontologists and a fantastic bee hive area that teaches kids about the important role that these hardworking friends play in our eco-system.  Not only can children see the bees hard at work but all their senses are engaged in the world of the bees, learning how we can all be thoughtful in helping them thrive.
If you would like to visit with a school group, the education department can make classroom visits, or host students. Happy Hollow also offers classes for kids as young as 12 months and summer camps for kids 3 to 13.
Old Favorites are Still Here – Danny the Dragon hasn't left although, he might have stepped out briefly to get a make-over. Newly minted with shiny new tires and a bright coat of paint, Danny's ready to take kids on a tour of the new Happy Hollow.  The maze and puppet theater have been updated, but still offer the same charm as before. The beloved crooked house has been spruced up herself and ready to welcome children back. The lower zoo's been freshened up and many of the same animals are still here. One new friend is the Foosa, a rare member of the mongoose family and a top predator native to Madagascar.  The lemurs aren't so sure about him, but Happy Hollow is excited to be one of just 22 facilities in the US to provide a home to this endangered little guy.  Oh yes, the Mini Putt-Putt cars and Granny Bug rides are also still around.
Wonderful place for birthday parties – Once word gets out, this might be the hottest place for a birthday party this year.  Get in the front of the line because bookings are starting to fill up already for the summer. There are 9 different party spots that you can rent out at Happy Hollow depending on the size of the group.  Here's a tip – Danny's Place, Whistling Woods and Chimes and Bells are all located close to Redwood Lookout – the big playground.  Party packages range from $235 to $455 with add-ons you can choose from.  No outside food is allowed except cake.  But all entertainment is taken care of, so mom and dad can just kick back and celebrate with the kids.
Fully ADA Accessible – During the renovations of Happy Hollow, a lot of thought was given towards making the park fully ADA accessible.  That means that the placement of sculptures give consideration to whether a wheel chair can weave it's way easily between them.  But beyond having ramps throughout the park which make it wonderfully stroller friendly (although it is small enough that you probably won't need one), even the playground areas are ADA accessible.  The maze has extra wide paths and is accessed via a ramp, some of the slides at Redwood Lookout can even be accessed with a wheel chair.  All doorways are perfectly flushed with the ground.
Congrats to Happy Hollow and the residents of San Jose for preserving this wonderful place for families. We are looking forward to hearing about all the new memories Trekaroo families are making at Happy Hollow.  (Write a review of Happy Hollow Park & Zoo) Admission to Happy Hollow is $12 for kids and adults 2 and up (under 2  is free).  Once you're in, there are no extras to pay for, so your kids can enjoy as many rides as they want unlike most zoos in the Bay Area. If you live within a 45 minute drive, seriously consider getting the Family Membership which is a steal at $95 for the whole year.  The Family Membership will get two parents and up to 4 kids in for free all year in addition to lots of discounts on classes and food.
Happy Hollow Park & Zoo
1300 Senter Road, San Jose, CA
Grand reopening on March 20, 2010
For more information, call 408.794.6420 or visit www.hhpz.org.
**************************
Travel with kids to: CA |CO | DC | FL | HI | IL |MA | NC | NY | PA | TN | TX | VA | WA