International travel may seem daunting.  The language barrier, long flight, and cultural differences are a lot to tackle, especially when traveling with kids.  But kids (and adults alike) learn so much about our world when they get to experience a new country.  Picking an English speaking destination can make at least one part of the trip a little easier, and you can't go wrong with a family vacation to London.
London is an amazing mix of old and new and there truly is something for everyone.  We just got back from a nine day adventure in London with our four kids (ages 2, 4, 6, and 8), and I was surprised to discover that it has become one of my favorite family destinations. Here are a few of our recommendations for things to do and not do while on a family vacation in London:
Where to Stay
Hotels in London are expensive and most of them only accommodate three people to a room. We have found it worth some additional expense to stay near most of the sites that we want to see but, after an extensive search, we were unable to find any hotels that met our budget. Instead, we opted for a corporate apartment in the City of London. BridgeStreet Worldwide found us a nice flat near St Paul's Cathedral that was conveniently located, met our needs, and was at least 50% less than any hotels we priced. Given that meals (and everything else) are also expensive in London, it was nice to have a full kitchen for breakfast and an occasional meal.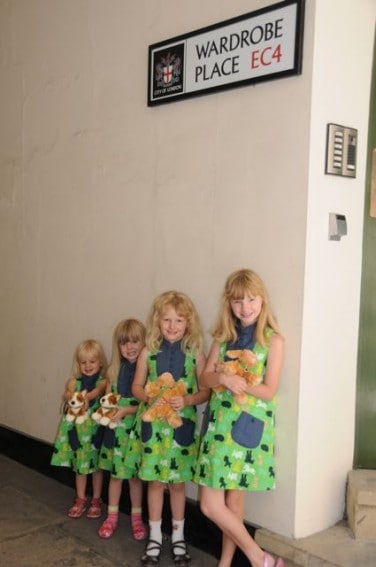 Favorite Sites:
South Bank: The South Bank of the Thames has been extensively developed into a series of parks, pubs, restaurants and shopping. Walking this several mile stretch, from the Eye to the Tower Bridge, was the highlight of our trip, and we spent several days exploring the area.
London Eye:  No trip to London with kids is complete without a ride on the London Eye. Located on the South Bank of the River Thames, it is a great place to start your vacation. The 30 minute ride gives you a bird's eye view of London (on a clear day you can see 25 miles) and gives you a good chance to get your bearings on the city.  It runs about $65 for a family of 4 to ride.
Also around the Eye is the Sea Life Aquarium. It houses one of Europe's largest collections of marine animals and has a nice design that leads you through the different oceans of the world. The cost is  about $75 for a family of 4. While it is a nice aquarium, if you are on a budget I would skip it and spend the time playing in the nearby park.
Westminster Abbey:
The Vergers at the Abbey have created a fantastic children's scavenger hunt that takes you through all the major sites in the Abbey. My kids loved searching for lions, animals, and various other things throughout the buildings. There is even a prize for finishing the entire hunt. If you take your completed paper to the gift shop, they give you a free square of chocolate. We also took a guided Vergers tour of the Abbey and found the historical facts fascinating (the kids loved that we got to walk the same path the Queen used on her coronation).  A visit runs $54 for a family of 4.
Tower of London:
Plan to spend the day at the Tower of London.  Prior to visiting, I thought the only thing to see at the Tower was the Crown Jewels and I couldn't have been more wrong. While the Crown Jewels completely entranced my princess loving girls, the rest of tower grounds were no less interesting. We climbed turrets to visit a display of suits of armor, watched a life size demonstration of ancient catapults, ran through the grounds where the children of the Beefeaters still play, and counted the ravens by the white tower. From lavish royal rooms to deep dungeons, there is much to explore and experience. It costs $70 for a family of 2 adults and up to 6 children.
Ice Cream at Harrods and Flying Kites in Kensington Park:
Harrods is always on my London must–see list. Take a stroll through the Egyptian room and head to the food hall for ice cream at the soda fountain. If you have time, a quick trip up the elevators to the toy shoppe is fun for the kids. Harrods has lots of demo toys and was blissfully uncrowded when we visited.
Follow that up with a quick walk to Kensington Park and run through the vast green space (a welcome relief after the crowds around Harrods), fly kites, or play in the playground.
Tips & Challenges:
– London is known for it's pubs. Kids are welcome during the day, generally up until 8PM. The quality of pub food varies widely so it pays to find one that is busy with people actually eating.
– Many people told us we simply had to visit Hurleys – a 7 story toy store in the center of London. Our visit was less than stellar. It was packed with tourists and, while it is 7 stories, they are small floors of toys. They had the same selection as Harrods and, on our limited price comparison, ran about 15% more.
– Be ready to walk. London is an easy city to navigate with their extensive bus, underground, and taxi network, but we still found ourselves walking many miles a day.
– If you are traveling in the summer, inquire about air conditioning in the hotel room or flat. We found that the common areas of our flat (the elevator and hallways) were air conditioned but not the actual rooms themselves.
Overall:
I have only scratched the surface of the many wonderful sites and adventures to find in London.  With no language barrier, it is a perfect place to introduce kids to a new culture and give them a historical perspective simply not available in the United States.