After picking the right family ski resort for your multigenerational ski trip (hey, didn't we learn about that in last year's Ski Week?), the #1 item on a ski trip planner's to-do list is to find ski lodging. Ready for lodging tips for multiple family ski trips? At nearly every large ski resort, families have three lodging choices: 1. hotel rooms 2. ski condos or village suites 3. ski vacation rental homes.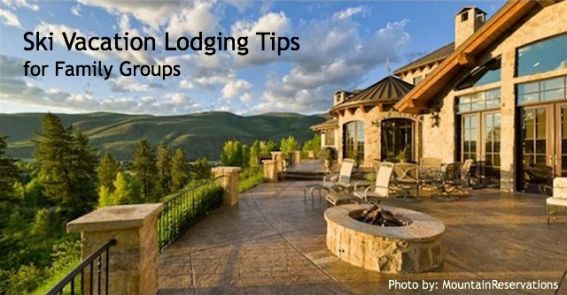 Sponsored by MountainReservations: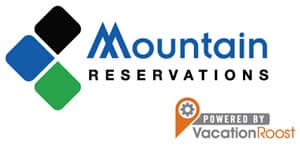 MountainReservations is the leader in ski lodging, mountain vacation rentals, and mountain lodging. We also can package together your lift tickets, transportation, airfare, and other vacation services to complete your vacation. With thousands of properties in over 30 destinations across North and South America, Mountain Reservations is the number one source for all your mountain lodging needs.

 
Picking the Right Lodging for Your Ski Vacation:
While many ski resort hotels are lovely, spending multiple nights in multiple hotel rooms just doesn't make  economic sense for a multigenerational ski trip. However, both ski condos and ski vacation home rentals can be booked through third-party vacation rental sites such as MountainReservations. Both have pros and cons.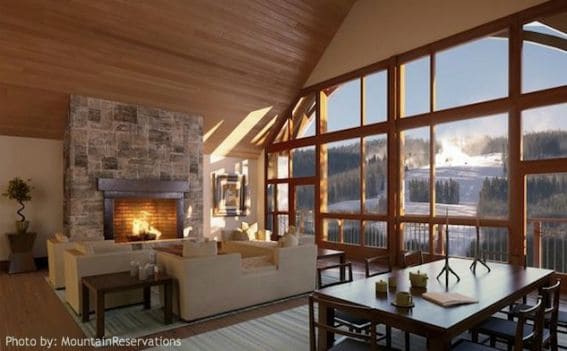 Ski condos or suites:
Most ski condos or resort village suites will be close to the action (most are ski-in/ski-out) and within easy walking distance of village centers, restaurants, and ski schools. Many families don't realize that village suite units and condos can often be booked by outside booking agents such as MountainReservations. Most ski condos feature full kitchens and some boast laundry rooms. While their proximity to resort amenities is appealing, bear in mind that most suites and condos will not sleep your entire multiple-family gathering. In most cases, families will need to split into 2-3 groups and book separate suites. The cost is higher than being under one roof, but it sure is nice to walk to the gondola!
Ski vacation homes:
Want room to spread out, the use of a game room, private hot tub, and deck with a BBQ? Opt for a vacation home! With our family of 14, we loved our Northstar California ski home rental, which included six bedrooms, a full kitchen, two living areas, a full garage, and multiple bathrooms! The cost of our ski home rental was significantly less than a set of suites in the village, and we enjoyed all our meals together and sleeping under one roof. The downside: we were several blocks from the Northstar Village, but with a regular (and free) Northstar ski shuttle, we could hop on at the end of our driveway and be on the slopes in minutes. Plus, the kids had space for hide-and-go-seek indoors and snow angel making in the snow out front.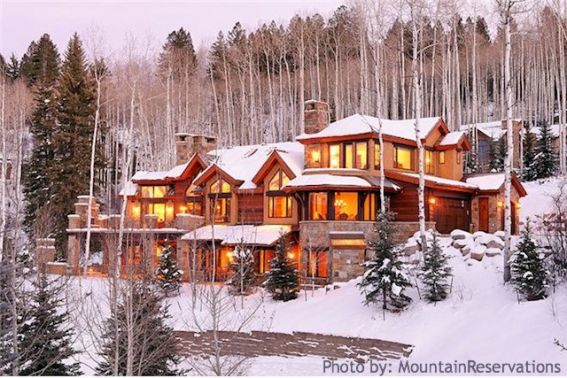 Large or Multiple Family Lodging Tips:
1. Don't overpack. When ski vacationing with several family units, remember that you don't all have to bring necessary items like laundry detergent, first aid kits, and DVDs or board games for evening fun. Assign specific items to each family group, and save space in the car. Remember that at most ski vacation rentals, all the biggies will be waiting for you when you arrive, such as linens, towels, pots and pans, and dishes. Many even keep sleds and other winter recreational toys on-hand.
2. Plan group meals. Consider getting to the resort area early on your arrival day, as we did during our trip to Northstar, and shopping for groceries before heading into the mountains. Of course, families can divvy up food costs and meal preparation any way they'd like, but here's what worked for us: we split the price of groceries for breakfasts and dinners, and let each family be responsible for lunches on the mountain. Dinner menus were created before the trip, and every family took a turn being chef and crew in the kitchen. Our night was spaghetti and French bread. Yum!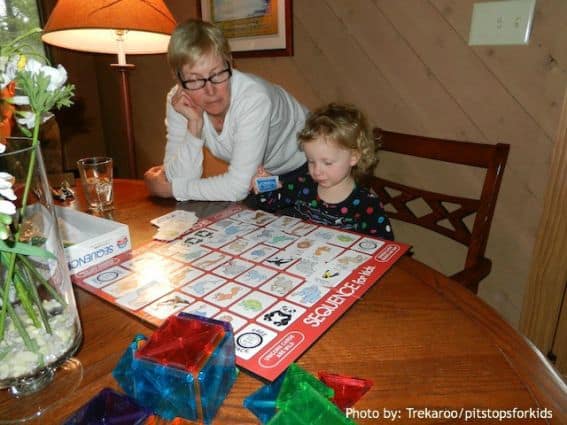 3. Ask about included lodging amenities. Just because you're not staying in the resort hotel doesn't mean you can't access the resort pool. In many cases, ski vacation rentals booked through MountainReservations include on-site amenities. During our vacation home stay at Northstar, we were able to use the outdoor pool and hot tubs and indoor rec room associated with the resort for a small fee. We also enjoyed access to a fitness facility.
4. Divide and conquer. Remember, spending 24 hours per day with even your closest family members can be taxing. Whether you're all staying under one roof in a vacation home or lodging side-by-side in ski condos, everyone will need space now and again. Every day, plan some activities together and some apart. Since we had skiers and snowboarders of multiple ability levels during our Northstar stay, we organized our first run of the day together, then divided into appropriate groups before meeting in the lodge for lunch. In the evenings, younger kids went to bed early while older kids enjoyed the hot tubs or watched a movie with the grown-ups.

Yesterday on Ski Week: Did you miss the start of Ski Week? Enter to win a ski trip bundle of skis, helmets, and ski tickets! 
Tomorrow on Ski Week: Plan your multiple family ski trip activities and ski school picks!
Thursday on Ski Week: Get tips and tricks for saving money on dining during your next ski vacation!
Friday on Ski Week: Find ski package deals you can snag right now!
Want to catch up on additional Trekaroo ski content? Start here with an abundance of skiing and snow-vacation blog posts, or learn about top family-friendly US ski resorts from last year's Ski Week!
Thank you to our Ski Week sponsors, Keystone Resort, SnowPak, and MountainReservations.