Imagine sitting on a lounge chair with your toes dangling in the powdery white sand. Envision yourself sipping on some rum-based cocktail that a fellow vacationer recommended from the beachfront bar while your kids are having the time of their lives jumping off the water trampoline, splashing in the gentle surf, or digging their way to China.  Warmed up by the West Indies sunshine?  Move over to one of the swimming pools and hang out by the infinity edge, pinching yourself as you take in the incredible ocean view. Tempted to get active and enjoy the Atlantic? Take the ten second stroll over to the rental stand and try your hand at jet skiing, banana boating, or paragliding. Ready for "The Grand Life" yet?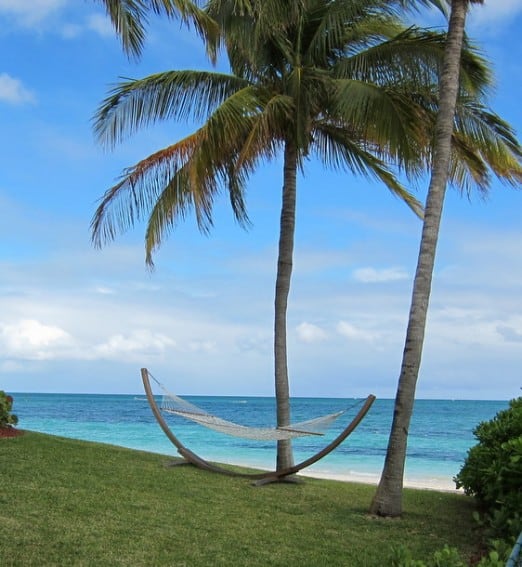 This hammock sits empty, waiting for you!
When many people think of the Bahamas, they think of the Disney-like environment common at the mega resorts near Nassau or see the islands simply as a port stop on a Caribbean Cruise. Recently, I discovered a slice of the Bahamas that fits with the laid back and kid-friendly vibe my family loves. Just a 45 minute hop from Miami, Grand Bahama Island is a great weekend getaway for South Easterners, Spring Break destination for families looking to avoid the Spring Break crowd, or a week long island getaway any time of year. Grand Lucayan Resort offers all the comforts, opportunities, and security of a large resort while keeping the causal island atmosphere that so many of us daydream about after a long week of running our kids to a dozen activities all over town.
Fun fact: It took just ask long to fly to Grand Bahama Island as it takes me to fly to Hawaii. Who knew West Coast residents could reach the West Indies so quick?
The Grand Life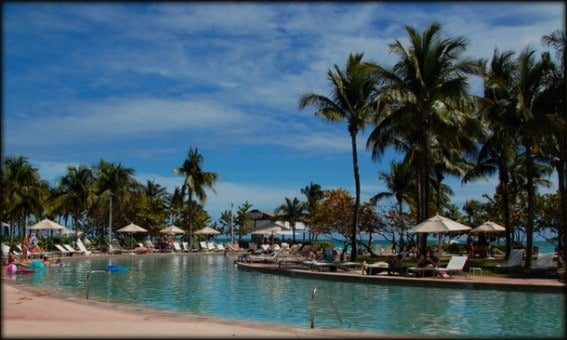 From the moment guests step foot in the open air plantation-style lobby and are greeted by a smiling Bahamian happy to take their luggage, they are happy to embrace the "grand life" motto.  The resort assumed this new slogan after dropping its old name, Our Lucayan, for one that more fully reflected the island it calls home. Set on 7.5 acres of pristine beachfront, the resort is ideal for water-loving families who enjoy activities such as swimming (in the four pools or beautiful Atlantic Ocean), parasailing, banana boating, jet skiing, or bouncing on the water trampoline. It is equally perfect for parents that just want to sit on a lounge chair in the sand with a cocktail in hand and the sounds of a steel drum band as their soundtrack as they watch their kids jump the gentle waves.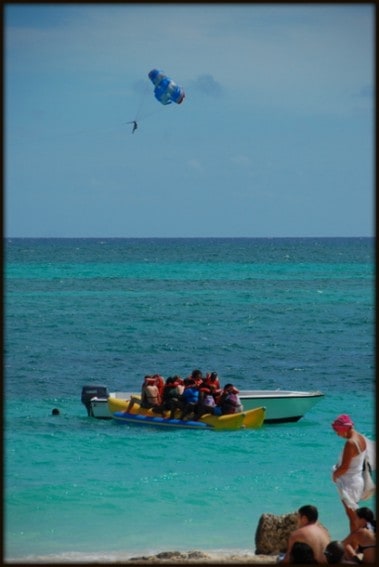 Rooms are clean and Caribbean-inspired, ranging from standard 400 square foot island view rooms to expansive1600 square foot 2-bedroom suites (like the one Johnny Depp stayed in during the filming of Pirates of the Caribbean), but there is so much to do on-property that you won't find yourself spending much time indoors. Parents looking for some time to enjoy the spa, play tennis, or have a quiet meal with their spouse will be thrilled to know that the resort does have an onsite kids club, Camp Lucaya, for children ages 3-12. At the club kids will swim (there is a wading pool and a pool with a slide), play games, and make crafts for only $10 a day!!! Families interested in enjoying onsite activities together will be thrilled to know that several complimentary organized activities are offered everyday such as yoga, hula hoop contests, bingo, poolside trivia, croquet, scavenger hunts, and volleyball pick-up games.
Location.  Location. Location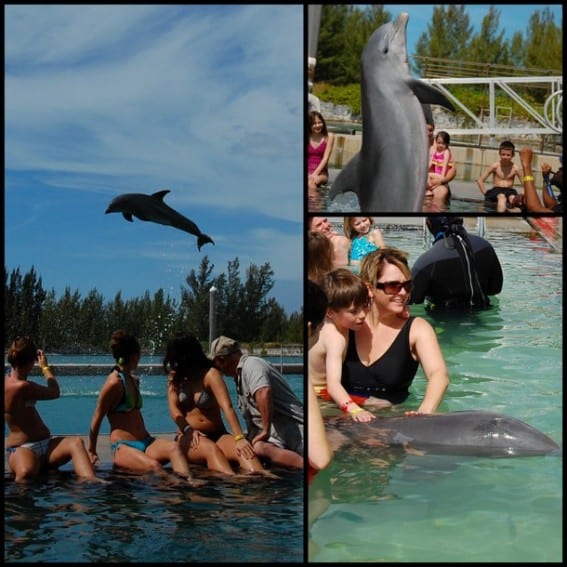 One of the best things about this resort is its location.  It sits on a long stretch of white sand in the heart of the little village of Lucaya. The Lucayan Marketplace is directly across the street and is the perfect place to go souvenir shopping (people keep asking me where I got my new bag. I beam when I get to tell them the Bahamas), pick up duty free items, and check out some eclectic little restaurants (who knew a Greek/Bahamian restaurant even existed?).
UNEXSO, a company specializing in reef dives, shark dives, and dolphin experiences, is also located just across the street. UNEXSO is a great place to have your first or fifth experience because they offer such a wide variety of dolphin encounter opportunities. Families with young  or timid children and those not keen on the idea of actually swimming in the water with dolphins will love the Dolphin Close Encounter where guests can step onto a submerged platform (holding their young children if need be) and pet, kiss, and splash with a dolphin. Those looking for a more immersive adventure will the Open Ocean Experience. It is the only program of its kind in the world and allows participants to swim with trained dolphins in an open ocean environment.  All experiences include a 15 minute boat ride and the opportunity to  let the sea spray hit your face as pinch yourself to remind you that this, in fact,is your reality.

Disclosure: The author attended a press trip to Grand Bahama Island. All opinions are her own.
---