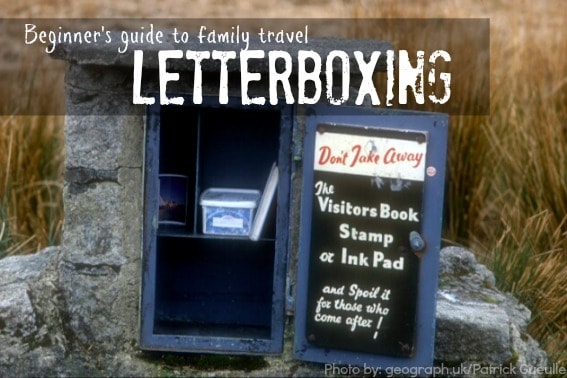 We had a week off of school for Spring Break, but with no extra money to go on a vacation, we decided to stay home. What could we do with 4 kids, aged 2-9, and a mom and dad who wanted adventure and fun? Letterboxing!
My mom had told me about letterboxing several years ago, but like a rebellious teenager, only one word came to mind – "CHEESY."  Now, as a wiser mom myself, I realized I had to find fun where I could and make the most of any opportunity. So during this revolutionary spring break, we found ourselves letterboxing. We followed clues that led us all over the place – hunting behind a mermaid statue, traveling through hidden tunnels, walking on a pristine beach, and digging under fences – all to find little boxes hidden by other letterboxers.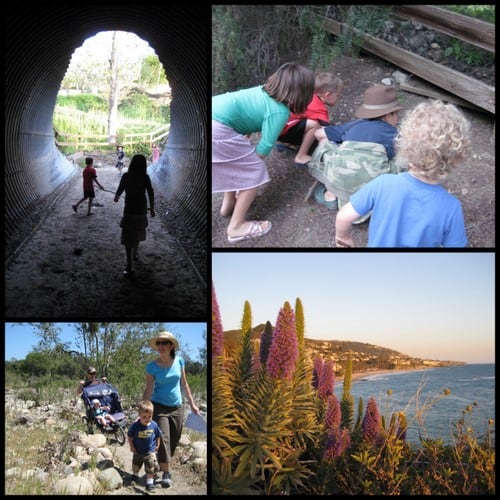 Letterboxing is a popular pastime of treasure hunting in parks, forests, and cities around the world. Seekers use clues written by other letterboxers to find the hidden box, which contains a rubber stamp, usually a hand-carved creation. Letterboxers then place the stamp image in their own personal journal. They sign in to the logbook found with the letterbox with their own signature stamp and perhaps add a note about the weather or their own adventure.
We have come to love many things about letterboxing. Four things stand out to us as being great reasons to embark on your own letterboxing adventures.
Letteringboxing: See new places in town
My husband and I have lived in Orange County, California, for about 15 years. We have been parents for 10 of those years. In general, I thought I was an expert on all of the great places to visit and explore in our area. Wow, was I wrong. During our spring break week we went to a beach, a remote wilderness area, a wildlife nature preserve, and to a scenic lookout. All of these places were new to us. We were so happy to have a new activity that was taking us to places that we had not yet discovered.
Letterboxing: Have new adventures in routine places
How many times had our family been to the park just down the street? Too many to count! When you don't have a new place to visit, searching for a letterbox can bring a whole new sense of adventure to routine places. Parks and locations near us have become fun places to visit again because we get to go on a hunt.
Letterboxing: Learn about local history
On a recent Saturday, our family took a letterboxing tour through Old Town Tustin in California. It's a city full of history, with many old buildings from the late 1800s, and other quirky features. There was even a miniature church – it only seats eight people – in the parking lot of a shopping center! We took this walking tour thanks to a series of four letterboxes and a clue-giver who included local history in his description of how to find the boxes. Many clues are rich with history on the area where the letterbox is placed.
Letterboxing: See new places on road trips and vacations 
When we drive to Fresno to visit my mom and dad, we need to break up the five hour drive for the sake of our little ones' legs and bladders, not to mention our own. Since letterboxes are hidden all over the United States – and in many other countries as well – there are bound to be boxes to hunt along the way. This makes for a fun activity to do during pit stops. During a recent family vacation to Alaska, letterboxing became a favorite activity of ours. We visited a cemetery, the town square of Fairbanks, and a beautiful field with migrating sand cranes as we were looking for letterboxes. The hunt took us to popular tourist locations and to favorite spots for Alaskan locals. We really got to see a lot of beautiful Alaska this way!
Since our first "Letterboxing Spring Break" we have found nearly 60 letterboxes. We have introduced our nieces and nephews, relatives, and friends to our new hobby. We have carved our own stamps and hidden our own letterboxes. Our boys have even written down clues to locations where they have hidden their own letterboxes for other eager finders. But the best experience was walking the trails near the Griffith Park Observatory on a hunt with my mom and dad. I know she was happy to have successfully passed on a fun, adventurous activity to our family.
 What you need to start your letterboxing adventure
A personal journal to collect stamped images. Most letterboxers prefer a small size (4" x 6") and unlined, but anything can work!
A rubber stamp. This is your "signature stamp" that you use to stamp your image in the logbook that you find. Some people just stamp their fingerprint in the logbook in place of a stamp. Many people have carved their own personal stamp. It's great to start with a store bought stamp to begin your adventures.
A pen. To sign your name or your handle (if you prefer to not use your name), the date, the city you are from (optional), and a note (optional) in the logbook you find.
An ink pad. You need this to ink the stamp that you find so you can stamp it in your journal. You also need to ink your personal stamp so that you can stamp it in the logbook from the letterbox you found.
The clue! Use www.atlasquest.com or www.letterboxing.org to find clues in your city, your next road trip, or your next vacation.