On a quiet Saturday morning among orange groves and oak canopies in Winter Haven, LEGOLAND Florida opened with a flurry of colorful Lego-shaped confetti.  LEGO fans from around the world came to see what the Model Citizens, LEGOLAND employees, created.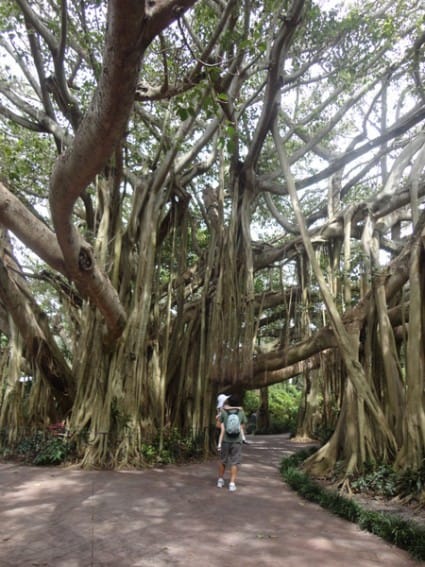 Amongst the thousands of park goers that made up the grand opening weekend crowds were several local Floridians who grew up visiting Cypress Gardens, Florida's first theme park which opened in 1936. LEGOLAND Florida was built on the former Cypress Gardens grounds and sits on 150-acres, making it the largest of the five LEGOLAND theme parks in the world. The unique landscape and sprawling banyan trees set this theme park apart from all other LEGOLAND locations.  Architects and park designers carefully built the new park in harmony with the historic natural surroundings and restored the world famous botanical gardens.  Each of the zones, or theme areas, offers amazing views of Lake Eloise.  Throughout LEGOLAND, hundreds of moss-lined oak trees were preserved and offer shade from the hot Florida sun.  As a tribute to the Cypress Gardens Southern Belles and their hoop skirt dresses, we found two LEGO Southern Belle figures in the park.   I overheard an older couple commenting on how wonderful it was that LEGOLAND created these pieces.  It turned out that the lady had once worked as a Southern Belle at Cypress Gardens.  We could not resist posing alongside these and other life-sized LEGO figures.
Once in the park, we found so many fun things to explore that it was a challenge deciding what to do first.  We chose to visit "LEGO Kingdoms" to ride The Dragon rollercoaster and Royal Joust.  The Dragon starts off slowly winding inside a large castle as we rode past scenes of LEGO knights, a royal court, wizards, adorable mice, bats with red glowing eyes, and the big red star of the ride, an animated smoke spitting dragon!   Then, the track leads outside and up a steep grade before twisting and turning beyond the castle walls.  We laughed all the way and had to ride The Dragon again five more times before the day was over.   The Royal Joust was another favorite with our six year old.  She hopped on a horse as it whinnied and cantered through a Medieval LEGO village.  She felt like a big kid because she was able to ride without having a parent tag along for safety.  So, she chose to ride the Royal Joust a few times.  We gladly waited and watched under the shady oak trees.  The landscaping really is beautiful!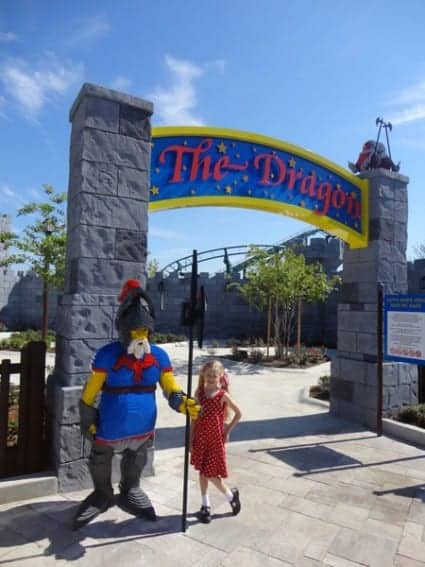 Since all of the rides are geared towards children, the entire family was able to enjoy riding roller coasters and slower moving attractions throughout the park together rather than taking turns and waiting.   The Lost Kingdom Adventure ride found us competing against each other as we rode along shooting our laser guns at light targets in an Egyptian themed setting.  I am proud to say that I am one sharp shooting mama and had the highest score in our cart.  Perhaps, I should have let the little ones win?  Maybe next time!
On our way to Pirates' Cove, we explored Miniland.  LEGO artisans recreated some of the most familiar Florida landmarks including the Kennedy Space Center, Daytona Speedway, South Beach, and Tampa buildings as well as a sunken ship, Washington, D.C., Las Vegas and New York City.  My daughter loved getting splashed by the miniature elephants in the Las Vegas Mirage display.  Thankfully, we brought a change of clothes!  Miniland is at the heart of the park and overlooks Lake Eloise.  This area is a peaceful, quiet space and makes for a nice place to stroll if the kiddos fall asleep in their strollers.  We took our time looking at the displays and could easily have spent hours just wandering around in this section but it was time for the water ski show!
For years, Cypress Gardens showcased waterskiing and LEGOLAND Florida continued this proud tradition with a live Water Ski Show "The Battle for Brickbeard's Bounty" in Pirates' Cove.  It was amazing to watch costumed LEGO characters skiing!  Kiddos can get in on the action by shooting water cannons at pirates as they race past on jet skis.  (Spoiler alert) We cheered as the princess defeated Brickbeard and the shark chased them away.  Score one for the girls!  With the pirates defeated, we headed off to find some lunch.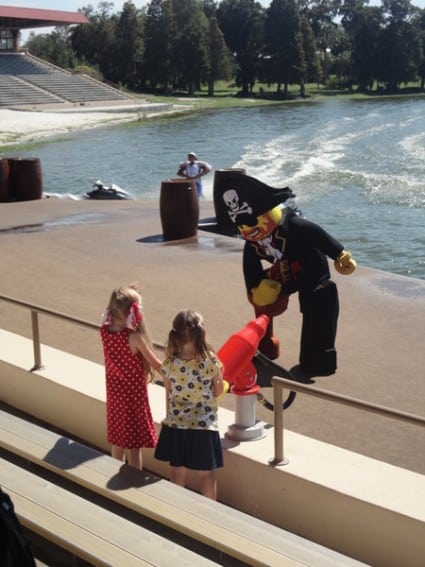 There are several casual dining places offering affordable kid-friendly and healthy food choices.  The Lakeside Sandwich Co. had grapes, juices and gluten-free items as well as wraps and sandwiches.  We ate our fill at the Fun Town Pizza & Pasta Buffet.  The small salad bar offered a nice variety of fresh and delicious greens.  There were four different pizza and pasta sauce options as well as unlimited beverages.  Adults can eat for $10.99 and children for $6.99.  At the cafeteria-style Market Restaurant, we tried the rotisserie chicken and steamed vegetables – delicious!  There was so much food that we easily split one entrée between two adults.   There's a large DUPLO table set up in the main dining area which kept the kiddos entertained as parents were able to finish their meals.  It was nice to see children playing together as they built whatever they imagined.
No visit to LEGOLAND Florida would be complete without a few souvenirs.  Fortunately, there are more than a few affordable choices.   You can "Build a Mini" (actually you get three for $9.99) by selecting any three heads, torsos and legs in a carrying case.   If you prefer a more mysterious option, buy a silver-wrapped Mini-Figurine for $2.99 and open it to reveal your treasure.  If you do not like the mini-fig you got, just swap it with any Model Citizen (LEGO employee).  Their nametags have mini-figs mounted on the top which makes swapping so easy and fun!  The LEGOLAND Florida photo frame is $7.99, the water bottle is $6.99.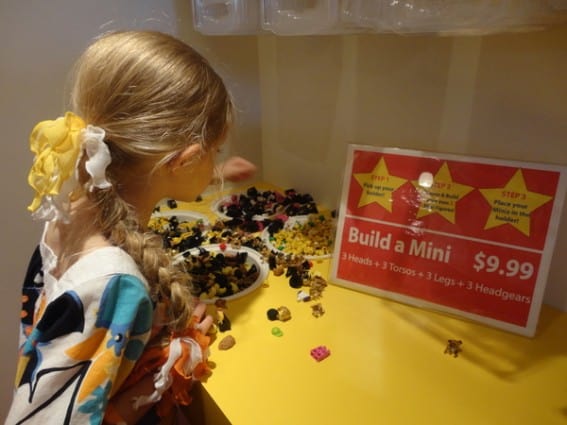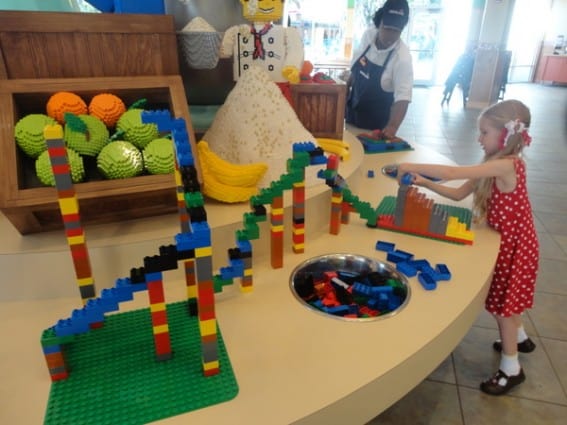 LEGOLAND Florida is located about 45 minutes from Tampa and Orlando.  If you prefer to ride in an air-conditioned bus to LEGOLAND, shuttle bus service is available from the Orlando Premium Outlets.  For a limited time, you can receive a special preview price of $5 per person ($10 regular price) for roundtrip transportation (24-hour advance reservation is required to secure your seat).  Shuttles leave from the Orlando Premium Outlets on Vineland Avenue at 9am.  Please check the schedule at www.legoland.com to book your shuttle tickets.
LEGOLAND Florida has partnered with several family-friendly hotel and resort properties to offer guests a convenient online reservations program called "Bed & Brick."  This service allows guests to plan and book their vacations from the comfort of their home computer.  There are a variety of price ranges to meet any budget and accommodation preferences.  For more information, please visit www.legoland.com.
We are already thinking about a return visit to LEGOLAND Florida.  Our imaginations were fueled by those tiny bricks and the company motto to "play well."
Disclosure:   I received complimentary tickets to LEGOLAND Florida.   They did not request that I express a particular point of view.  This review is my honest opinion of my LEGOLAND adventures.  
Travel with kids to: CA |CO | DC | FL | HI | IL |MA | NC | NY | OR | PA | TN | TX | VA | WA