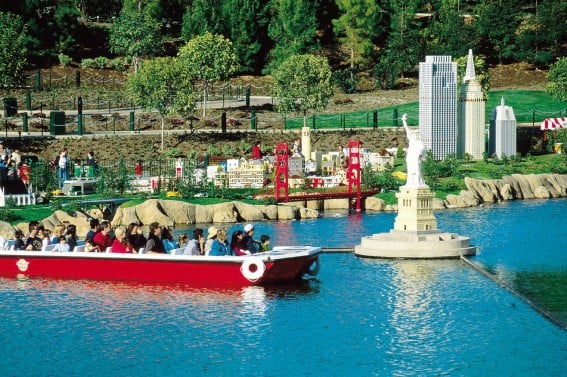 Photo Courtesy of LEGOLAND
My family held off on our first trip to LEGOLAND in Carlsbad, California until my son turned five. Once we made the trip, I wondered why we had waited. This is an excellent theme park for the preschool and toddler set.
LEGOLAND takes care of toddlers and preschoolers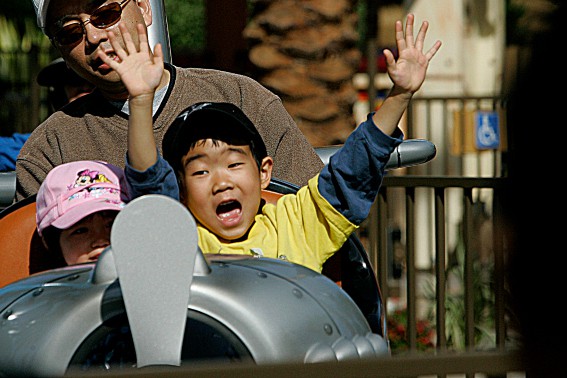 Photo Courtesy of LEGOLAND
The fun, interactive play grounds and activities keep even little ones who are scared of the typical amusement park rides busy. The elaborate Miniland, USA has reproductions of many significant U.S. landmarks constructed with LEGO bricks and is just as fascinating for the little guys as it is for their parents. I love the fact that LEGOLAND has a smaller version of their popular Volvo Driving School ride just for kids ages 3-5. The little train and safari jeeps that pass by LEGO scenery are fun for even the littlest visitor.
LEGOLAND works hard to make families with toddlers and preschoolers feel welcome. It provides toddler friendly amenities like the Model Moms Baby Care Center: a space to nurse, heat up baby food, or just get away from the hustle and bustle  of the park. Several LEGOLAND rides that tend to have long lines offer a DUPLO play area where one parent can entertain the child while the other parent waits in line. As the mother of a child who is easily intimidated by fast rides and costumed characters, I appreciate that this park is a bit more low key in these areas.
Itineraries For LEGOLAND with Toddlers and Preschoolers

Photo Courtesy of LEGOLAND
Under Two
The LEGOLAND website includes a helpful list of "What to do when you're under two." Here's a schedule that will help you have fun and find great activities for little guys and adults alike.
Arrive at Opening: The Fairy Tale Brook or the Coast Cruise are boat rides that you can enjoy with your toddler.
Morning: Take in a show. "The Big Test" is especially fun for the little guys.  It's outside, very funny, and you get squirted with water. Bring along a snack to keep your little one in his or her seats.
Noon: Eat lunch overlooking MiniLand at the Garden Restaurant.  This restaurant offers lots of healthy choices as well as indoor and outdoor seating.
After Lunch: Splash at Pirate Shores. The Swabbies Deck play area offers fun fountains and cute swings to keep little ones wet and happy. Be sure to pack a swimsuit, towel, and swim shoes. The kids will get wet! There are pay dryers and bathrooms with changing tables nearby.
Late Afternoon: Back to the hotel for a nap and maybe a swim. The Grand Pacific Palisades and the Sheraton Carlsbad Resort are preferred LEGOLAND hotels and offer special perks and packages. Many other local hotels offer free LEGOLAND shuttles. See The Unauthorized LEGOLAND Guidebook for more information.
Early Evening: Enjoy the DUPLO Play area. Located to the right of the entrance, this fun play area includes every kind of DUPLO block that you could ever imagine. Build towers or castles, or just figure out how to put blocks together. This enclosed play area is a great "safe zone" for toddlers. Afterwards, head to Fun Town and enjoy the toddler friendly train and play structures at Explore Village. This area also includes pavilions filled with DUPLO bricks where mom can take a break while the kids build.  There is only one exit from the Explore Village area, but still be ready to do some chasing!
Dinner Time: Ristorante Brickolini offers a fun affordable family meal with outdoor dining.
Leaving the Park: Make sure you take time after dinner for a leisurely walk through Miniland before heading home.
Other Tips: The Model Moms Club area, located at the back of the park, offers a refrigerator, nursing area, microwave, family bathroom, water with cups, and other great amenities.
For those staying multiple days, look into LEGOLAND's Sea Life Aquarium. It is a nice size to introduce young ones to marine life. 
Preschool Age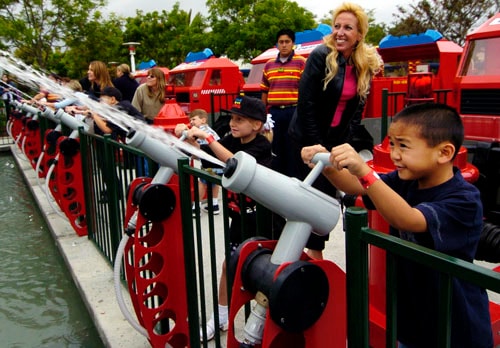 Photo Courtesy of LEGOLAND
Your little guys may be ready for big adventures, but some rides at LEGOLAND have strict age requirements or require one adult per preschool rider. Make sure you check the Park Guide or The Unauthorized LEGOLAND Guidebook for information about individual rides.
Morning: Arrive at opening. Head towards Fun Town, and ride the Volvo Junior Driving School cars.  Follow this up with a ride on the Helicopters. You and your spouse can get some exercise on the Fire Trucks while your preschooler rides along. Walk through the LEGO Factory to see how LEGO bricks are made. More adventurous kids will also enjoy walking through the labyrinth of the Adventure Club and checking out the fun explorer themed scenes. The Skipper School boats and the Splash Battle boat ride are also lots of fun. If it has warmed up, you can splash and play in the little kids area of Pirate Shores, if it's still overcast, wait until later in the day.
Lunch: Grab a healthy lunch at the Garden Restaurant. Eat outside overlooking Miniland.
Afternoon: If things are getting crowded head back to the hotel for a dip in the pool or a nap break. The Grand Pacific Palisades and the Sheraton Carlsbad Resort are preferred LEGOLAND hotels and offer special perks and packages. Many other local hotels offer free LEGOLAND shuttles. See The Unauthorized LEGOLAND Guidebook for more information.
This might also be a good time to catch a show. Some fun choices are:  The LEGO Friends Show or the The LEGO Movie 4D Experience. If things get busy, a walk through Miniland can also be a great way to enjoy LEGOLAND without waiting in line.
Dinner Time: Ristorante Brickolini offers a family meal with something for everyone (pizza, pasta, salad, breadsticks, and dessert).  If the pavilions are not being used for a party,  your little guys can enjoy their own kid sized table while you eat in peace.
Evening: This is a great time to explore Castle Hill and Land of Adventure which tend to be more crowded during the day. Ride "horses" at The Royal Joust or kid friendly airplanes at Land of Adventure. More adventurous kids will enjoy the Dragon roller coaster.
The Coastersaurus and Safari Jeeps which are near "The Beginning" are also popular, and tend to be less crowed towards evening.
Bridget Smith is the author of The Unauthorized Legoland Guidebook and founder of Family Adventure Guidebooks.  You can follow her family's adventures in San Diego and beyond at http://www.familyadventureguidebooks.com