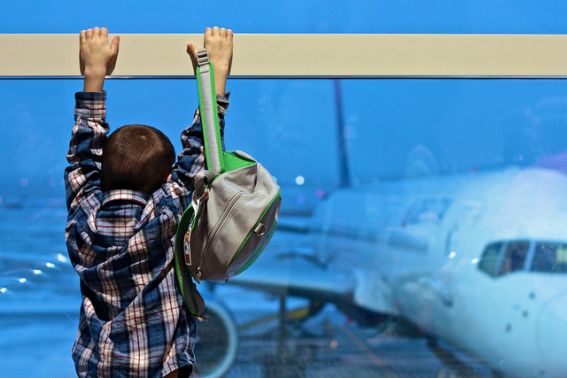 Photo by: Flickr/Mitchio
When I travel with my family, one of the most stressful moments we encounter is the scramble to get everyone seated together on the airplane. I have had a flight attendant actually tell me "it isn't our problem" when I asked for help after having trouble getting a row that would allow me and my two 5-year-old children to sit together. In the end, my daughter had to sit between 2 strangers 3 rows in front of me on a two-hour flight. Not only did that create stress for me and my child, but it also resulted in the lady sitting next to my daughter having to act as babysitter for a little kid who was far too young to manage on her own.
Next week, the House Transportation and Infrastructure Committee will be marking up changes to the FAA Reauthorization Bill which funds the Federal Aviation Administration. Congressmen Jerrold Nadler (D-NY) and Rodney Davis (R-IL) want to ensure that families who fly together sit together. They have proposed legislation which requires commercial airlines to notify adults traveling with small children when they may not be able to sit together before they purchase their tickets.
Trekaroo is a proud member of the Family Travel Association (FTA). The organization, which is made up of family travel industry leaders, has dedicated itself to the mission of "inspiring families to travel- and to travel more- while advocating for travel as an essential part of every child's education." We know that in order to encourage families to travel more often, travel has to be enjoyable and accessible. When the FTA learned about the proposed amendment to the FAA Reauthorization Bill, the organization contacted Illinois Representative Rodney Davis to lend its support. Rep. Davis informed FTA's president, Rainer Jenss, that the motivation for the "Families Flying Together Act" came from a staffer who was told at check-in that she and her children would not be sitting together.
We believe things are looking up for traveling families. Earlier this week, United Airlines decided to allow families with small children to board first, making them the last major airline in the United States to implement this policy. More positive change is imminent with your support. If you support the "Families Flying Together Act" (H.R. 3334), please reach out to your local Congressional representative and explain why you believe it is important. Together, we can make a difference.