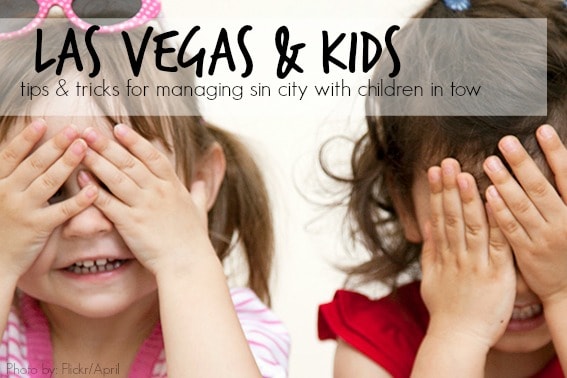 Sin City isn't kid-friendly to say the least. In spite of the fact that porn slappers are offering out naked lady pictures on most corners, the public drunkenness, the party-going crowd, and the smoky casinos, I have taken my kids to Vegas more times than I can count. For all its adult-entertainment wonderland, Vegas also happens to be a place where numerous conferences, events, reunions, and weddings take place, so like it or not, we return to Las Vegas with kids in tow.
And although you likely can't get through Las Vegas without some scarring, here are tips for managing the most successful Las Vegas trip with kids.
1. Utilize the morning for touring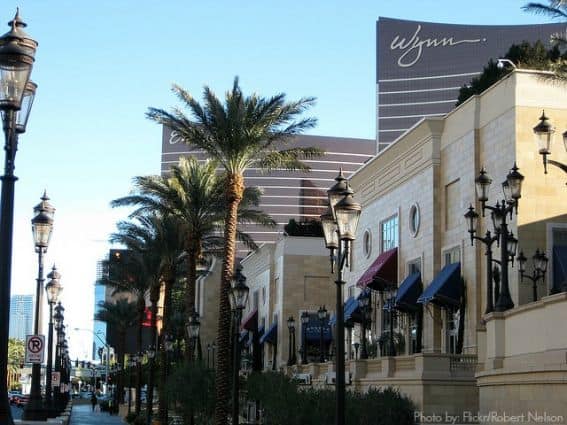 A view down Las Vegas Strip in the morning, without the endless crowds of people
Although there can certainly be some debauchery happening in the morning in Las Vegas, in general, mornings are a much milder time of day to explore the city on foot with your kids. Porn slappers (aptly named for the slapping noise they make while trying to hand you and your family pictures of naked women as you walk by) are nowhere to be found. Drunken college students are sleeping off their late night extravagance, and the strip is left with far fewer crowds and fewer "avert your eyes" situations. If you are going to walk the Strip to see the sights of Las Vegas, I recommend doing it in the morning. Bonus: You'll beat the hottest part of the day, typically the afternoon, when you can be lounging poolside or napping in your cool hotel room.
2. Choose large hotels wisely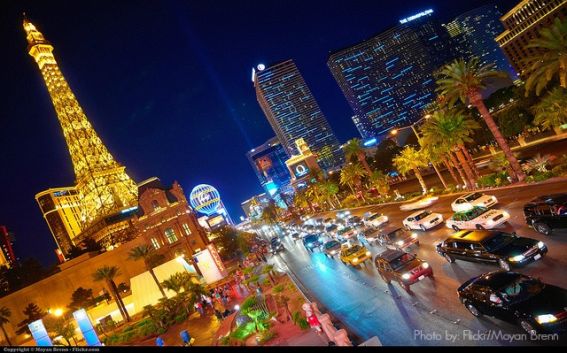 The strip offers a variety of hotel options with prices ranging from budget to luxury. But be careful about your hotel selection as each individual hotel, although sometimes close together, range in how kid-friendly they are. And some things aren't what they always seem. The loved-by-kids castle exterior of Excalibur, for example, looks appropriate from the outside but they've battled this image by adding strippers and dancers- even mid day- on the tables and slot machines in the casino that you MUST walk through to get to and from your room. Yes, I might have had to take my bra away from my little one dancing in front of the mirror like the "pretty girls out front." Not cool.
The Bellagio and Venetian are mostly free of exotic dance shows and clubs on property, so you won't see many ads in elevators for their strip teases. While researching for a hotel, I recommend looking at the shows they offer to make sure you are okay with those ads being displayed throughout the hotel during your stay. At the Mandalay Bay, which honestly is pretty kid-friendly with its Shark Reef Aquarium and extra awesome beach pool experience, you'll be bombarded with ads for their nude beach option. Prepare yourself to explain why people in Vegas don't keep their clothes on.
Don't miss our Top 10 Things to do with Kids in Vegas which includes our tips & recommendations for lodging!
3. Avoid "certain" parts of town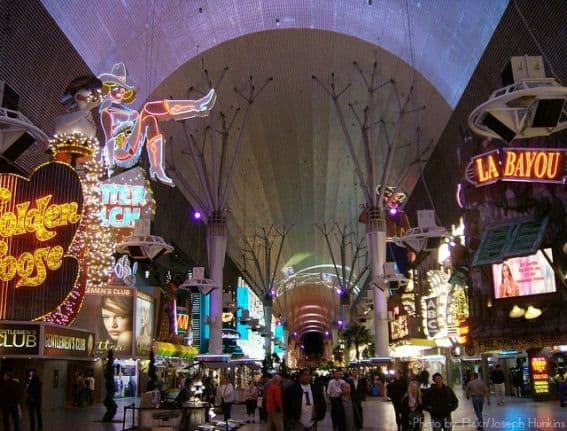 The Strip has become Vegas' main hotel drag in favor of Freemont Street downtown, which is the older part of Las Vegas. Although the Freemont Experience is unique and interesting, this part of town is a little bit more sketchy with little ones and seems to attract a rowdier (is this possible?) crowd. Even on the Strip a diverse variety of "cultures" exist. In front of the Bellagio hotel, for example, there is a strict prohibition of pornography or prostitution solicitation. Just walking on that side of the strip can make a huge difference, especially at night. In general, I try not to walk outside on the Strip at nighttime period. Consider walking the long way through casino malls; although not free of inappropriateness, they are a bit more safe.
4. BYOB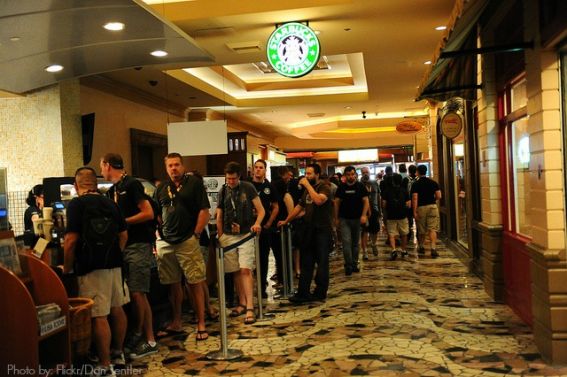 The old party adage is appropriate here for kid snacks, drinks, and even your own morning cup of joe. Most hotel properties on the Strip cater to singles and couples with a ton of discretionary income who are ready to drop some serious cash for snacks, drinks, and food. Pack your kids some of their favorite snacks and possibly even lunches; they can be hard to find on most properties and very difficult to walk or drive to. If you can find a pretzel, hot dog, or other junk food filler cart, you will pay a pretty penny to receive it and might have to wait in a very long line.
Alcoholic beverages may be free at most casinos while you are at the tables, but you will hardly find a coffee maker in a hotel room anymore, thanks in part to our culture's Starbucks addiction and the casino's attempt to get even more money out of each guest. If you have room, bring your own brewing system or ask your hotel in advance for one to be brought to your room. Once it once took my husband over an hour to get his morning cup of coffee when we factored in the time to walk through the massive casino to the coffee shop, time in line, time for brewing, and time to return back to the room. The caffeine headache had already ensued.
5. Make it a multigen trip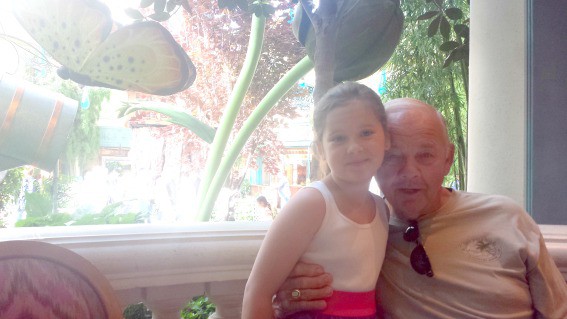 Grandparent & child breakfast at the Bellagio Hotel
Even if you plan on spending the entire trip with your little ones, you will likely feel some urge to "be young and free" again with the tables, clubs, and fine restaurants calling your name. With no regulation on childcare (and a city banking on sex as a money maker), I wouldn't leave my kids with any babysitting service in the city, no matter how recommended they were. Kids clubs are noticeably absent from pretty much every single resort, so if you really want to have a chance to sneak away for a dinner and a show, you'll need to bring along grandma and grandpa (or a trusted friend/family member) to take over.
6. Consider staying off-strip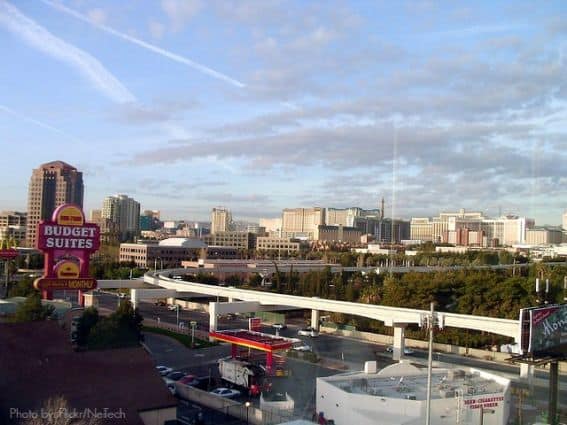 View of the strip from the Embassy Suites Paradise Convention Center
I love staying in the heart of the action pretty much everywhere. Even in Vegas, it can be kind of exhilarating to see the bright lights and sights of the Strip, but it really isn't for everyone. Off-strip hotels are available in two fashions: those with casinos and those without. For those looking to completely remove the Vegas from Vegas, a casino-free, non-smoking hotel will do the trick quite nicely. If you'd like the casino option, there are still some good ones that are smoke free environments or ones that are slightly more classy than some of their bigger and badder relatives getting all the "what happens in Vegas" hype.
7. Think through transportation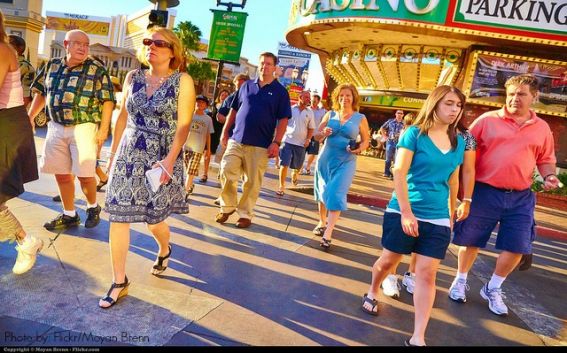 Vegas is big. Getting from the Mandalay Bay up to the Venetian is a GIANT endeavor even though it is officially only 2.3 miles. Add in a slew of sidewalks that drop you into hotels; ramps, stairs, and elevators to get you over the crowded strip; and TONS of foot traffic, this can feel like an eternity. Trust me, I've done it with three small kids in tow (literally in tow by the end of the trek). Public transportation is fairly inexpensive in Vegas, but it gets really, really crowded. Pushy drunk people aren't going to be looking out for your kids. Driving between hotels and casinos is a terrible idea unless you are doing it early in the morning (see above); even then, you'll likely want to valet park because parking structures are often behind the miles and miles of casino shops, restaurants, and activities, meaning you'll walk double your distance just getting to and from your vehicle in the parking lot. Taxis are really the most convenient option for on-strip transportation, but be advised that taxi lines can be long in the evenings and on weekends, and you will likely ride in a taxi with a strip show advertised on top. Don't say I didn't warn you.
8. What to do and see once you arrive
Despite all the adult themed entertainment options in Las Vegas, there's still plenty to do for fun once you've arrived in the city. Explore our top 10 things to do with kids in Las Vegas for all our favorite ideas including visiting Red Rocks Canyon, the fountains and conservatory at the Bellagio, animal encounters, and more.