-Maggie Douglas is one of Trekaroo's Superoos.  She is a busy mom of 2 boys and her family loves to travel and explore new places.
Families living in Central Pennsylvania with some time off to explore can find many great day trips not too far from home.  I've lived in York County most of my life and I never realized just how much there was to do in the Lancaster area, which is only about a 45 minute drive from home.   With many attractions reasonably priced it is the perfect destination for families and we enjoyed having the opportunity to explore many of the fun activities the area has to offer.
Get Scientific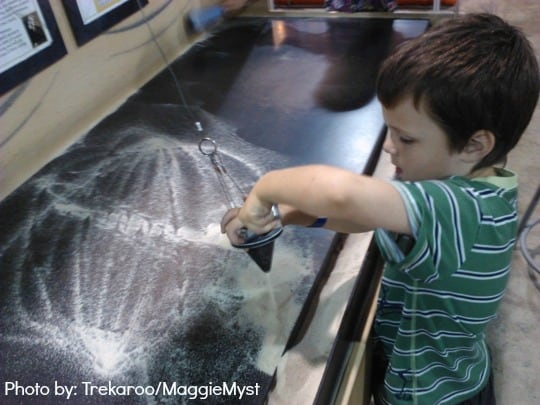 Enjoying the Sand Pendulum at Lancaster Science Factory
Lancaster is home to two science museums.  We took a day and explored the North Museum of Natural History and Science.  This was a great place to get hands on and learn about our world;  this museum has an amazing collection of rocks, fossils, and birds. Visitors will enjoy watching a show in the planetarium, meeting a reptile, and exploring the weather.   Our favorite was the kids' room where the children could get hands-on and figure out puzzles of all kinds while learning about different kinds of animals and their environments.
Another great science museum in Lancaster is The Lancaster Science Factory. This museum is made for kids; it is very hands-on and interactive.  Our family spent hours exploring! The sand pendulums were the overall favorite in our family, but there were tons of other things to do too. You cam attempt to build an arch, visit the kitchen test lab, build a dam, and so much more! My oldest enjoyed the workshop that taught about building and launching rockets!
All-Aboard the Railroads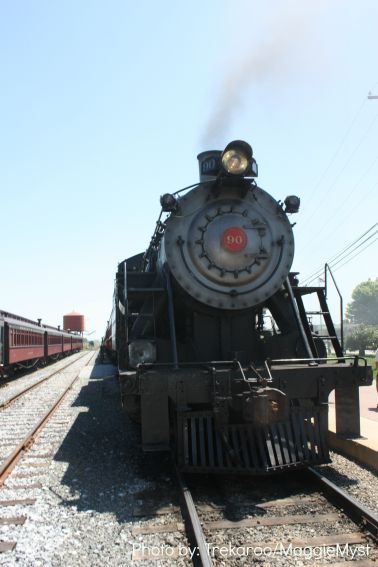 We were excited for a ride on the Strasburg Railroad! The kids enjoyed the ride, and I enjoyed hearing the history as we traveled through the Lancaster countryside. I wasn't aware ahead of time that you could stop off to picnic and play, and then catch the next train back. This detour would be a great lunch date and something we would definitely plan on for our next visit.  Be sure to check out their fun events throughout the year such as A Day Out With Thomas and train rides with Santa.
After our ride, we decided to explore the world of trains a bit more. Directly across the street from Strasburg Railroad you will find the Railroad Museum of Pennsylvania where we explored the history of trains in America. We also learned there are many different kinds of trains and train cars: our favorites were the mail trains. We also found it very interesting that they had someone on hand that could tell us about Morse Code and how the telegraph worked. There were plenty of hands on experiences, along with getting to explore inside several of the trains
While we didn't have the time to explore them on this visit, some other fun train destinations located just a few minutes down the road are the National Toy Museum where visitors can enjoy watching trains of various scales, Choo-Choo Barn where the kids will delight in seeing Lancaster in miniature, and the Red Caboose Restaurant and Motel where everyone in the family will enjoy dining in an authentic rail car.  You can also turn your day trip into a weekend and stay in a caboose that has been converted into a motel room!
Play on a Farm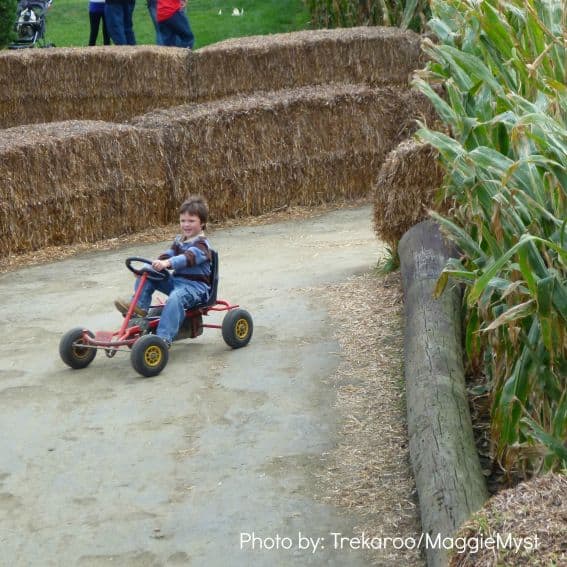 Racing the pedal carts at Cherry Crest Farm
 Cherry Crest Adventure Farm is so much more than a farm! It is a mecca of family fun.  The corn maze is the largest attraction, but visitors will also find tours, small rides, and games. The kids can drive pedal karts, bounce on the jumping pillows, build log cabins with what looked like giant Lincoln logs, and slide down the giant slides, just to name a few activities. We didn't spend near enough time here, and we were sorry to leave.  Families can easily spend an entire day exploring and having fun here.  During the fall you can enjoy the maze by flashlight along with a hayride.
While the Turkey Hill Experience is not an actual farm, we were able explore the latest in ice cream.  On the way upstairs to the main attraction you can read all about local farming history.  Once you enter the experience, we learned the process of how ice cream is made.  There are many hands on opportunities where we designed our own ice cream flavors, labels, commercials, and even milked a cow! Not only were we given unlimited samples of Turkey Hill ice cream, but also we were able to sample their iced teas.
Attending a show at the children's theater is an excellent way to introduce young children to the world of the stage.  At Dutch Apple Dinner Theater families are able to enjoy a buffet style dinner, with plenty of options for everyone, followed by a play.  My kids enjoyed Flat Stanley and were disappointed when it came to an end and it was time to go home.  In addition to the children's shows, Dutch Apple Dinner Theater offers non kid shows, concerts, classes, and workshops.
Disclosure:  The author and her family received complimentary admission to many of the attractions included in this article for the purpose of review.  She was not asked to state a particular point of view and the opinions expressed are those of her and her families based on their experiences.