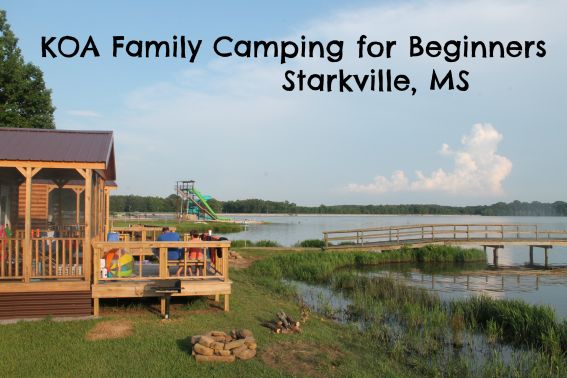 How do you address the idea of camping with a spouse who hasn't been in 25 or more years? The answer is gently, while stressing indoor plumbing and good air conditioning. When we made the decision to spend a June weekend camping, it came a few weeks after the conclusion of school, and a very busy time for us personally and professionally. We desperately needed a break.
This would be our first camping trip as a family so it was going to take a little more research to find the spot that would work just right for us. My family was invited by Kampgrounds of America to check out "What's behind the yellow sign?" at KOA. The mission was simple: research KOA's website, and find a campground that would fit the bill for us.
First-timer Camping at KOA Starkville, MS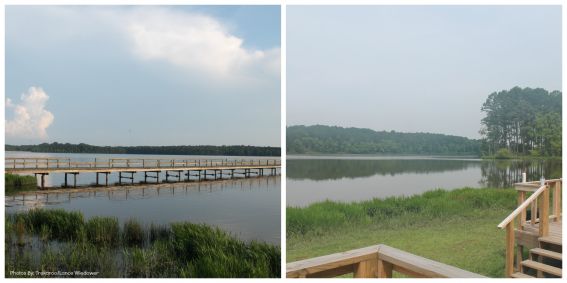 As we searched for our campground of choice, a few factors came into play. One, we wanted to stay in a cabin. The first time out of the gate, my wife wasn't ready to rough it in a tent. Two, we wanted a beautiful setting where we could relax and my wife could read and write. Three, we hoped to find a campground with some fun things to do. While relaxing was the main purpose, we still wanted some activities that our 7-year-old son would enjoy. So when I discovered the Starkville KOA, just a couple of hours south of our home outside Memphis, Tennessee, I was intrigued. This newer KOA property is near the college town of Starkville, Mississippi. It not only has nice luxury cabins mixed in with RV and tent spots, it's located on a beautiful lake with its own water park.
Newbie Camping in a Cabin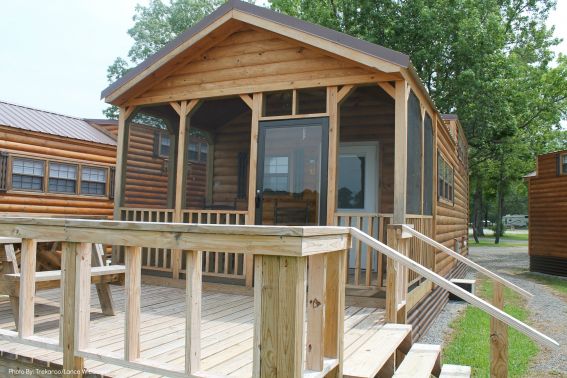 Since my camping experiences stem from childhood tent camping adventures in rural Arkansas, my first thought was to borrow someone's tent. But, again, my wife wasn't going to go for a tent. That's where this KOA luxury cabin hit the spot for us. Built about a year ago, our cabin had a large den area with futon couch, a table and chairs, and a flat-screen TV mounted above the door to our screened-in porch. There was a full kitchen to the side, with a bathroom and bedroom to the back. And, if we had friends along with us, they could've slept in the sleeping loft that overlooks the den.
The Water Park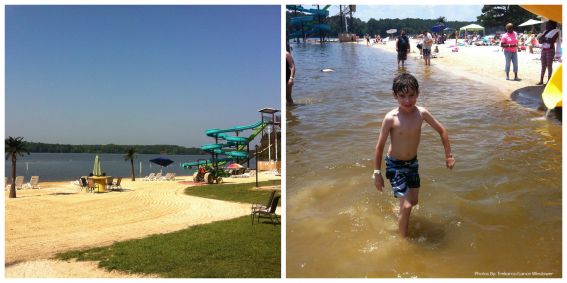 My son and I spent the day at the water park (admission was included as part of the cabin rental). The park had two larger slides, two smaller slides for younger children, a sand beach, a roped-off swimming area, and kayak rentals. He and I spent the day cooling off in the water and having fun on the slides while my wife stayed back at the cabin, enjoying the day on the porch that sat just feet from the lake.
At night, we listened to the frogs sing as we sat around our fire outside getting to know our neighbors in the cabin next door.
Ease into Relaxation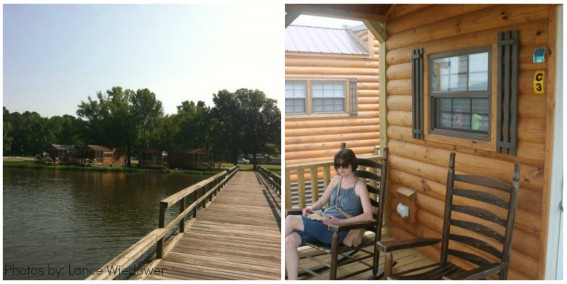 While we are newbies to family camping, we aren't newbies to traveling. We travel often, usually to destinations that have us going nonstop trying to see as much as we can, all while hitting the main attractions and museums. Free time is new to us as is unwinding by a peaceful lake. Once we booked the cabin through the KOA website, the mission of our weekend became clear. We would ease our son into the world of camping with a water park to play at, while my non-camping wife would have a comfortable cabin to sit back in, read, and relax. Over our two days at the Starkville KOA, we rediscovered the importance of rejuvenation, and that it is OK to not have an agenda on a trip. Our visit to KOA Starkville was just what the doctor of sanity ordered for this busy family. My wife also learned that staying in a relaxing cabin, in fact, might be in our travel future. Yes, she would be up for a return camping trip. Just not sure that a tent will be in the cards. What would we have done differently? We should have thought things through better and come prepared with items for our campfire. We had to drive to a nearby store to get marshmallows to roast. Other than that, this trip was a good introduction to camping for a newbie family.
What's behind the yellow sign at KOA? For us, it's relaxation in a cabin.
Book a vacation with KOA today!
Ready to take a KOA family camping trip?
Learn more about "What's behind the yellow sign?" Head here to read the KOA experiences of other Trekaroo families.
Disclosure: I received a complimentary stay at a KOA via Kampgrounds of America. The opinions stated are my own. This is a sponsored post for Trekaroo.