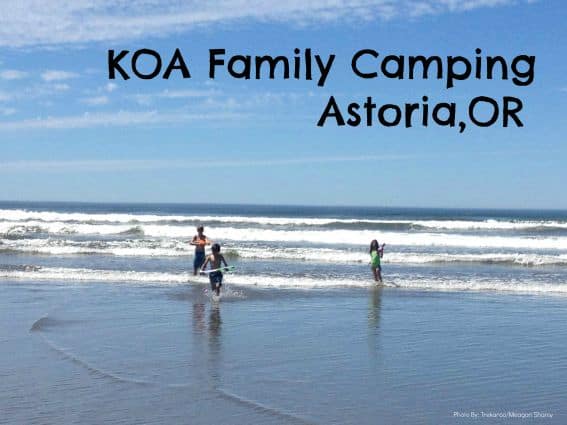 When I was first offered an opportunity to visit a KOA Campground, I have to be honest, I knew nothing about Kampgrounds of America. I had heard the name, but had never stayed at one. My reason for saying yes was purely because my kids wanted to go camping. I'd promised them we would go at least once this year, and now was our chance. Since moving back to Oregon, we had not gone at all. Why? Because it is too cold for me to camp here comfortably. The first time we lived here, we camped twice, and it was freezing. The temperatures just do not get high enough in Oregon for my taste, and they drop pretty low at night. So, imagine my utter delight when I realize KOA has cabins that families can stay in! I would not have to sleep in a tent on the cold ground. I was ecstatic as I looked through the site. Most KOA family camping locations offer cabins, and the one we were going to near Astoria, Oregon, a famous city on the Oregon coast, offers multiple types of cabins (and they have heat). There were one-room or two-room options as well as cabins with or without a private bathroom.
The KOA has a great website that makes it fairly easy to decide where to go. We knew we wanted to stay within a few hours of home and I quickly discovered that there were four or five within a 3.5 hour drive of us. Looking at the amenities, the Astoria/Warrenton/Seaside KOA really stood out. They have cabins, an indoor pool and hot tub, a bouncing pillow, mini golf, and lots of playgrounds. I am raising gymnasts, so as soon as I saw the bouncing pillow I knew this was the place for us. Plus, who doesn't love visiting the amazing Oregon coast. All the beaches here are nice and easily accessed. Be sure and bring some shovels because the wind can be pretty bad on the beaches and you will want to dig a hole to sit in.
KOA Cabin Specifics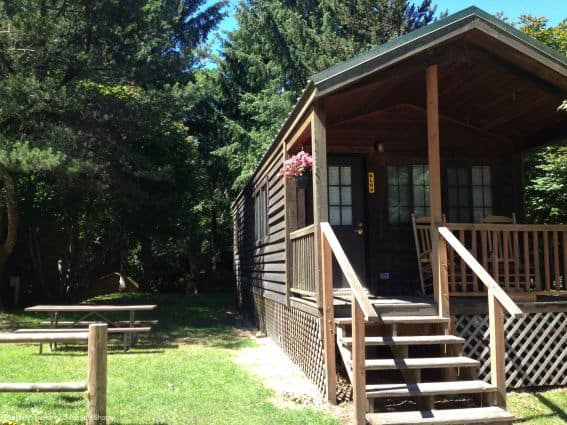 I decided to book a two-room cabin with a bathroom. I'll admit that this may not be "roughing it," but this is my kind of family camping. The cabins came with all the linens needed for the beds and the bathroom. Our cabin had a kitchen with a full size refrigerator. There were even packets of coffee to go with the coffee maker, which was a lifesaver for me because I forgot to bring coffee! There was a full size bed and a set of bunks. My oldest slept on the couch, so we all had our own sleeping space. Having separate sleeping areas is becoming more and more important now that we have a teen, tween, and elementary aged kid.
KOA Activities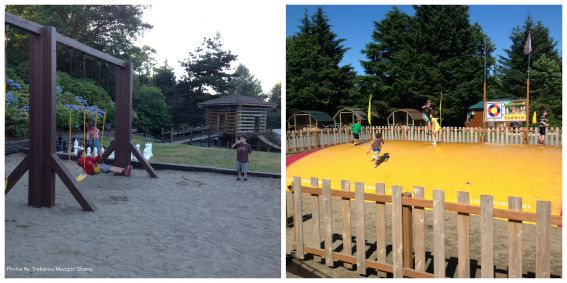 Upon pulling up and inspecting our cabin, I was already thrilled with our experience. Check-in took no time at all. I loved the fact that every time we drove in and out there was someone monitoring the entrance, and staff were visible all over the campground. I would not hesitate to come back to the Astoria KOA by myself with the kids.
The first thing we did was take our kids over to the bounce pillow and I was right, they loved it. A bounce pillow is a massive bounce pad secured to the ground, somewhat like a trampoline. We spent a lot of time at the bounce pillow. My husband and I even ended up bouncing with the kids. They let us have a ten-minute family jump.
KOA Cafe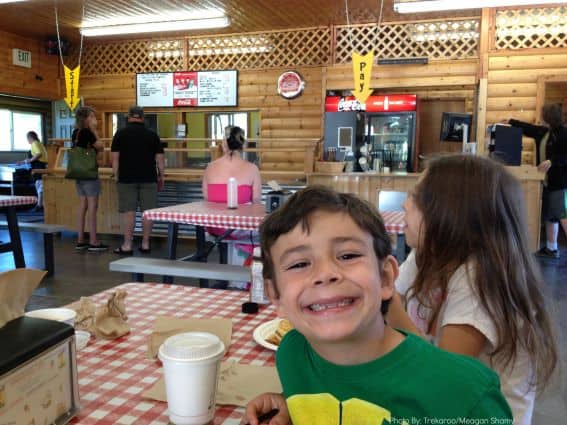 Next to the bounce pillow was a mini golf course and a playground. One of the little cafés served all-you-can-eat pancakes to guests for free! The other café would deliver pizza to the cabin. So, although we thought we would be spending most of our time at the beach, we ended up spending most of our time at the KOA. The KOA also had an indoor pool and hot tub that we enjoyed a lot and an activity center with arts, crafts, movies, basketball, games, and more.
The variety of activities was nice, because all of our kids were happy and having a good time. One would be bouncing while two were playing tether ball, or while two bounced, one played a round of mini golf. With a seven, 10, and 13-year-old, we struggle to find something that all the kids enjoy and I cannot tell you what a pleasant surprise it was to have three days of engaging activities for all of them. I should also mention the free WiFi, because that definitely helped keep my teen happy.
Astoria, OR

The location was great too; Astoria is where the 1985 movie The Goonies was filmed. The campground is located across the street from the main park entrance for Ft. Stevens State Park. It's walking accessible to the park or guests can rent one of the KOA bikes and bike to the park. We drove because we are lazy. At Ft. Stevens we found awesome beaches, some of which you can actually drive out on. Also here are the remnants of a shipwreck and a massive old battery. If you are up for the challenge, take some water guns and have a battle of your own inside the old battery. Also nearby is Ft. Clatsop where Lewis and Clark stayed while scouting Oregon. Here you can see a replica of where and how they lived. They also have a museum where you can learn even more about Lewis and Clark and hiking trails, some of which are handicap accessible. Gearhart Beach is just to the south and here you are allowed to drive out on the beach. This is what we prefer to do, because with so many kids it is easier to unload right on the beach rather than carry all our stuff down there. Further down the highway just past Gearhart Beach is Seaside, an adorable beach town, full of shopping, restaurants, and more stunning beaches. Kids always enjoy playing at the arcade here too.
Our time at KOA was both surprising and reassuring. This was a type of camping we could definitely do again. Indoor plumbing, heat, WiFi for the teen, and a cozy space to escape during the unpredictable weather on the coast is essential for our family vacations. Instead of staying at home, we can now enjoy a getaway that let's us explore the beach, and access several activities that all of our kids can enjoy.
Book a vacation with KOA today!
Ready to take a KOA family camping trip?
Learn more about "What's behind the yellow sign?" Head here to read the KOA experiences of other Trekaroo families.
Disclosure: I received a complimentary stay at a KOA via Kampgrounds of America. The opinions stated are my own. This is a sponsored post for Trekaroo.