Only a few hours into our 12-hour family road trip, our toddler started saying "Stuck, Mama! Stuck! Me stuck too! Out!" To this, my husband responded, "Yes! We're all stuck in the car, this is called FUN! Family fun!" Of course our son didn't pick up on the sarcasm, but it did get me thinking: Why do we do this to ourselves? Our toddler would be just as happy in a sandbox in our backyard as he is in a KOA sandbox two states over. Every year thousands of families embark upon vacations, to make memories to last a lifetime. Are we ALL crazy? Our kid friendly vacation South Dakota – style was going to soon determine if we were or not.
Real-Life "Vacation"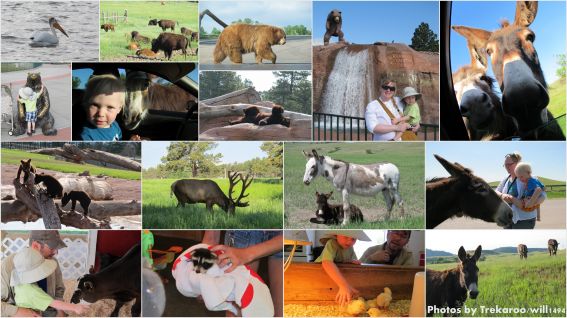 This thought process reminded me of the Griswold family and the iconic, albeit ironic, National Lampoon's Vacation full of misfortune, comedy, and some scenes that epitomize what a family vacation really is. I can almost hear the song "Holiday Road" playing in my head as we rolled down the highway! Maybe my family is the only one that has oodles of chaos packed into a sedan, and maybe we are not as organized as I'd like to think we are. Things go wrong and a lot of the time my husband and I look at each other with the unspoken "Is this really happening?" I mean our son's only request is "Go Outside?" So why then, do we put ourselves through the packing, the time, the expense, and the patience-trying, tantrum-enduring, family fun-filled vacation excursions that we do?
Jewel Cave National Monument
It's simple really. We learn about each other. We are forced to become more intimate as a family if we are sealed up in a car for hours at a time. We also experienced similar intimacy at the Jewel Cave National Monument in South Dakota. We were 200+ feet below the surface and it was the time that we had to pull together and hone our parenting skills to perform magic. (The kind of magic that makes a toddler be good when there is literally no escape until the cave tour is ready to go topside again.) Thank goodness we had the wherewithal to take the shortest tour!
Wall Drug and the Reptile Gardens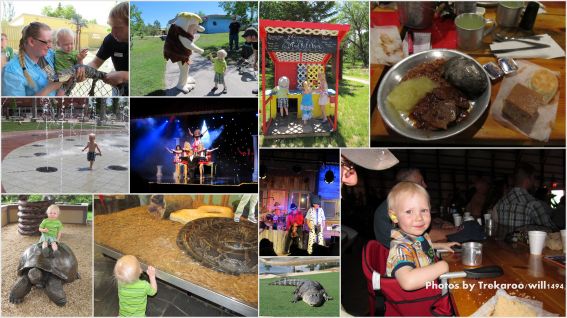 On my family's recent road trip to South Dakota, we were able to see many roadside tourist destinations and made many memories as my plans to impress my toddler would either crash or soar.
"You like dinosaurs son? Wait 'til you see the one at Wall Drug!"
Oops, too life-like and scary for our youngster. I think we may have inadvertently cured him of his love affair with prehistoric beasts. However, he was fine, even enthusiastic, about petting a live alligator at Reptile Gardens. No matter how much planning and tailoring I had to custom fit our trip, I had to learn to expect the unpredictable from my impulsive toddler.
Bobkat's Purple Pie Place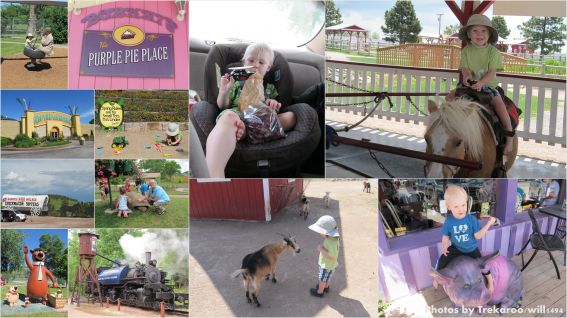 There was nothing unpredictable about my son's love of ice cream and presents. We enjoyed rhubarb pie a la mode and a sinfully decadent mountain of brownie fudge sundae. I really couldn't finish the dessert with it being so rich and gooey, so I had to call my husband in to bat clean up. Both desserts were huge and around $5.00. Any amount of money is worth satisfying my sweet tooth, but this was such a bargain and so delicious. Bobkat's Purple Pie Place is the place for the foodie in every family!
The presents came into play at Reptile Gardens where we found an awesome basket full of "white elephant/grab bag" style packages. These were all under $5.00 and little goodies such as key chains, cars, and leather rock-collecting pouches kept boredom at bay the entire ride home. "Present?" my son would ask. We were pleasantly surprised that after doling out brown paper clad gifts for hundreds of miles it was not expected of routine car trips thereafter. When the going gets tough, we are not above bribery while road tripping!
Custer State Park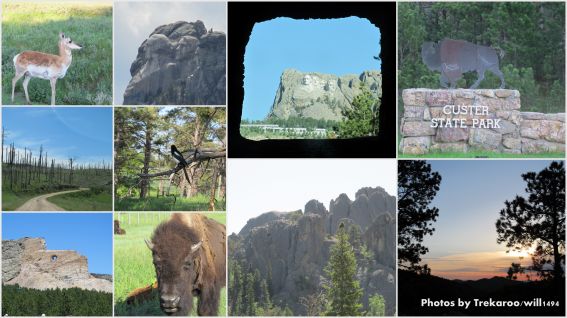 My son fell in love with the wild burros in Custer State Park. They have become a symbol on par with the great bison of the park and are sought out by all tourists, young and old. There is no greater thrill than to see your two-year-old giggle as the "donkeys" lick the windows and stick their heads into the car looking for handouts.
We were able to do some driving tours while it was nap time. I knew that seeing some of the splendor that Mother Nature had to offer would also mean meticulous planning on my part, being at the right place to start our driving tours and have them coincide with nap time. But, again, in spite of my stack of maps, draft itineraries, and moonlighting as my family's travel agent, I could not have predicted the eardrum-shattering, whole-car vibrating HAIL that we encountered during our peaceful nap time drive! Thank goodness our child placated us by falling back to sleep after the ruckus. Not even road construction later could put a damper on our road warrior spirits!
There was plenty to learn about logistics, patience, and true family fun and adoration on this trip. I firmly believe to get the cathartic experience of bonding as a family, it is best done in a small, tightly packed vehicle. You see, looking back on my family vacations as a child, they are some memories that stick out the most, even the less-than-wonderful ones. They are the memories shared when families get together. They will last a lifetime. On the last day of our long drive home, to my great surprise, instead of screaming "Stuck!", we heard a giggle and then "Find donkeys?" from the back seat. It doesn't get any better than that.