Boasting top billing from both Travel+Leisure and Conde Nast Traveler, it was no surprise that the Ritz Carlton Dove Mountain was luxury at it's finest. But kid friendly? I confess I was skeptical. Advertising a Junior Ranger Program and family activities gave me hope, but could this desert oasis cater to three energetic kids on summer break?
Boy did it ever. From our first moments at check-in I knew we were in for a kid friendly treat. There was a small desk off to the side for V.I.K. check-in. (Very Important Kids) which occupied the kids while I was able to get our room. I was instantly a fan of hotel "camping" as soon as the bellman took our luggage and escorted me to our room with my three kids fresh off a long hot car ride trailing behind.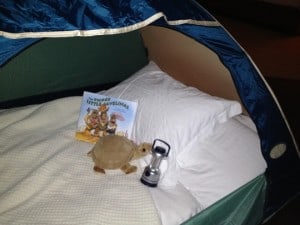 Our room was nothing short of spectacular.  Front and center was a kid-sized tent complete with down bedding, book, stuffed animal and flashlight as part of the "In-Room Tent Experience." My kids jumped right in and zipped themselves up. The tent was only large enough for one kid to sleep in so my children took turns in the tent each night, much to their delight.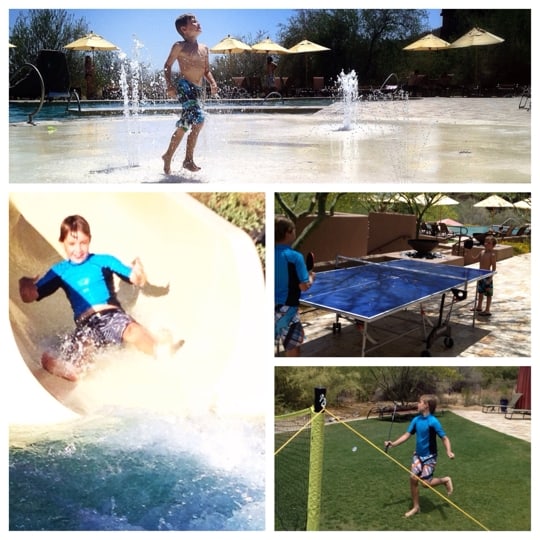 From the room we headed straight to the family-friendly Adventura pool complete with splash pad and 235 foot waterslide. It is located a few steps below the resort pool where frolicking children and shrieks of joy from the waterslide do not disturb guests looking for a more serene environment. The pool and slide area were very well supervised by the hotel and I felt I could relax and enjoy my children enjoying the day. We ended up spending every afternoon of our stay either at the waterslide or playing badminton, ping-pong, and board games which we checked out from the lobby.
Read my full review of the Ritz Carlton Dove Mountain for more kid friendly tips
Jr Ranger Day Program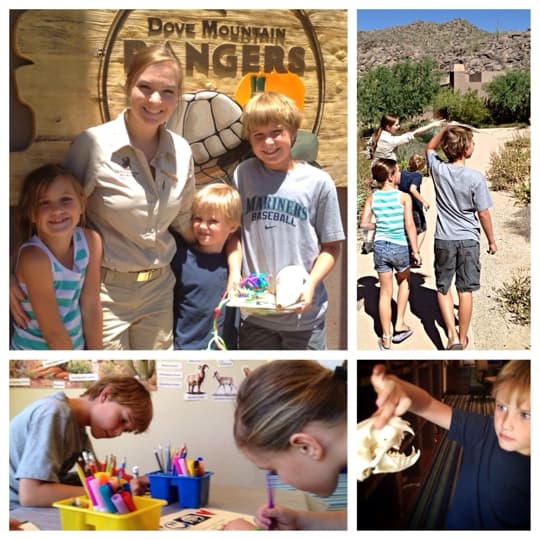 I love National Parks' Junior Ranger Program because I enjoy sharing nature with my children while knowing they are learning something valuable while on vacation.  The Ritz Carlton's Jr Ranger Day Program offers that same education nature experience with the added bonus of a luxury hotel stay. Much like a typical hotel day-camp, kids are dropped off in the morning but this is no babysitting time- this is adventure time. My kids were led on an instructional hike to view several of the petroglyphs on the resort grounds. I tagged along and was amazed by our ranger's extensive knowledge of the nature and people of the Sonoran desert. The kids drew pictures of what they saw which were later turned into handmade petroglyphs of their very own. Back at the Ranger Station the kids participated in a variety of crafts and educational activities. The Ranger Station is lined with terrariums filled with desert wildlife as well as skulls of native animals. We also experienced a bit of unexpected excitement when Lollipop, the albino king snake, slithered into the cushion of a chair. While she was being coaxed back out of the chair, a bird escaped its cage, flying around the room and running square into my 5-year-old! It was a super exciting day for my three and they left with new knowledge in their brains, and all their crafts and desert information compiled into individual booklets.
Sunset Celebration
During the evening we attended the Sunset Celebration, a ranger talk given by Ranger Ron on the Hohokam Indian tribe which is native to the area. The culmination of the talk was a flute played by a Native American on the far side of the hills. The music drifted through the resort as the architecture of the hotel allowed the sound to resonate through the valley. Ranger Ron was knowledgeable and quick to answer all of the questions thrown at him by my inquisitive munchkins. When we ran into him the next day, he remembered my kids and allowed them to pick an arrowhead and their own Indian flute to take home.
Hiking – Biking – Geo-caching
Dove Mountain is just waiting to be explored and trail maps with hikes of varying difficulty are available at the concierge complete with photos of the local flora and fauna you will encounter along the way. If you would rather not walk, bike rentals are available for kids and adults. Ritz Carlton Dove Mountain also has it's owe trove of geo-caches waiting to be discovered! GPS and maps can be checked out from concierge.
Dining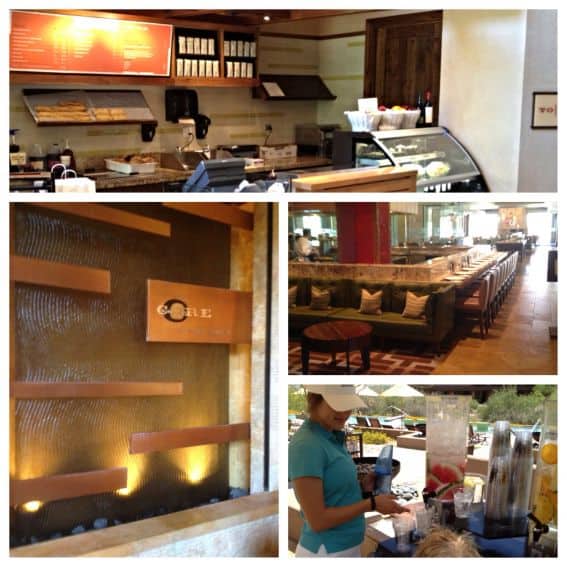 Ritz Carlton Dove Mountain has a wide variety of dining options from poolside Turquesa to fine dining at CORE Kitchen and Wine Bar. At check in my kids were given an activity book that also contained the "Rangers Menu" (kids menu). Kids offerings are the same in each dining area and included everything from mac and cheese to steak as well as a side dish, dessert and a beverage. I was thrilled to find a clearly marked wide variety of Gluten-Free options available for my gluten intolerant 5-year-old. Each restaurant had a stamp and after collecting all the stamps your booklet can be redeemed at the front desk for a Sonoran desert stuffed animal. Kind of like searching for things on a nature trail Ritz Carlton Jr. Ranger style!
Check out my full review of CORE Kitchen and Wine Bar.
Disclosure: My stay was compliments of the Ritz Carlton Dove Mountain, but all opinions and experiences my own.