Unless you're headed to the summit of Mauna Kea, Christmas in Hawaii is not a white one. Santa sheds his red suit in favor of flip-flops and a loud Christmas-colored Hawaiian shirt.
While there may be a lack of wintry cold in a Hawaiian Christmas, there is no lack of holiday spirit and fun.
Here are our picks for kid-friendly Hawaii Christmas events that has everyone in the Aloha State exclaiming, "Mele Kalikimaka"! That's Merry Christmas in Hawaiian, folks! Updated for 2021!
Hawaii Christmas Events on the Big Island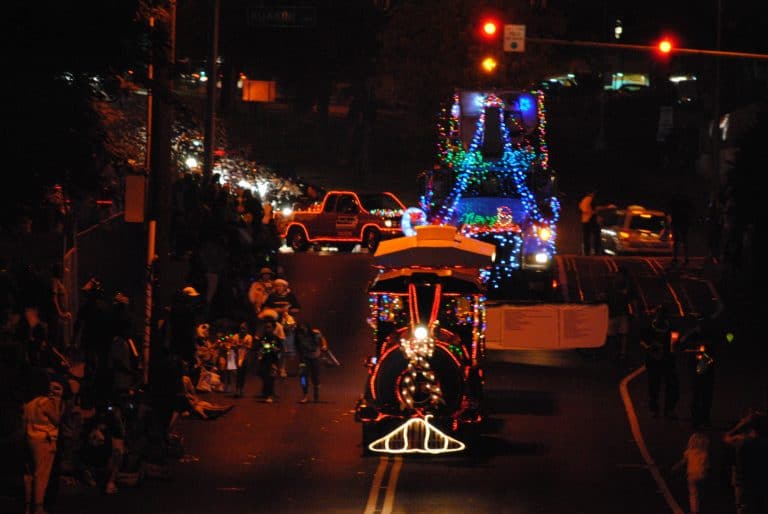 There will be no shortage of music and lights at Hawaii Christmas events on the Big Island of Hawaii.
The annual Kailua-Kona Community Christmas Parade is a colorful spectacle as it travels along the town's main drag of Ali'l Drive. Be sure to stay for the fireworks! This year's parade kicks off at 5PM on December 11, 2021.
Do you need to finish up some Christmas shopping? Head to Kailua Village for a holiday stroll through the area and get special pricing at participating restaurants and retailers.
Then unfold a beach chair or mat for a free holiday concert under the monkey pod tree at Emma's Square. Note: Plans for 2021 have not yet been announced. We will update as soon as we have info.
Kalikimaka Boat Parade is one of Kona's newer traditions. Great viewing spots for viewing this spectacular Hawaii Christmas event can be found at the Kailua Pier or any of the village's many restaurants. Note: Plans for 2021 have not been announced. We will update as soon as we have info.
Just because you're traveling during Christmas time does not mean your family has to miss out on classic traditions like the Nutcracker or Christmas Eve services.
The West Hawaii Dance Theatre & Academy will perform the Nutcracker at the Kahilu Theatre on December 23, 2021. The performance will occur via live stream with limited in-person seating available.
This visually stunning family-friendly holiday production includes more than 70 local dancers, and guest dancers from Bolshoi Ballet, Matsuyama Ballet, and Carolina Ballet.
Don't miss Christmas Eve services at Mokuaikaua Church, Hawaii's first Christian church. It features the annual "Silent Night" hula during the candlelight portion of the service.
Did your favorite activity make our list of the best things to do on the Big Island with kids?
Find amazing deals on family-friendly hotels on the Big Island.
Hawaii Christmas Events on Oahu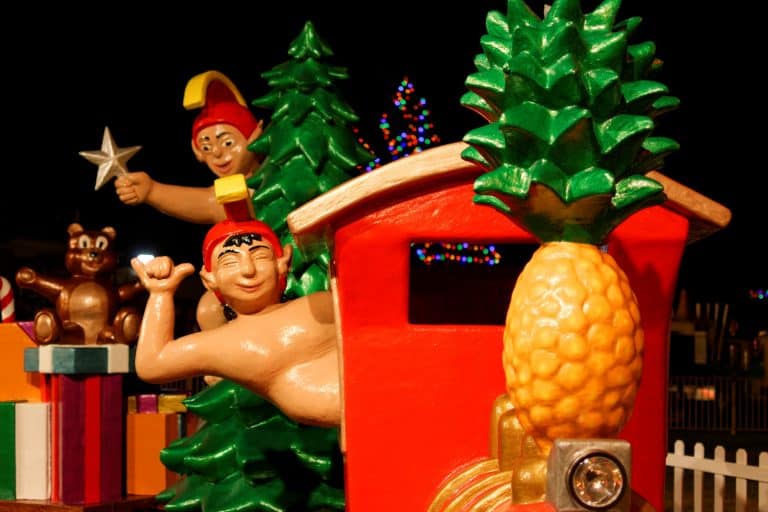 On the island of Oahu, Hawaii Christmas events include an array of colorful parades like the Festival of Lights Boat Parade at the Hawaii Kai Town Center.
The event will take place on Saturday, December 11, 2021 from 6:00 p.m. – 8:30 p.m. The parade will start by the three shopping centers and will travel throughout the marina.
The biggest Hawaii Christmas celebration on the island is Honolulu City Lights. The month-long festivities kick off with the lighting of the 50-foot Norfolk Pine Christmas tree on the front lawn of Honolulu Hale triggers the "corridor of lights" down King and Punchbowl streets.
The Honolulu City Lights tree lighting ceremony is set for December 4, 2021, at 6:30 p.m.
Santa arrives at the Outrigger Waikiki via an outrigger canoe at 9 a.m. on December 11th. He'll greet resort guests on Waikiki Beach in front of the resort.
Throughout the month guests can enjoy Hawaii Christmas events that include a Keiki Ukulele show, Hawaiian storytelling, and hula lessons as well as the traditional ornament making, eggnog, and Christmas cookies.
At the Polynesian Cultural Center on the North Shore, be sure to experience the annual Christmas at the Hukilau Marketplace.
There are Keiki Train Rides, light displays, musical performances, selfies with Santa, and even snow days! Best of all, it's all free! Enjoy the spirit of the Holidays at the Hukilau Marketplace December 13-23 (except Sundays) from 6:30 p.m. – 8:30 p.m.
Holiday Hint: In this part of the world, Santa hopes you leave him Malasadas, not cookies. A Portuguese doughnut without a hole, a malasada is golden brown outside, light and fluffy inside.
They are filled with the gooey goodness of custard, chocolate, or coconut and dusted with sugar. They are in fact so amazing, that there is a designated Malasada Day to celebrate them. Stop by Leonard's Bakery to get acquainted with this local favorite.
Check for great family-friendly hotels on Oahu.
Christmas Events on Maui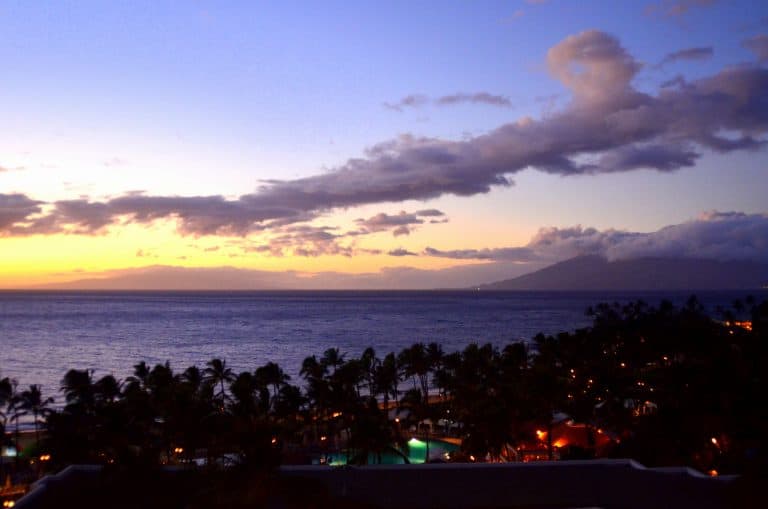 Christmas celebrations on Maui kick off with the Banyan Tree Lighting in Lahaina Town. The massive tree and its tangle of branches are illuminated with thousands of lights.
Santa also arrives on a Hawaiian voyaging canoe at Maui's Grand Wailea. The resort kicks off "Tis the Season of Aloha," with a month of activities and programs, many of them benefiting local charities.
Guests might find carolers strolling the lobby singing traditional and Hawaiian holiday songs. Note: The Grand Wailea has not yet announced plans for holidays 2021. Please check back soon for updates!
Special ukulele and hula performances are also part of the holiday season. Santa returns to the resort on Christmas Eve, and hundreds of children are expected to turn out to see him sail in on his voyaging canoe.
At the Sheraton Maui Resort & Spa, families can celebrate Christmas Eve "Hawaiian style" at the resort's oceanfront Maui Nui Lu'au.
The entire family will delight in the remarkable stories, history, and culture of the Valley Isle and Kaanapali luaus. Note: The Sheraton has not yet announced plans for holidays 2021. Please check back soon for updates!
See what made our list of the top things to do in Maui with kids.
Check for availability at family-friendly hotels on Maui.
Christmas in Hawaii on Kauai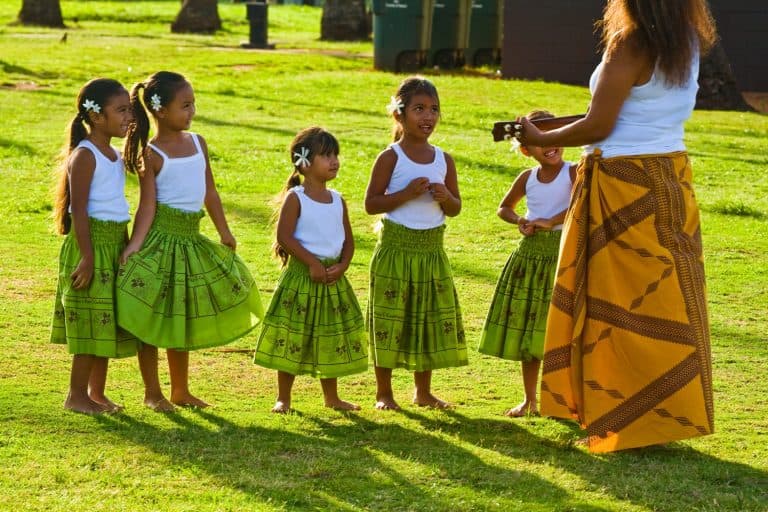 If you find yourself on Hawaii's Garden Isle during the holidays, the Festival of Lights is a Hawaii Christmas event not to be missed! For more than two decades, Josie Chansky known to many locals as "Aunt Josie," has filled the building in Historic Country Building Park with unique holiday-themed decorations.
How unique, you ask? Have you ever seen a tree made of 7500 green toothpicks or wreaths made of plastic egg cartons? Referring to the old adage, many of the amazing displays here became another man's treasure after being another man's trash.
It won't be possible to enter the building this year but the park lights will be lit from 6 p.m. to 11p.m. nightly from Thanksgiving to New Years Day. Santa and Mrs. Claus will be seeing visitors on the Historic County Building Porch from 6p.m. to 8 p.m. on Friday, December 3, 10, and 17th.
The Waimea Lighted Christmas Parade is a great way to kick off an island holiday break. This year's parade will be a drive-thru along ʻAla ʻŌhiʻa Road on December 4, 2021, from 6 – 9 p.m.
Discover the best things to do in Kauai with kids.
Find the best deals on hotels on Kauai.
Christmas in Lana'i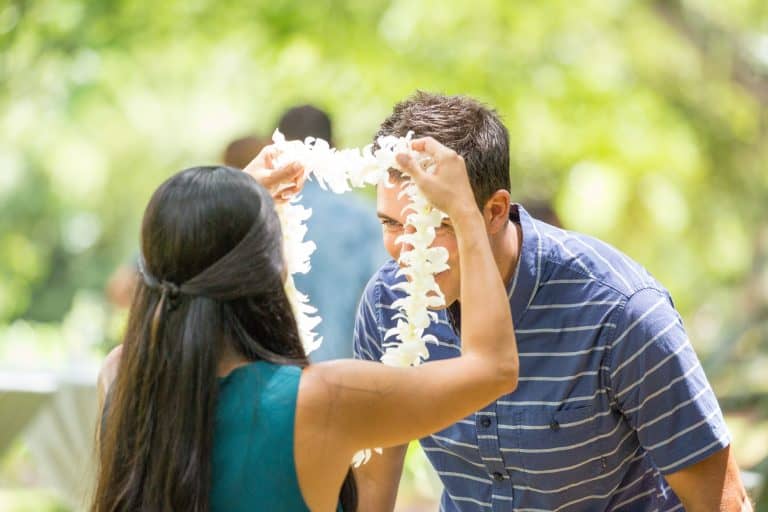 Note: Christmas 2021 have not yet been announced. Please check back soon for updates!
Many think of Lana'i as the Hawaii of yesterday: unspoiled, unhurried, and unequaled. And that's what visitors will find whether staying at the tranquil and lovely Four Seasons Resort Lāna'i at Manele Bay or at the upcountry escape of Four Seasons Resort Lāna'i, The Lodge at Koele.
Daily sports, spa, cultural activities, and fantastic evening events, will make holiday on Lāna'i one to remember. With kite flying, Kids Yoga, Junior Golf, Keiki Spa Party, and hula, the kids will never be bored.
Other options this time of year include cookie decorating and ornament making. If you're visiting the island from a snowbound region, imagine making your friends and relatives jealous when you let them know that your Christmas included a Dive in Movie! (That's a movie you watch while in the pool!)
Find more Christmas events near you! Trekaroo has guides for dozens of cities across the country.
Pin this to bookmark all the holiday fun; we update it yearly:

Featured photo by: Shutterstock