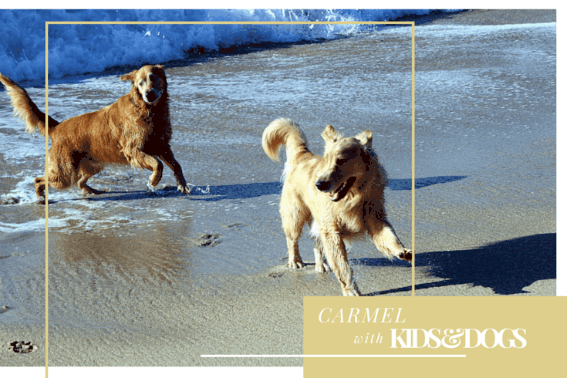 There are so many things to take care of before the family sets off on a trip: stop the newspaper, water the plants, find a sitter for your pets, and numerous other errands that trickle down a seemingly endless to do list. But what if there was one thing you could take off that checklist altogether? Why get a pet sitter when you can take your dog with you?
Taking the dog along on vacation seriously amps up the fun and laughter, according to my kids. After all, a dog will run around with you on the beach much longer than a parent will! Be prepared though, taking the dog also amps up the mischief and the mess in the car. My dog has not only developed an appetite for extra cheesy Goldfish crackers, she has a tail wag that can easily interrupt any backseat game or enhance a car ride art project. If you can handle all of that though, you just need a locale that can take it on too.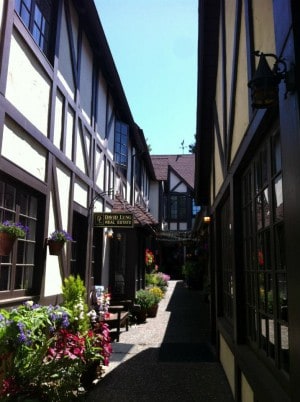 The picturesque hamlet of Carmel is as kid and dog-friendly as they come. A charming little place, it looks as if it jumped right out of a European postcard. The Alsatian-influenced architecture, the manicured gardens, and the adorable shops all allow families to easily forget they're strolling around a Northern California beach town not a small German village.
Dog-Friendly Carmel Lodging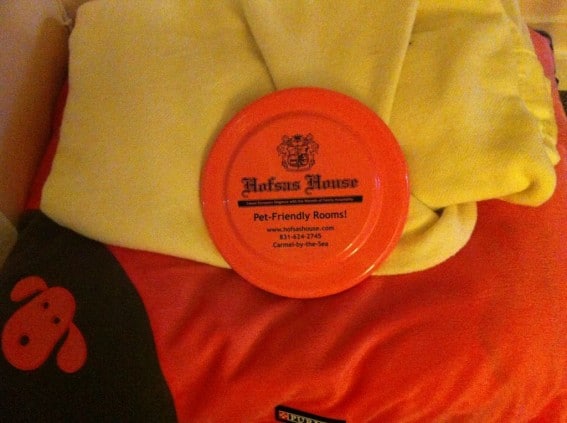 Accommodations are made for canine guests at many of Carmel's hotels. One of the nicest I've seen is at Hofsas House where dog guests are given a pink Frisbee at check-in. Our kids had a blast throwing the coveted item to our dog on the beach. But the pooch pampering didn't end there. A package of treats, a special dog bed (in the Hofsas House signature color of pink), are among the items that await your kids' best friend when your family settles into one of the hotel's 38 comfortable and spacious rooms. Our dog sure looked happy as could be stretched out on her bed chomping on a bone while the kids hit the pool!
Get a real doggie bag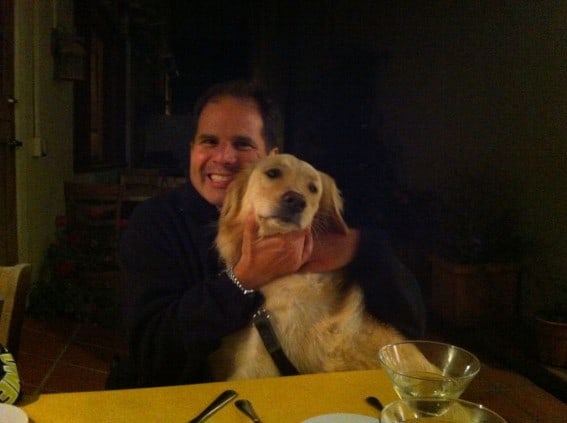 In Carmel, your four-legged friends can even be considered in the dining options. At Forge in the Forest, you can get a dog menu along with one geared towards the kids. Select from kibble, chicken strips, or a slab of New York steak for Fido, Rover, or Spot. Choose from classics embraced by the under 12 set including Mac and Cheese, pizza and pasta, and more. Your family will dine al fresco with your dog eating near the table from his own bowl and your kids giggling at the sight as they dig into their own dinners.
The Cypress Inn is another location where dogs frequently dine with their humans. As my family enjoyed breakfast at the establishment founded by actress and animal activist Doris Day, dogs sat on the couches next to their humans and lounged under the tables waiting for the kids in their families to drop scraps. Doris Day is often credited with being the catalyst behind Carmel's ultra-pet friendliness. While there's no dog menu at the Cypress Inn, dogs are provided with water bowls as well as the space to stretch out in style.
Visit a kid's dream of a sweet shop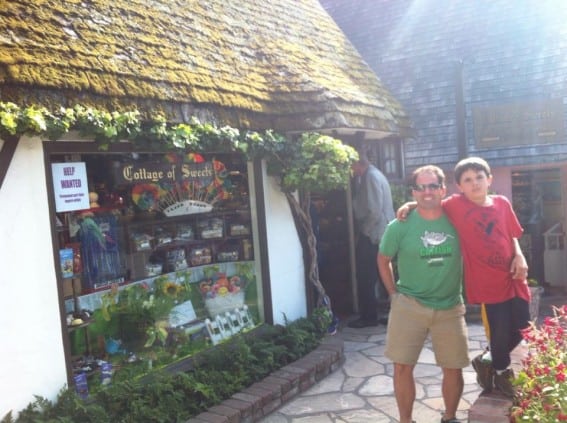 As an after dinner treat amble over to the Cottage of Sweets, an old-fashioned candy shop housed in a cute little cottage that looks as if it was plucked from a painting created by bucolic scenery artist Thomas Kinkade. Pixie sticks, bubble gum, lemon drops, licorice, gummi bears, fish, and worms, and so much more line the shelves here. The shop also makes its own fudge in an array of flavors and dispenses boxes of incredible handmade confection chocolates.
The walk to the Cottage of Sweets, like other locations in the village, is just a short distance from the Hofsas House. Leash your pooch and take him along for the stroll. Large, clean, and filled water bowls are stationed in just about every shop doorway along the town's main drag. You'll also soon discover, as we did, that there are quite a few business owners with a soft spot for dogs and a seemingly endless supply of dog cookies to give away.
Hit the beach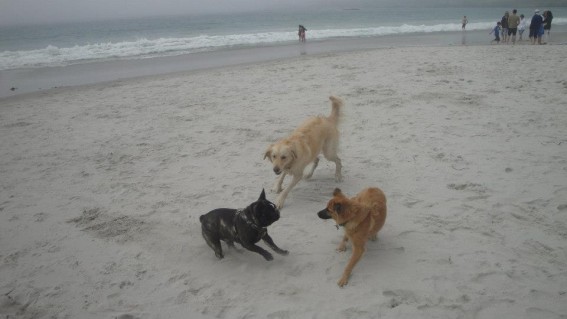 No visit to Carmel is complete without some time spent on Carmel Beach. A vast swath of white, sandy hills and flatlands at the water's edge, brings dogs running off-leash intermingled with packs of children. Just as kids are attracted to playing with other kids in such situations, dogs will mingle as well. Don't be surprised if you set off to throw the ball for your dog and the dog who brings it back to you is another breed altogether.
While Carmel sees many sunny days, there are also plenty of foggy ones with a bit of wind as well. Dress in layers and pack sweatshirts and kites along with your picnic. It was fun to watch all of my youngsters (both two-legged and four-legged) frolic in the waves and construct as well as destroy sand castles in the soft, light sand with the Monterey Peninsula as a breathtaking backdrop.
At night, a section of the beach (the area just past 10th Avenue) is lit up with bonfires. For a fee, hotels like Hofsas House offer fire kits to guests if you wish to build your own. There were about six other groups enjoying a beach bonfire experience when my family arrived to partake in our own. One group even provided guitar accompaniment the rest of us got to enjoy. There's no more classic California summer experience than s'mores and songs around the campfire! Unfortunately we discovered that our dog is intent on carrying on our family's inability to carry a tune!
Rating a success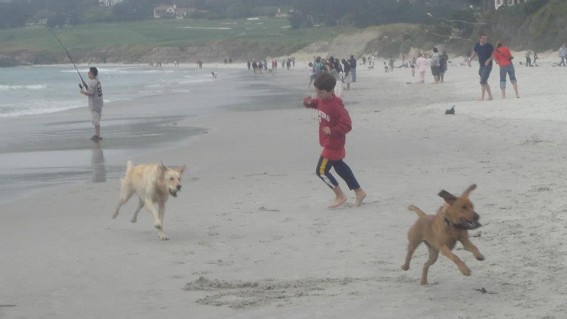 The sight of two zonked out kids and a dog sleeping between them across the backseat was all I needed to know that our weekend in Carmel was a grand success. In the end, the wet dog smell, the beach sand all over the car, and all those Goldfish cracker pieces in the seat crevices became more like souvenirs than inconveniences as did my children's claims that anytime we head to that little fairytale village by the sea, the dog must come too!
Disclosure: Thanks to the Hofsas House for hosting my family. Although my family received complimentary lodging, my reviews are always my own opinions and are not influenced by staff or its affiliates.