I still remember my first Broadway experiences. I was in high school and the Spanish teachers took the students in for a class trip to see Man of La Mancha starring Raul Julia. While many of my classmates were just happy to get out of classes for the day, I was captivated by the happenings on stage from the rise of the curtain to the closing scene. I eagerly signed up to return to Broadway again in high school; this time to see the Secret Garden, despite the fact none of my friends were going. I watched these plays in awe of the talent that I do not possess and that awe still remains today.
Why take the kids to Broadway?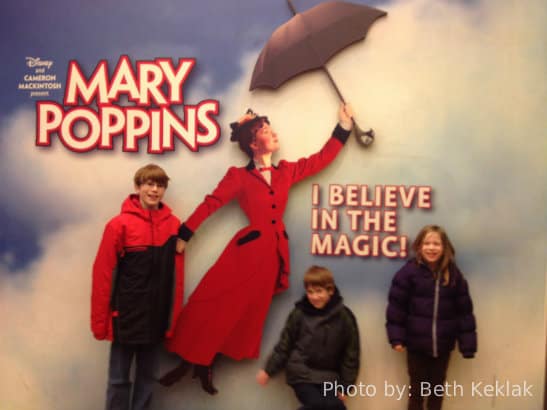 As a mom, I couldn't wait to share the Broadway experience with my kids. I wanted them to be exposed to the culture and talent that theater provides, but most of all, I wanted to create the kind of memorable experience that I had. But let's face it; taking the kids to the theater can be a daunting process. When are they old enough? What is a good show that will hold their interest? The answer to these questions is going to vary from family to family; you will need to know your child. If he or she can't sit still through dinner, then chances are they are not going to sit still through a two-hour show.
I turned to Melissa Caolo, Managing Director at Camp Broadway, for some input to share with you. I wanted to know why she thought the theater is such a great place to take kids.
"Live theater is an exciting, unique experience. It can't be paused, replayed, fast forwarded, or otherwise interrupted. Kids and adults alike are in the moment together, focused on this event unfolding in front of them. Outside distractions are cleared away for the time you are in the theater."
Melissa also believes that theater is a great example of collaboration and an opportunity to talk to your kids about working together toward a common goal or problem solving skills. "In live theater if something goes wrong, all those people have to work together to work through a sudden change in front of an audience." But mostly?
Mostly, there's just nothing like seeing a live performance. It's inspiring to watch people onstage accomplishing what for many is a life-long dream. Being only feet away from someone living their dream is a powerful thing."
Those sound like some pretty great reasons to expose children to the theater!
Tips for taking the kids to Broadway
Next, I asked her for some advice to pass along to families who may be a little hesitant to take their kids to a show for the first time. Melissa's biggest piece of advice is to prepare ahead of time to help ensure the most successful experience possible. "Gather more information about a particular performance that is of interest to your child or family. To learn more about the content, read about the show online or in local and national publications." She also recommends calling the theater directly to ask questions. "Many theaters will inform you if a show has strong language, or other content that may help you decide if this is not the right choice for you and your family." While on the phone with the theater she also suggests asking about things that may be helpful such as if they have booster seats, minimum age requirements, and standing room, which is good in case your child gets squirmy or uncomfortable with part of the performance.
In addition to those handy tips, be sure to discuss the theater experience prior to arriving so everyone knows what to expect. Melissa points out, "Live theater is a unique experience. At Camp Broadway when we take groups of kids to the theater we talk them through arrival and handing the ticket to the ticket taker to the usher who will seat you. We tell them the theater will be dark but a grown-up will be with them the entire time. We talk about the content and the actors. Theater etiquette is also reviewed so they know talking or other behaviors are distracting to the audience and performance. The more they understand what to expect from the experience the more comfortable they will be with something new and be more likely to get swept away in the magic of theater!"
What to see on Broadway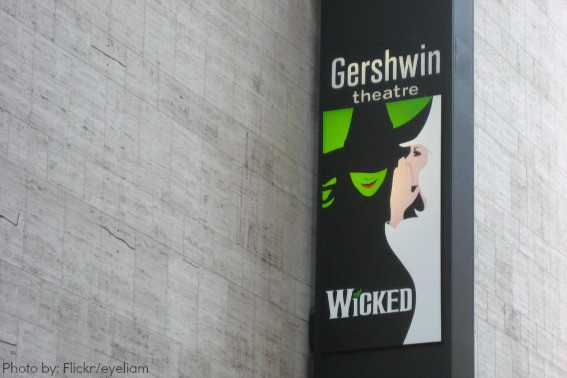 Individual tastes differ, so the "perfect show" is going to vary from family to family. Even in my own family, if you ask all five of us what our favorite show is you are likely to get five different answers! However, these family-friendly shows are a good place to start.
The Lion King is based on the animated 1994 Disney movie and has had a continuous run on Broadway since 1997. The play opens on Pride Rock when Rafiki calls the animals to join her so she can present Simba to the kingdom. The animals then file onto the stage from every direction, including down the aisles. The costuming is imaginative and engaging and they alone are a reason to see this show. The songs and the humor will not disappoint. I have actually seen this show twice on Broadway and I'd happily go again. I took my now 12-year-old son when he was 7 and he still talks about it.
Frozen is based on the Disney hit movie. Opening at the St. James Theatre in 2018, Tony award-winning director, Michael Grandage brings Adrendell to life. The tale of love and sacrifice by two sisters, Elsa and Anna, is even more magical on the live stage. In addition to the beloved songs performed by a full orchestra, and accompanied by emotional performances, there are four additional songs written just for this Broadway production. The costumes, set, lighting and stage effects are simply magical. Both boys and girls alike were enraptured. (added by LiLing Pang)Get the full Disney Broadway experience with the Adventures by Disney New York City Tour
Matilda, based on the story by Roald Dahl, is the story of a precocious little girl with extraordinary talents and imagination. She is unappreciated by her family and dreams of having a better life. She uses her special powers to change things for the better.
Disney does it again by bringing Aladdin off the movie screen and onto the Broadway stage. This musical is sure to delight the audience with its unforgettable songs, exotic scenery, classic love story, and comic genie. Start rubbing your magic lamp and wish for tickets.
For kids who are a little older, the long running show Wicked offers up the classic story of Oz from a different perspective. The audience gets to see the journey of how two witches of Oz become the Wicked Witch of the West and Glinda the Good Witch. An added bonus, the Gershwin Theater is one of the largest and most comfortable on Broadway.
Currently touring former Broadway hits

While the following shows left Broadway for the 2014-2015 season, they continue to tour, and are worth seeing.
Annie (pictured above), returned to Broadway in 2012 and is entertaining families once again. The timeless story of Little Orphan Annie on a quest to find her parents, array of memorable characters such as Miss Hannigan and Daddy Warbucks, and the unforgettable songs like Tomorrow, make it a great pick for families of all ages.
Newsies is another Disney film adapted for the stage. It features a story of a newsboy, Jack, working to help support his family who dreams of a better life. After finding out the cost of newspapers has risen, Jack rallies his fellow Newsies to strike. Full of energetic song and dance, families are sure to be entertained.
Do you have a favorite Broadway show? Be sure to tell other Trekaroo families!
Featured image by: Deenvan Meer, Courtesy of The Walt Disney Company