Last Updated on

As a community of traveling families, please join us in kicking off 2012 by reaffirming our commitment to show "Troo Compassion" as we continue to explore and travel with our kids. In that spirit, we start the year with our 5 for $25 fundraising opportunity.
When we started Trekaroo 3 years ago, we had a dream. A dream to inspire and enable families to explore the world. We see travel as a vehicle for building family bonds, developing a broader world view and developing a heart of compassion for people in need. Our family had the opportunity to do just that a few weeks ago as we explored Cambodia.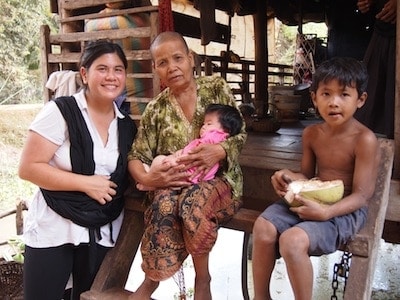 Cambodia is a beautiful country with a grand history told through the magnificent temple ruins of Angkor Wat. However, it is also a country that in recent history was ravaged by civil war. During our travels, we met a wonderful traveling family – Brandon and Andrea Ross. The Ross family moved half-way across the world, drawn to Cambodia for it's beauty to start a travel tour company called Journey's Within. However, as travel often does, it opened their eyes. When they saw the harsh realities facing their Cambodian friends, they realized that they could do something to help. That's the story of how they came to start the non-profit arm of their work in Southeast Asia called Journey's Within Our Community (JWOC). Our family was fortunate enough to spend a few hours befriending some of the children who benefit from the great work that JWOC is doing.
5 for $25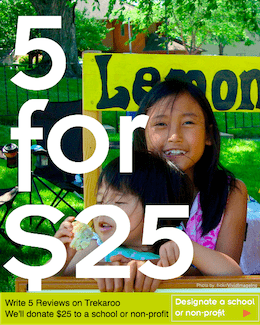 Help Trekaroo give away $2000 to worthy causes
Here's how it works.
Step 1: Write 5 reviews
Write 5 reviews of kid-friendly attractions, activities, hotels, or restaurants. By doing so, you'll be helping inspire and equip families to keep exploring. Join/Sign in and start writing reviews
Step 2: Designate a non-profit to receive $25
Pick a non-profit or school for Trekaroo to donate $25 to in your honor. Must be a qualified 501(c)(3) organization. Designate a non-profit >
Step 3:
Invite your friends who care about the same cause to join in too and raise even more for your non-profit or school. Send your friends an email or post it on your non-profit's Facebook page or group.
Official Rules:
Your reviews must be authentic and based on your real experience
Only reviews written after Jan 5, 2011 qualify
Qualified reviews must be of kid-friendly places and include helpful opinions and tips for parents
We will donate a max of $25 per member, but there is no limit on the number of friends you can invite to participate in 5 for $25 to benefit your cause.
We will keep donating until we've given away all $2000
Your school or non-profit must be a qualified 501(c)(3) organization.
If you're inspired to help make a difference, but don't have any special non-profit in mind, here are some of our favorites:
World Vision
World Vision is Christian humanitarian organization that is dedicated to working with children, families and their communities in the US and Worldwide to reach their full potential by tackling the causes of poverty and injustice. They work in some of the most war-torn and poverty-stricken communities around the world. They also run a highly effective child sponsorship program if your family is interested in sponsoring a child. World Vision is often one of the first NGO's to respond to disasters around the world alongside the Red Cross and UN.
International Justice Mission
International Justice Mission (IJM) is a human rights agency that brings rescue to victims of slavery, sexual exploitation and other forms of violent oppression. IJM lawyers, investigators and aftercare professionals work with local officials to secure immediate victim rescue and aftercare, to prosecute perpetrators and to ensure that public justice systems – police, courts and laws – effectively protect the poor. More children, women and men are held in slavery right now than over the course of the entire trans-Atlantic slave trade. IJM rescues victims, seeks to bring perpetrators to justice, provide aftercare for victims, and works to strengthen community factors and local judicial systems that will deter potential oppressors.
Journey's Within our Community
Journey's Within our Community (JWOC) is a small hands on non-profit. JWOC runs five projects promoting improved living conditions for people in Cambodia, Laos and Myanmar. They work to promote economic and educational opportunities while also improving health. Their work includes a scholarship program to help students complete university education, free English classes, clean water projects, and a small microfinance intiative.
Big City Mountaineers
Big City Mountaineers transforms the lives of under-served urban youth through wilderness mentoring expeditions that instill critical life skills. Their curriculum improves integrity, self- esteem, responsibility, decision-making abilities and communication skills in close to 1,000 youth annually.