Tybee Island has been called Savannah's island but it's so much more than that.  We spent a nice, long weekend exploring Tybee and discovered a variety of quirky restaurants, historical forts, and one of kind shops.  Tybee Island really does have something for everyone to enjoy.
Room for the Entire Family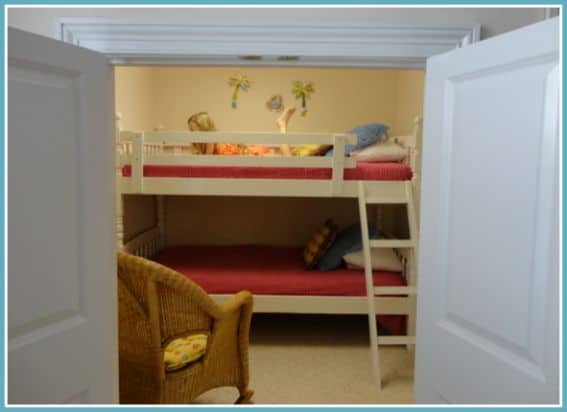 There are lots of hotel and resorts on Tybee but we opted for something with a little more space and privacy. Thanks to the Tybee Beach Vacation Rentals, we stayed in a fabulous three bedroom, two bath condo that overlooked the Atlantic Ocean.   If you are planning a family reunion or simply want your own personal beach home for a few days, vacation rentals are the way to go.  Our condo was beautifully decorated in a colorful island style complete with games to play, beach toys, a fully equipped kitchen and laundry room.  The bedrooms were light and airy and my six-year-old loved the private kiddie closet that housed a bunk bed, pint sized rocking chair, and children's books. Us grownups enjoyed watching the sunrise over the Atlantic Ocean while enjoying a cup of coffee and embracing the relaxed island vibe.
Gators, Seafood, and a Full Belly!
The food on Tybee is just as memorable as the restaurants and folks who'll serve you.  No visit to Tybee Island would be complete without a trip to The Crab Shack!  The Crab Shack is set along the banks of Chimney Creek amongst large oak and palm trees.  The four acre setting is very rustic and fun.  Nearly 80 small, farm raised alligators live in an enclosed pond near the front of the restaurant and for $3, patrons can buy a bag of gator food, baited a cane fishing pole, and feed these overgrown lazy lizards.  The gators were a bit too drowsy to take the bait while we were there but it was fun to see everyone try.   The kiddos liked that there are sinks scattered around the restaurant with plenty of paper towels and samples of their homemade sugar scrub.  After handling the gator food, these convenient sinks also made mama happy knowing that those little hands were clean for lunch.  The original bait shop, 4 x 8 plywood menu, bar, and other buildings have been modified over the years as the restaurant has grown but are still in use to this day.  The menu has a variety of local low country seafood boils, barbeque, and a few kid-friendly choices.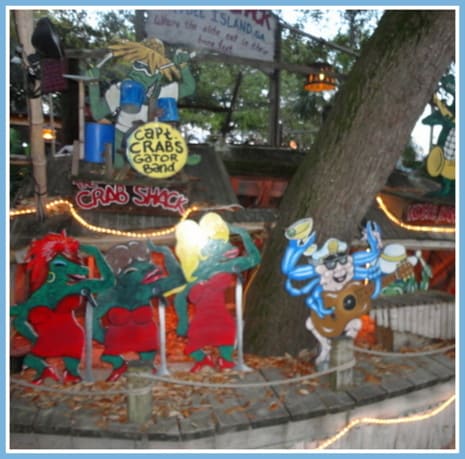 There are several other great spots for families to eat beyond the Crab Shack. We enjoyed eating at the Sugar Shack which offers far more than just sweet treats. We chose a few different hot sandwiches with fries and shared them. They also serve up fried seafood platters and a delicious shrimp salad. It's one of the more affordable restaurants on Tybee and has been locally owned and operated for decades.   If you're looking to eat at the beach, give the North Beach Bar & Grill a try.  Fans of Miley Cyrus will recognize this restaurant which was featured in her recent movie, "The Last Song."  The service was kicked back and the menu was full of fried favorites.  For lunch, we cannot say enough good things about The Sundae Café!  We ordered the delicious and affordable $8 daily special of fish n grits.  De-li-cious!  Huc-A-Poos is a very popular place with the locals so be sure to strike up a conversation with the folks seated next to you to hear stories about Tybee that you won't soon forget.  No matter where you chose to eat, there's always something interesting and delicious on the menu.
Waterfront Fun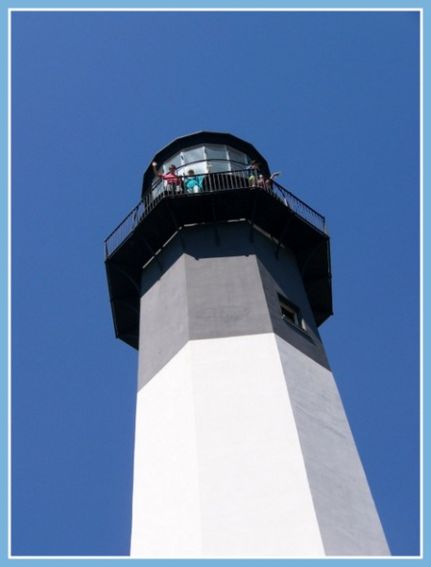 There are five different beach areas on Tybee Island and each offers its own unique experience.   The North Shore is a lively spot for singles and families. The beach is wide, there are nearby restrooms, and lots of paid parking spaces.  Before hitting North Beach, visit the Tybee Island Light Station and Museum. The grounds and buildings are very well maintained by a friendly group of staff and volunteers.  The two light station cats, Michael and Miss Kitty, were dozing in the sun as we walked past to explore the light keeper's house and greeted us as we finished our 178 stair climb to the top.  Every 25 steps, there are landings where you can take a rest but the climb is easy and the view from the top is worth every step! Be sure to visit the museum at Fort Screven just across the street from the Light Station.  Admission is included in your Light Station ticket price.  We learned a lot about the military and carnival history on Tybee which made me appreciate how much the area has grown and declined over the years only to rebuild time and time again.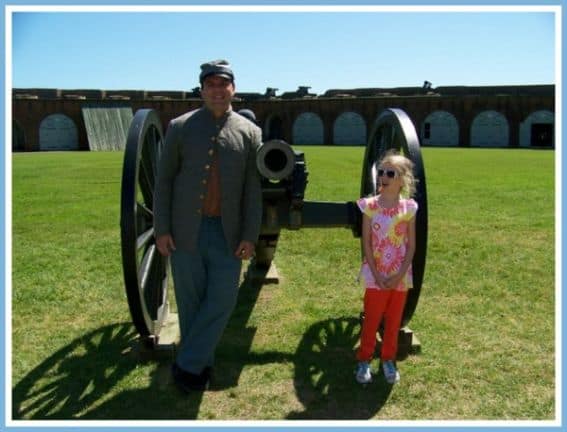 Fort Pulaski, part of the National Park Service, is a very well preserved Civil War era fort.  When my family visited, we were able to see a musket demonstration by Confederate clad soldiers and heard fascinating stories about the Immortal Six Hundred. My six-year-old earned her Junior Ranger badge by completing a fun quiz about the Fort. She loved sharing the stories and showing off her well-earned badge once she got back home to her kindergarten classmates.
We got a new perspective of the Fort as we sailed aboard Captain Mike's Dolphin Tours.  Trying to spot the dolphin as they swam among the waves was a thrill for the kids.  We had 37 different dolphin sightings during our one hour cruise.  The on board guide shared interesting facts about the bottle nose dolphins and even snapped a few photos of our group during the cruise.  The folks on Tybee are very proud of their island and are eager to help visitors become friends.  Kick back and plan your escape today.  Y'all come back now!
Disclaimer: Special thanks to the Tybee Island Tourism Council for hosting me on this island adventure. Tybee Beach Vacation Rentals provided complimentary lodging and we also received complimentary lunch and tickets to the dolphin tour and light station. As always, the opinions expressed in this review are my own.
---
Travel with kids to: CA |CO | DC| FL | HI | IL |MA | NC | NJ | NY | OR| PA| TN | TX | UT | VA | WA