-The winter vacation your family's been dreaming about.


The Earnshaws were born to ski. We are Nordic naturals who cut through the powder like Olympic slalomists. Okay, that may not be entirely true but considering three out of four of us hadn't strapped on skis until recently, I think we are doing pretty darn good! Of course, like any proud mama bird watching her fledglings fly for the first time, I can't help but be proud. The thing is, this mama bird didn't lend a bit of instruction to her offspring, the enthusiastic instructors at Keystone's Children's Ski and Ride School deserve all the credit for my kids' perfect pizza wedges and impeccable turns.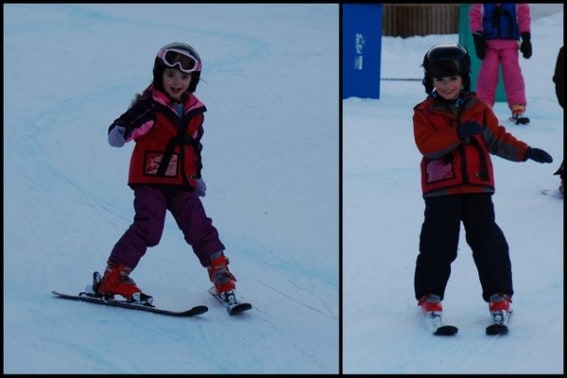 My ski instructor, Mark, is definitely responsible for all my rad (yes I said rad) ski moves.  Up until our visit to Keystone this winter, I was a complete ski virgin due to my fear of a frigid, tumbling death.  You see, I stumble through life on my own two feet.  Literally. In my eyes, stairs are essentially death traps and tripping over flat surfaces is an everyday occurrence. I'm sure you can imagine how terrifying strapping two long sticks on these clodhoppers must have seemed.  Luckily, after some coaxing by a lovely PR agent for Keystone Resort, I was convinced to put some trust and faith into the hands of dear Mark and learned I am actually a bit graceful on the slopes (albeit bunny slopes).
Watching newbie skiers try to learn without professional instruction was like watching Bambi collapse on a frozen pond while Thumper glided casually by.  Without the building blocks professional instructors offer, the poor skiers were flailing down the hill, falling constantly, and not looking like they were having a very good time. Meanwhile, this self-professed klutz was able to stop, turn, and cruise down the bunny slope without falling once! I even managed to conquer the dreaded ski lift (dreaded if you have a fear of falling like me) without error.  Best of all, I had the confidence and skills to build upon the next time my family made a trip to the mountains.
Winter fun, no skis required
The greatest thing about a winter vacation in Keystone is that there is so much to do beyond skiing and snowboarding. At the top of the River Run Gondola, a giant snow fort waits for adventurous kids to explore. This snow fort features tunnels, slides, and even a throne, all made completely of snow and ice. My family quickly discovered it was great place to play hide and go seek while waiting for a time on the tubing hill.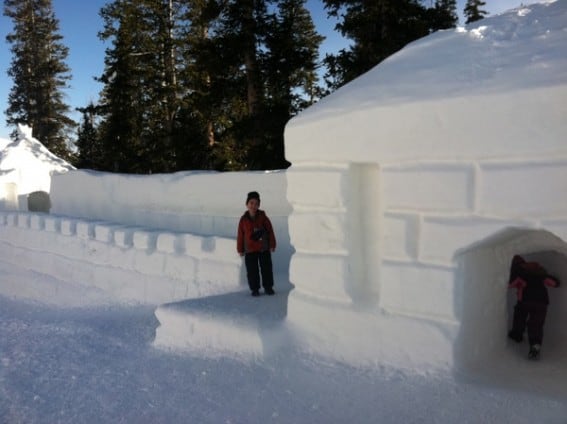 Speaking of tubing, Adventure Point Tubing at Keystone Resort is most definitely not the sledding you grew up with.  Four perfectly groomed tracks lead tubers down a massive hill at speeds that rival a roller coaster. Children as short as 42 inches are able to participate but as we learned, this activity is best reserved for thrill seeking kids. My son, a roller coaster lover, squealed with delight as he whizzed down the hill with his dad, eager for another ride once he reached the bottom. My daughter, whose favorite ride at Disneyland is still Small World, screamed bloody murder and then let everyone she who came without earshot just how much she disliked the speed of the hill. My husband and I loved it and were especially happy to ride the magic carpet back up the hill instead of having to lug two large inner tubes up the slippery slopes.
Families that love to ice skate will be happy to hear that the largest Zamboni-maintained outdoor skating venue in North American is none other than Keystone Lake.  Whether you are interested in a pick-up game of ice hockey or a quiet spot to perfect your triple salchows, you are sure to find it at this premier ice skating spot. Those staying at the River Run Condos at Keystone will find a small outdoor rink near the condos, ideal for helping your little ones take their first glides on the ice.
Dining experiences offering much more than just great food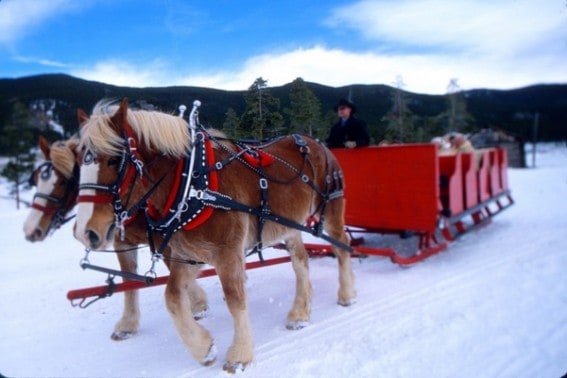 Is there anything that says winter more than dashing through the snow on a horse-pulled sleigh?  I don't think so! If your family can only afford one special experience while at Keystone, make it be the Horse Drawn Sleigh Ride dinner. Guests are taken on a moonlit ride through the Soda Creek Valley where elk tracks are fresh in the snow and stories of past homesteaders are shared by a cowboy on your way to the toasty warm cabin where dinner is served. Steaming cast iron kettles full of the best barley beef stew you will ever eat are accompanied by the songs of a cowgirl and her guitar. A complimentary shot of peppermint schnapps (adults only!) kicks up a cup of hot chocolate quite nicely and entrée choices of grilled chicken, steak, and salmon are served with heaping portions of potatoes and veggies. Warm apple pie and vanilla ice cream fill the last spare inches of belly room before everyone bundles up and heads back across the valley with two magnificent draft horses leading the way.
Atop the mountain, Der Fondue Chessel serves up fondue family-style in a Swiss alpine chalet that sets the mood for a fun dining experience. Servers dressed in Bavarian costume dish up cheese fondue with all the fixings, salads, a variety of meat to cook on tabletop grills, and incredible dessert fondue options to cap off the experience. Meanwhile, a roaming polka band plays traditional music but when family favorites such as the Hokey Pokey and the Chicken Dance start to play, everyone in the restaurants drops their fondue forks, stands ups, and joins in on the fun.
---
Travel with kids to: CA |CO | DC | FL | HI | IL |MA | NC | NY | OR | PA | TN | TX | VA  | UT | WA