I admit it. I'm addicted to my iPhone and sometimes for good reason. When our family travels, we use our cell phones for a multitude of tasks that would otherwise require lugging around a huge bag of guidebooks, maps, camera equipment, and so on. The downside of having so many wonderful smart phone apps for road tripping is that when you lose your cell phone connectivity, you're often at a great loss.
Last year, we went camping just an hour from our house at Portola Redwoods State Park. You would think that here, in the heart of Silicon Valley, there would be cell towers crisscrossing every square inch of the peninsula. However, 'twas not the case. We had our Google Maps app on our phone mapped to Portola Redwoods, but somehow we got lost. I said to go one way, and my husband said go the other. We were at a deadlock. Meanwhile, our trusty iPhone, which usually resolves such family conflicts, drew a very sad blank. We were in a dead zone.
Sound familiar? It got me thinking about what options are available for improving cell connectivity during road trips. With satellite phones still costing a fortune, I looked into an in-car cell signal booster. The kind folks at zBoost and Wilson Electronics, who make all manner of cell phone signal boosting devices for buildings and vehicles, sent me a couple to try out.
Comparing Cell phone Boosters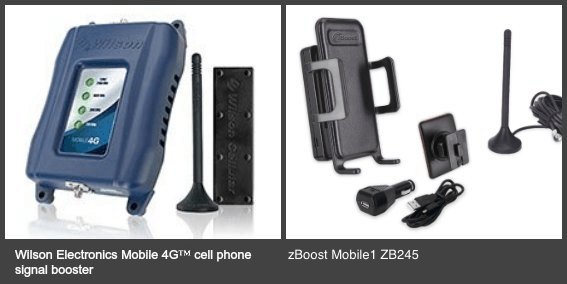 The zBoost Mobile1 ZB245 boosts 3G signals for voice and text for one device attached to a cradle. This model is $89.99. The Wilson Electronics Wireless Mobile 4G cell phone signal booster is able to boost up to 4 mobile devices at varying bandwidths. It sells for $399.99. I was curious about how well these would work, and what advantages are offered for the significant price differential.

The instructions for setting up both devices were a little more daunting than the actual setup. A magnetic antenna sticks to the top of your car for both signal boosters. One wire connects the antenna to the cell phone signal booster, and the other powers the booster using your car battery. For the zBoost, you place your cell phone in a cradle and viola!, you're done. Your phone must be on the cradle for the signal to boost. The Wilson Electronics Wireless Mobile 4G cellphone signal booster has an additional flat low profile sending antenna that is installed inside your car. It works wirelessly with up to 4 devices, and boosts voice, text, and data signals for a variety of bandwidths.
Do Signal Boosters Really Help with Cell Phone Connectivity?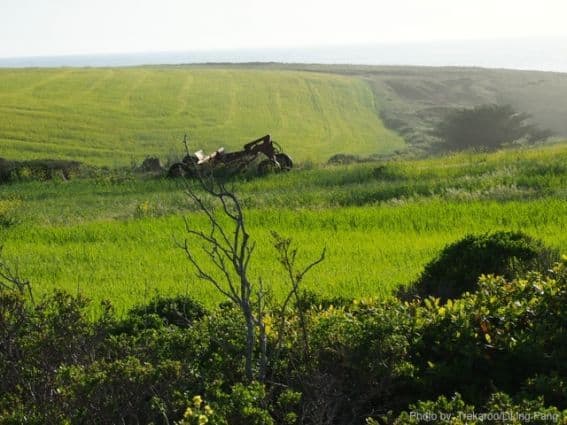 Believe it or not, the San Francisco Bay Area is littered with spotty coverage. Another place my T-mobile phone has cell phone connectivity issues is along CA Hwy 1, just south of Half Moon Bay. Sure enough, as the ocean opened up before us, my cell signal dropped to a single bar. I tried calling hubby's Verizon phone, which has way better coverage and the call would not go through. I placed it on the zBoost cradle and magically, the signal went up a few notches and the call went through. So, at least, if I was stranded, I could get some help, or call for directions if I were lost. I wasn't able to surf the web because my phone's data runs on 4G LTE, a signal not boosted by the zBoost.
I know I need to embrace the joys of being completely unplugged, but really, when I need to find information about anything from, "Where is the next In and Out Burger", to settling a debate the kids are having in the back seat over "How chicken eggs get fertilized," not having data service on my phone is simply irritating. So, we plugged in the Wilson Electronics Wireless 4G Cellphone Signal Booster. Instantly, I was able to look up where we were going to stop for dinner, in a spot where my 4G signal would have been so weak it would have been impossible to load any web pages.
If you keep the 4G cell phone signal booster running the whole time you drive around, the stronger signal can help smooth out connectivity issues and loading speeds. It's helpful even in city areas where tall buildings can sometimes make it challenging to get a strong and persistent signal. Unfortunately, if the nearest cell tower does not support 3G/4G, then you are out of luck for data coverage. We discovered that the cell phone boosters perform as promised, they boost a cell signal, but if you're out in the boonies, and you get a "no service" or "E" (edge) service, you won't be able to get data service even with a booster. In fact, we only had to drive another 5 minutes before we were deep into the dead zone, so really the coverage area didn't expand by much. Think of a cellphone signal booster as filling in the holes of a slice of Swiss cheese rather than expanding its size.
What's great is that both these signal boosters work with most major cell phone service providers. However, if you are truly concerned about staying connected for safety or convenience reasons, it's more important to pick a cell provider that offers the best coverage. My husband's work provides him with a Verizon phone and their ads are true about having the most cell coverage. I currently have T-mobile and I used to have AT&T. We have traveled all over the country with both of our phones and Verizon wins hands down for coverage. Our road trip down Hwy 1 was no exception. While my T-mobile phone said "no service," his Verizon phone was still strong with four bars. There have been countless similar incidences.
So, for all you connectivity cravers out there, here's your road-trip plan:
Step one, get Verizon.
Step two, consider getting a cell phone signal booster to reduce dropped calls and more importantly maintain good data download speeds.
Step three, check cell coverage in areas you are road-tripping through using the Open Signal App. If you are going to be in dead zones. Be sure to bring along a paper map.
What do we recommend?
If you are going to go to the extent of investing in a cellphone signal booster, I recommend just biting the bullet, and buying the Wilson Electronics Wireless 4G Mobile Cell phone Signal Booster. The main advantage of the zBoost is that it's much more affordable, but you sacrifice the ability to increase data speeds and boost data signal for multiple users. zBoost also sells an adapter kit for the zBoost Mobile1 that will allow it to be taken into a hotel room or vacation home, so it can be both a booster for the car or a booster for a small indoor area. The MSRP is $49.99 for the indoor adapter kit.
We were impressed with how sturdy and well-built the Wilson Electronics 4G cellphone signal booster was. The manufacturer suggests installing it under your seat, and I would not fear it getting stepped on because the casing is steel. Also, be sure that if you plan on installing this device in your car, it's best to have more than one power point in your car so you can still charge your other devices.
Also, we weren't so keen on having wires dangling all around us in the car. If you want to hide these wires, it would involve a more complicated installation process to get as many wires tucked away as possible and then you would not want to move it after that. I'm dreaming of an after market device that could be installed like a car radio. Maybe that's coming next?
Tell us what you think?
How important is connectivity to you on a road trip? What smart phone apps do you find it hard to live without when your cell signal fades.
Leave a comment below to share your thoughts.
Disclosure: zBoost and Wilson Electronics provided me with their products for testing so that I could offer recommendations based on my real experiences. However, as always, these opinions are entirely my own.