– Jessica Allen is a Japanophile, professional procrastinator, and mother of two rambunctious boys.

The small city of Kamakura, Japan, just about an hour south of Tokyo, is a very popular tourist destination hosting numerous activities including both the Tsurugaoka Hachimangu Shrine and the Great Buddha.  As expats living in Japan, we decided to explore this city full of history and religious significance.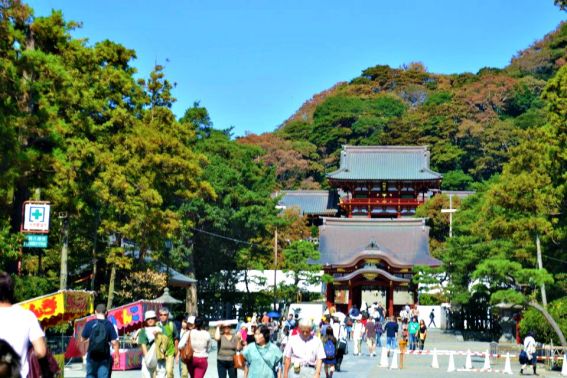 Tsurugaoka Hachimangu Shrine
The front approach to the Tsurugaoka Hachimangu Shrine is called Wakamiya-oji street, and as you walk up to the shrine you are greeted by two huge stone statues, one on either side of a Torii gate.  The shrine is dedicated to Hachiman, the patron god of the Minamoto family and of the samurai in general. There is a nice little garden off to the right hand side, which our boys enjoyed very much, especially the Koi pond.  I absolutely loved walking through the temple and admiring the intricacies of the woodwork and statues in the shrine.  My children however, were completely bored within two minutes.  I'd recommend skipping going inside with younger children, as it is a place for worship, and there is nothing to do or see that would particularly interest young children. My six year old did a bit better, but was quite obviously not impressed. This particular shrine is a very popular spot for tourists, and was packed the day we went.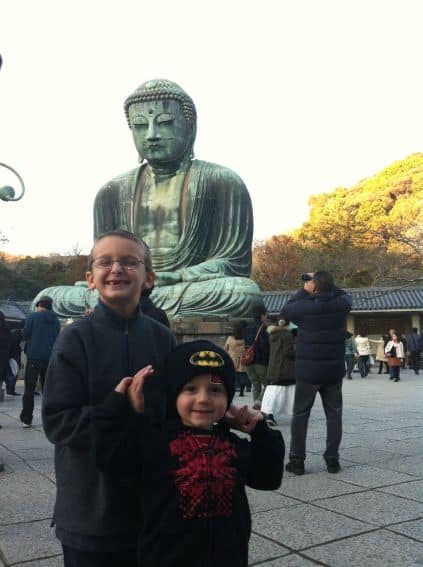 Great Buddha
Our next destination was the Kotokuin Temple, home of the Great Buddha!  Even though it was mid-day on a Thursday, it was incredibly busy with tourists. Be prepared for crowds whenever you visit!  I had to try to form a bit of a barrier around my older son so he wouldn't be too squished.  At the Temple, there is a 200 yen entrance fee you need to pay before you head in to marvel at the Buddha. The Great Buddha is absolutely amazing!  For 10 yen (about $0.10) you can walk around inside of the statue, which was pretty interesting.  My youngest was too scared to go in and started howling when I tried to bring him closer to the statue. However, my six year old thought going inside was the coolest thing ever! There is a souvenir shop on the grounds, a small store selling snacks and refreshments, and a small garden with a little shrine (where my youngest picked a flower from the ground in front of the shrine, and stuck it into his mouth with freakishly ninja-like speed. Not even a half a second after he started chewing, and I realized what he had done, a monk came running at us, frantically waving his hands at us and saying the word no over and over!). After that happened, we decided to call it a day!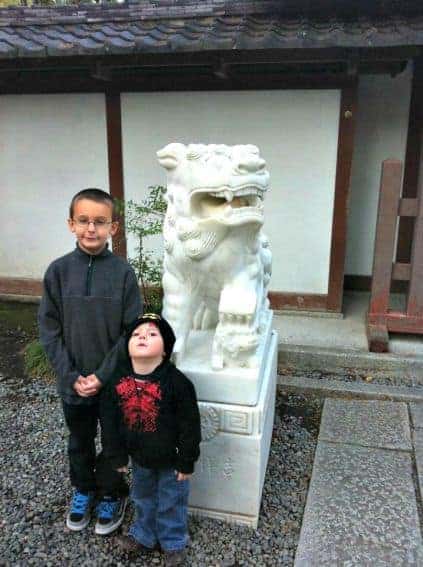 Traveling Tips for Kamakura, Japan
The Buddha and Shrine are absolutely amazing and beautiful; however it is likely that the younger child set won't fall in love like you do, so plan for a short trip.
Prepare for crowds.  They are inevitable.
 Although Western toilets are available, they are few and far between.  Familiarize your child with "Squat toilets" before venturing out on road trips like these.
Sidewalks in the area are very narrow so stroller usage is very limited.  (Even our umbrella stroller took up almost the whole sidewalk.)  Baby carriers are recommended for small children.
Photography is never allowed inside temples or shrines
---
Travel with kids to: CA |CO | DC| FL | HI | IL |MA | NC | NJ | NY | OR| PA| TN | TX | UT | VA | WA