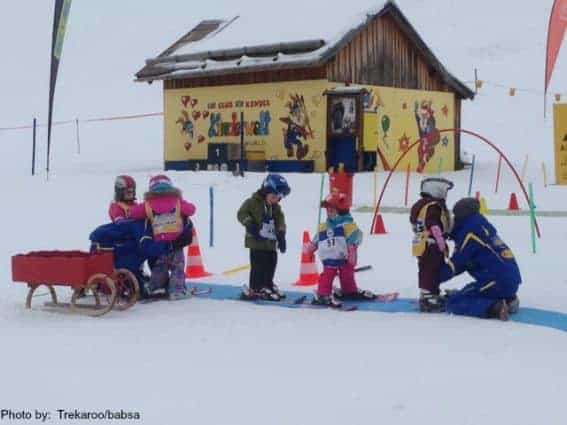 We found a recreation paradise for the whole family in January- great skiing, fab ski schools for all ages and lots of non-skiing opportunities both on and off the slopes.  It's no wonder that Austria has produced some world class ski champions over the decades – the kids start young out here and they make sure it's a whole lot of fun!
Lodging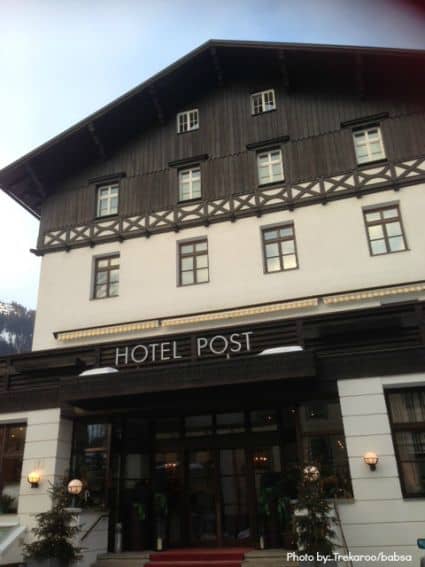 St Anton is a small, cozy town brimming with Tyrolean ambiance and charm.  We stayed at the Hotel Post which has been owned and run by the same family for years.  Very centrally and perfectly located for one of the main lifts, Hotel Post offers a relaxed atmosphere, buffet meals to please every palate, and an indoor pool and spa area for weary limbs at the end of the day. We bumped into friends who had been going to this hotel for fifteen years with their kids because they were so impressed with its location and comfort.  Children under 13 stay for free in their parents' room and are well catered for in the dining room where the huge chocolate fountain was a particular hit.  If you are on a tight budget check out St. Alton Arlberg, which lists a range of accommodation to suit every pocket.
Outdoor and Indoor Recreation Options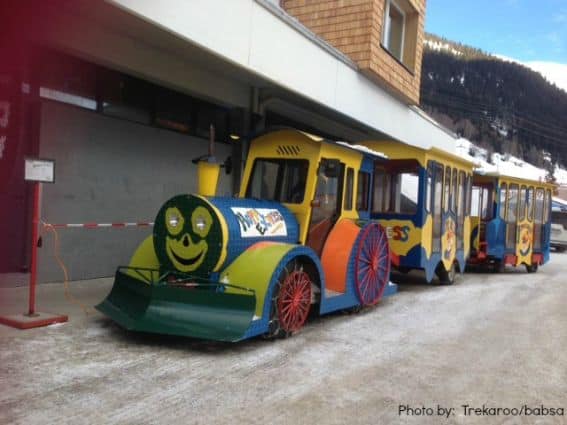 Just a few minutes from our hotel was a mini ski park for toddlers with a slow conveyor belt to take them up the slight slope and sledges to play in. A miniature train collects them from the ski school meeting point, and chugs over to be met by enthusiastic instructors.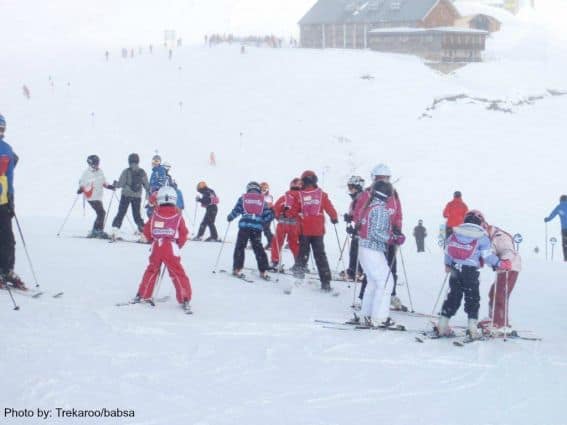 Ski School–Arlberg  offers two hours tuition per day for children over 3 years (Euros 58 per day with discounts for further days).  Children aged four and above get four hours per day (Euros 70 per day).  They also offer a kindergarten without skiing for toddlers aged 2 ½.  With the children safely parked at the ski school, parents can enjoy the wealth of skiing in the area.  With 79 cable cars and lifts to transport skiers around the mountains, there were no queues and good links into neighboring valleys.  It's no accident that royalty and celebrities vacation in this area – the snow is reliable, the off-piste (back-country skiing) is excellent, and villages such as St. Christoph offer great lunch spots.
If you fancy a change from skiing, there are plenty of activities to choose from.  Kids will love the nature sledding runs, the ice –skating ring, and the Ski Show " The Snow Must Go On " that runs every Wednesday evening at 9pm.  Indoor activities include an indoor pool with waterfall and currents, and a multi-functional sport center with tennis courts, bowling alley, and climbing wall. There are planned winter hiking trails for families which range from 15 minutes to 2 ½ hours.
St Anton isn't cheap but it didn't seem pricier than comparable resorts in France or Switzerland. The food is distinctly Austrian – Wiener Schnitzel, Goulash Suppe, lots of salads, and plenty of yummy cakes and ice creams. The transfer from Innsbruck airport is an easy 100KM. Ski lifts are modern and well manned – safety and comfort are paramount, and many chair lifts offer pull-down roofs to protect passengers against any wind or snow.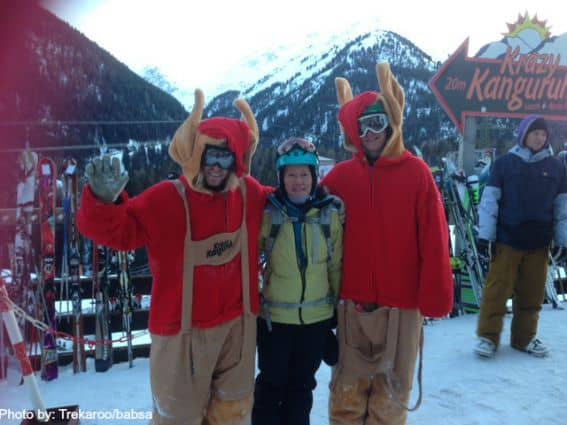 After a week there, I could see why our friends Tim and Annabel had come so often with their kids – its relaxed, the service is good, the ski area is huge and, most importantly of all, St. Anton really believes in making it appealing to children in the hope that they will contribute to Austria's reputation as a world class skiing nation. After all they have won more alpine world skiing cups than any other nation, both individually and nationally!