We are reader-supported. When you buy through links on our site, we may earn an affiliate commission.
"Rooms begin at around $400 a night." The words made my stomach twist. Yes, it is Disney and yes, it is Hawaii- but $400? Wow.
My family is on a budget (nobody becomes a travel blogger to get rich) so if we were to spend $400+ a night on a hotel after paying for flights to Hawaii, it would have to be worthy of the "big trip".  You know, the trip that you scrimp and save for.  The trip that you still talk about 20 years later while you munch on turkey and yams at the Thanksgiving table. That trip.
After spending 3 nights at Aulani, a Disney Resort and Spa, as part of the grand opening celebration and media event I have come to this conclusion- THE AULANI IS ABSOLUTELY WORTH THE COST. Disney knew that us fans had ridiculously high expectations for the new resort and still managed to exceed every expectation I could have had. Here are some of the highlights of this world class paradise:
Note: Aulani has expanded. Read Trekaroo's detailed coverage of the Aulani Expansion and family friendly activities galore. 
The Pool Area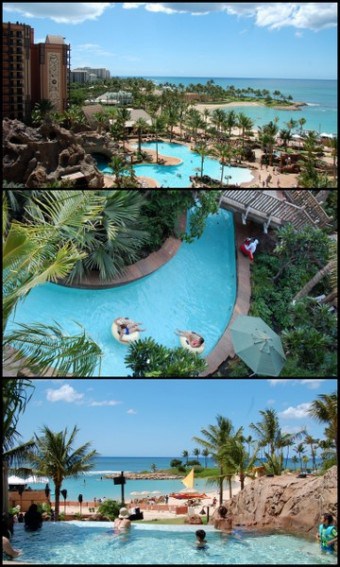 Everyone who has ever traveled with kids (or been a kid!) knows that nothing is more important than a great pool.  Disney, who happens to know a thing or two about what kids want, created the Waikolohe Valley– a spectacular recreation area in the center of the resort. Waikolohe is Hawaiian for "mischievous waters" and  plenty of water and mischief can be found throughout the valley. Two water slides start atop the resort's "lava" outcropping and wind through rock formations. The tube slide ends with a refreshing plunge into a shallow pool and the raft slide ends in Waikolohe Stream, the lazy river.  Guests floating along the stream will discover fountain springs spouting to life and float through a cavern filled with gurgling water.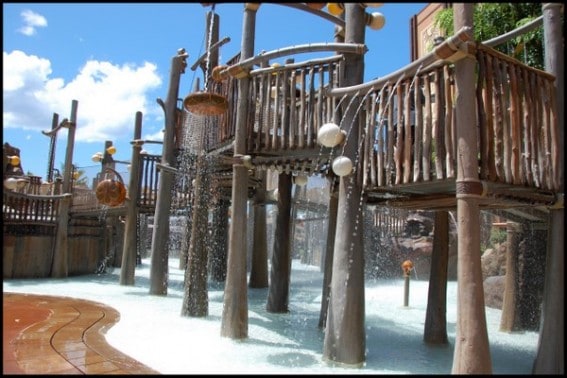 Families with small children will love the zero entry pool and the Menehune Bridge, a water play structure featuring 3 slides and plenty of opportunities to get drenched.  Adults looking for some quiet time will appreciate the tranquility of the Wailana Pool which is removed from the main hub of activity. Sunset lovers of all ages should definitely find time to experience the fire ball dipping into the ocean from one the resort's two infinity spas which overlook the lagoon.
---
[cta id="67853″ align="none"]
More Water Fun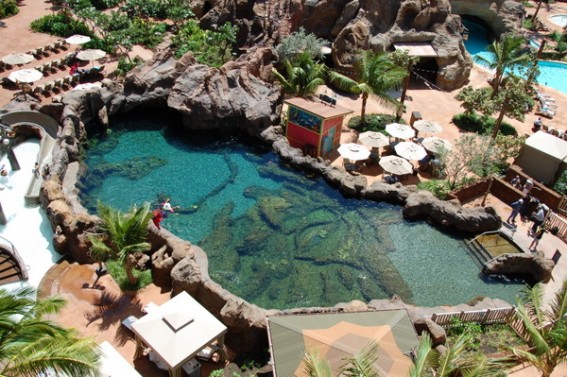 As if the pools and play areas weren't enough, Disney has given us even more reason to spend time in the water.  Young snorkelers will love Rainbow Reef, a 3,800 square-foot snorkel lagoon teeming with tropical fish.  For $20, guests are given snorkel gear, a flotation device, and access to the reef.  I watched a preschooler float alongside his father with his face in the water, completely delighted by the fish swimming below him. If you have a sea life lover traveling with you, you may want to splurge on some time at the Makai Preserve, a conservation pool where guests can wade in alongside stingrays, starfish, and anemones.
Tip: The best snorkeling near the Aulani can be found by following the waterfront path past the JW Marriott until it ends. Then walk along the rocks at water's edge and two coves up, just past the Paradise Cove Luau, you will find a protected cove filled with dozens of brightly covered fish.  The scuba gear given to you at Rainbow Reef is yours until 5:00PM so why not make the most of it?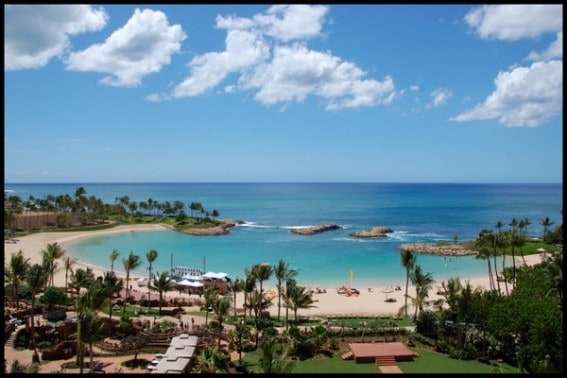 Of course, one water feature that can't be overlooked is the pristine ocean lagoon that Aulani shares with neighboring JW Marriott.  The water is calm, warm, and impossibly blue.  While the lagoon may not be great for surfing, it is ideal for kayaking or paddleboarding. I experienced the latter and took a one hour lesson for $39.00 which I booked right on the sand at the resort's rental stand. Paddleboarding in the calm lagoon with Aulani as my backdrop ended up being the highlight of my stay.  My friendly and encouraging guide gave me all the confidence and instruction I needed to feel right at home on the longboard.  He told me that children as young as six were welcome to take lessons on their own boards and younger children are happy sitting on their parent's board while mom and dad paddle.
The FREE Kids' Club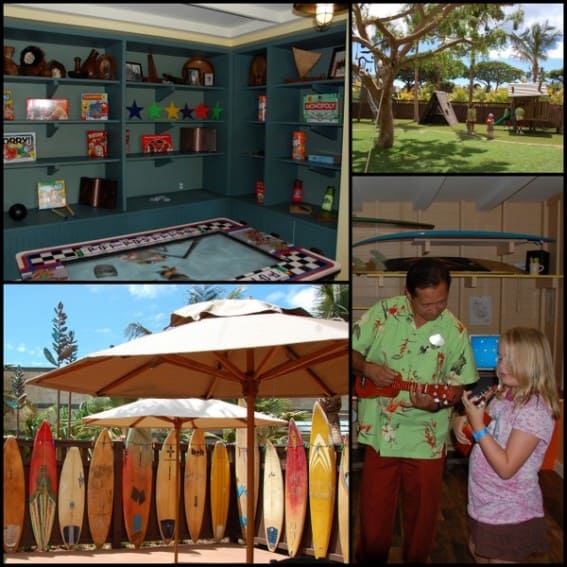 Most resort's charge close to $100 a day for children to participate in their kids' club but Aulani is not like most resorts. Aunty's Beach House is open to potty-trained children ages 3-12 and is hands down the best kids' club I have ever seen. I would literally have to drag my children out of this place!  There are games, dress-up closets full of Disney princess costumes, crafts, computers, a backyard playground,  and even a movie room featuring classic Disney flicks.  Did I mention it is free?  There are some premium activities available for a fee, such as professional hula lessons, but kids can definitely find plenty of great things to entertain them that won't cost a dime.
The Spa
The spa at Aulani, Laniwai, features treatments that reflect the islands such as Lomilomi massages or the Magical Niu coconut scrub and wrap (which the Vacation Gal's Kara Williams speaks quite highly of).  A hydrotherapy garden is sure to make any parent want to move in permanently, but this spa is not designed with just adults in mind. Teens will be heaven at Painted Sky, a spa designed specifically for them (aka: mom and dad are not welcome).  This space is meant to be a place for teenage guests to hang out and connect so in addition to spa treatments, teens can also enjoy Xbox Kinect games, mixology stations, and a yogurt station. I am told that contrary to popular belief, the boys seem to like hanging out in the spa just as much as the girls- though they may end up passing on the french manicure.
One unique experience offered at the spa is rental of the Ohana room. Ohana means "family" in Hawaiian and here, families enjoy a group spa experience. While one parent is receiving a massage from a professional, the remaining parent and children learn how to give massage to one another.  New parents can even use the Ohana room to receive massage and learn how to massage their newborn which helps aide in digestion and calm baby down for nap time.
The Details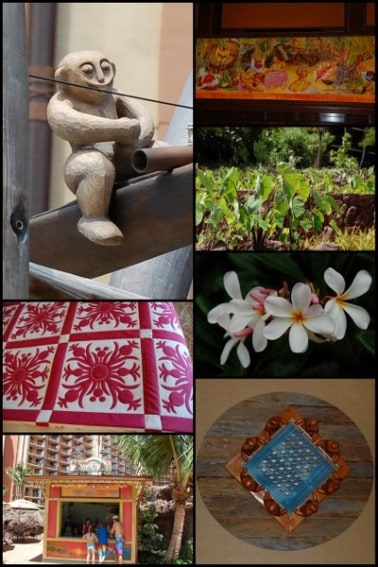 The true Disney magic is always in the details.   According to Imagineer Joe Rhode "[Disney] really tried to do things that children will notice before adults".   Case in point- little wooden menehune statues are hidden all around the resort, many of which are at a preschooler's eye level.  Authenticity was also incredibly important to Disney when designing the property. While the average guest may not realize that the hotel room drapes were designed after a traditional Hawaiian kapa cloth created by renowned kuma kapa Dalani Tanahy, the efforts towards authenticity will add an important layer to the magic of the entire Aulani experience.  It is these little details that in combination of one another, make the Aulani experience unlike any other. Here are a few more details that I especially enjoyed:
The resort is built to reflect the topography of the Hawaiian Islands.  The lobby is the high point, or mauna, and the surrounding flora reflects the lush vegetation that would grow in this ecosystem while the recreation area reflects flora that would be seen in the drier valleys. Instead of the typical array of tropical flowers leading up to the entrance, Aulani features taro fields and tropical fruit trees which reflect the island's agriculture.
A crib/playpen is waiting for families in the closet of every room, along with sheets and a mini-fridge. Bed rails, bottle warmers, outlet covers, booster seats, and high chairs can also be checked out from the front desk, making packing for the big trip to Hawaii a little less stressful.
When fully completed, the resort will have 481 Disney Vacation Club (DVC) 2 bedroom suites with full kitchens and plenty of space for families to spread out. While most of the DVC rooms will be occupied by DVC owners, there will be a small percentage of these rooms available to the general public, making Aulani an ideal place (and great value) for larger families to visit.
Aunty's House, the Aulani kids' club, is one of the few kids' clubs in Hawaii to accept children as young as 3. In order to accept three and four-year-olds, Disney had to go through additional licensing requirements which include having a credentialed teacher on staff.  Another bonus- most of the counselors at Aunty's House have a background in youth recreation.
Dozens of excursions can be booked at the Holoholo Tours and Travel desk in the lobby. Many of these excursions were put together by Adventures by Disney and include catamaran cruises which take families snorkeling and dolphin spotting, surf school with real Hawaii firefighters, a cooking class in Honolulu's Chinatown with celebrity chef Sam Choy, and sea kayaking off Oahu's lush windward coast.  These tour guides are top notch and use storytelling to add an additional element of fun and education to each experience.
While the Hawaiian Island and culture are the focus of this resort, touches of classic Disney are still present.  Mickey, Minnie and a few of their friends are on vacation at the resort so character breakfasts and photo opportunities are available.  There are also a few "hidden Mickeys" to be found in rooms and around the resort. Best of all, the Disney quality that we have all grown to love and expect is present in every last aspect of the Aulani so families can book their trips with confidence.
Disclosure: I visited the Aulani as a member of the media attending the grand opening celebration. My airfare, lodging, and meals were complimentary in order to facilitate the writing of this story. Disney did not request that any specific opinion be expressed and all opinions, as always, reflect my honest opinion.
Lead image by Disney Parks and Resorts