"Hotel rooms begin at around $500 a night." The words made my stomach twist. Yes, it is Disney and yes, it is Hawaii- but $500? Wow. I had to wonder, is Aulani worth it?
My family is on a budget so if we were to spend $500+ a night on a hotel after paying for flights to Hawaii, it would have to be worthy of the "big trip". You know, the trip that you scrimp and save for. The trip that you still talk about 20 years later while you munch on turkey and yams at the Thanksgiving table. That trip.
After spending three nights at Aulani, a Disney Resort and Spa, I found that the value received definitely matches the Aulani resort prices. Here are the eight reasons a stay at Disney's Aulani is worth the cost.
Want to explore more of the island? Here are over 30 great things to do on Oahu with kids.
Help our small business and book your stay at Aulani with Trekaroo. As a Booking.com affiliate, Trekaroo guarantees the lowest rates.
Is Aulani Worth It? Here 8 Reasons Why it is!
1. Waikolohe Valley Pool Area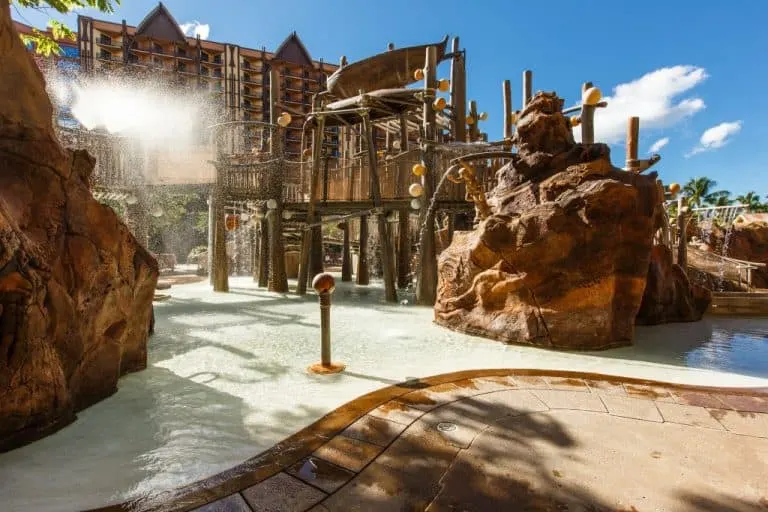 Everyone who has ever traveled with kids (or been a kid!) knows that nothing is more important than a great pool. Disney, who happens to know a thing or two about what kids want, created the Waikolohe Valley– a spectacular pool area in the center of the resort.
Waikolohe is Hawaiian for "mischievous waters" and plenty of water and mischief can be found throughout the valley. Two water slides start atop the resort's "lava" outcropping and wind through rock formations. The tube slide ends with a refreshing plunge into a shallow pool and the raft slide ends in Waikolohe Stream, the lazy river.
Guests floating along the stream will discover fountain springs spouting to life and float through a cavern filled with gurgling water.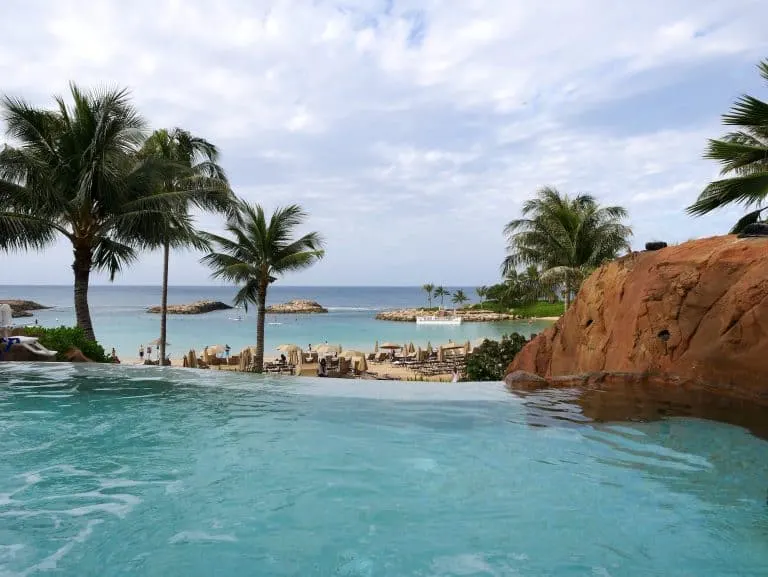 Families with small children will love the zero-entry pool and the Menehune Bridge, a water play structure featuring three slides and plenty of opportunities to get drenched.
Adults looking for some quiet time will appreciate the tranquility of the Wailana Pool which is removed from the main hub of activity. Sunset lovers of all ages should definitely find time to experience the sun dipping into the ocean from one of the resort's two infinity spas that overlook the lagoon.
Trekaroo Tip: While the Aulani resort prices are higher than some other island of Oahu hotels, guests will find the Waikolohe Valley pool area eliminates the need to spend money at other local waterpark attractions. Water loving families will find that because of the Waikolohe Valley pool area alone, Aulani is worth the cost.
Tha Aulani made our list of the best hotels on Oahu for families.
2. Aunty's Beach House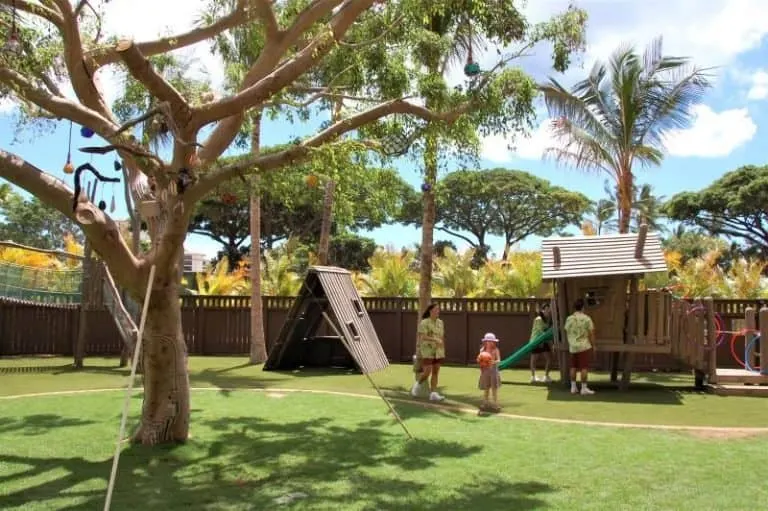 While family time is first and foremost at Disney's Aulani Resort, parents wanting an escape will love Aunty's Beach House which is free. Most resorts charge close to $100 a day for children to participate in their kids club but Aulani is not like most resorts.
Aunty's Beach House is open to potty-trained children ages 3-12 and is hands down the best kids club I have ever seen. I would literally have to drag my children out of this place!
There are games, dress-up closets full of Disney princess costumes, crafts, computers, a backyard playground, and even a movie room featuring classic Disney flicks.
Did I mention admission to the kids club is free? There are some premium activities available for a fee, such as professional hula lessons, but kids can definitely find plenty of great things to entertain them that won't cost a dime.
Trekaroo Tip: Parents of young children should fully take advantage of the free kids club. Head to happy hour guilt-free or the Disney resort spa and take time to recharge without worrying about the additional cost of child care. When factoring in hourly childcare at other hotels in Hawaii, it becomes easy to see why Aulani is worth the cost.
3. Disney's Aulani Character Experiences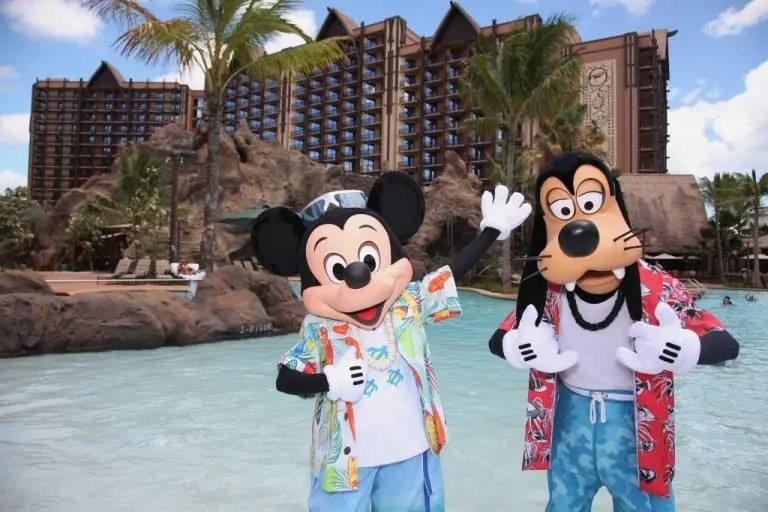 While Aulani is a very different experience than most Disney resorts, your Disney vacation would not be complete without an incredible character experience. Luckily, at Aulani seeing the characters is as easy as sitting at the pool.
All guests of Aulani have the opportunity to join Goofy and the gang at a daily pool party. Kids love playing games and racing in the shallow end with Goofy cheering them on. Also, keep an eye open to spot Disney's most loved Hawaiian characters including Stitch and Moana.
Every morning, guests also have the opportunity to join the lead mouse himself, Mickey, and some friends at the character breakfast. At night, head to KA WA'A, Aulani's Lū'au where characters also join in on the fun.
Trekaroo Tip: All character experiences except for character dining and the luau are free. Characters also stop by the kids club to visit with kids during the day. Check the Aulani Resort Daily Activities Schedule to find out where to find the characters on any given day.
4. KA WA'A – A Lū'au at Aulani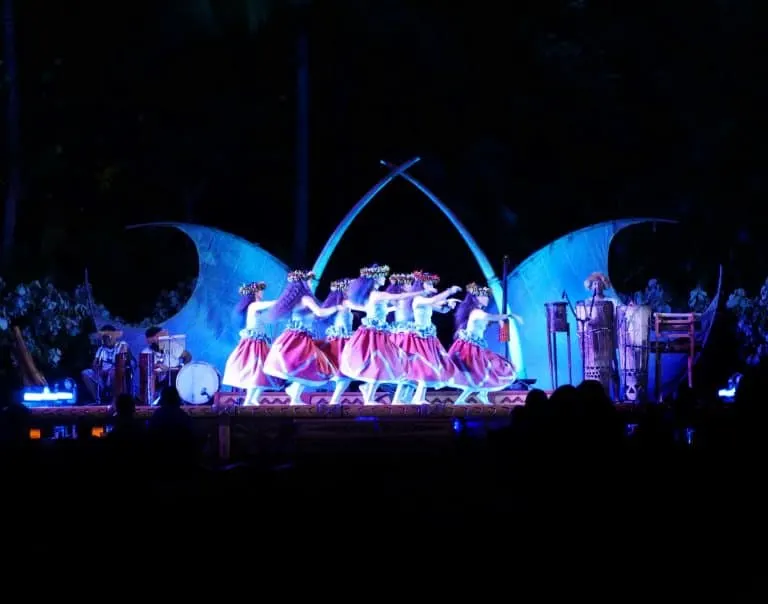 While many traditional luau options can be found on the island of Oahu, there is no luau quite like Ka Wa'a. Guests do not need to leave the Aulani resort to experience a true Hawaiian tradition.
I always advise families to arrive early to take advantage of all the activities that are included in the cost of the luau. These include a variety of traditions like making poi, a staple food of Hawaii, and handcrafting leis.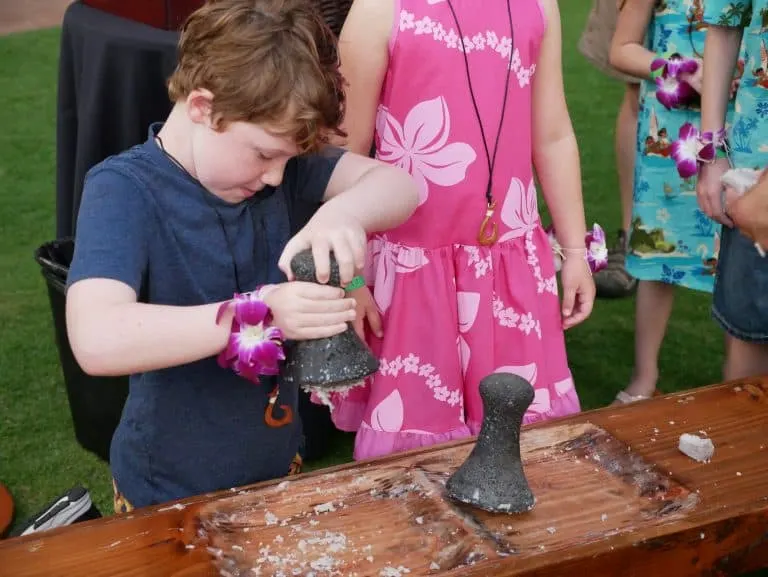 Admission to the luau includes dinner. Parents will love that the chefs at Aulani not only serve a delicious array of local specialties but also set up a table with food from the resorts' kids' menus. While trying new things can be fun, having a backup for picky eaters helps the night progress smoothly for parents.
Once dinner is complete, guests join Aunty and Uncle as well as an array of local performers as they tell the story of how explorers discovered the very shores of Ko Olina where Aulani now sits. Kids who love Moana will easily recognize and connect with the story.
Trekaroo Tip: While the KA WA'A – A Lū'au at Aulani prices are comparable to other luaus on the island of Oahu, there is a lot of hidden value in this experience. Arrive as early as allowed to give your kids plenty of time to partake in the crafts and activities that are included in the cost.
Feel comfortable having a light lunch before indulging in the incredible amount of food offered at the luau. Know that the day after the luau can be a low activity hang by the pool day as kids will be exhausted from the night before. When making decisions on what activities to spend money on, the KA WA'A Lū'au at Aulani is worth the cost.
5. Rainbow Reef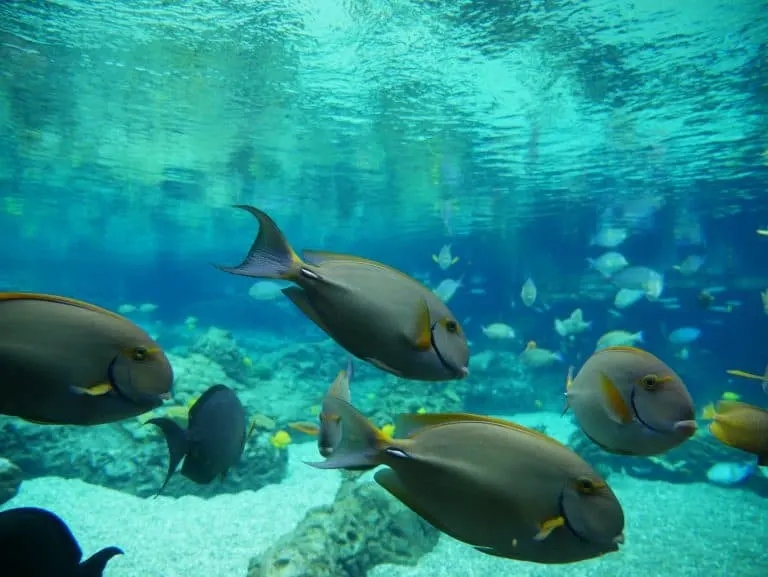 As if the pools and play areas weren't enough, Disney has given us even more reason to spend time in the water.
Young snorkelers will love Rainbow Reef, a 3,800 square-foot snorkel lagoon teeming with tropical fish. For a small fee, guests are given snorkel gear, a flotation device, and access to the reef.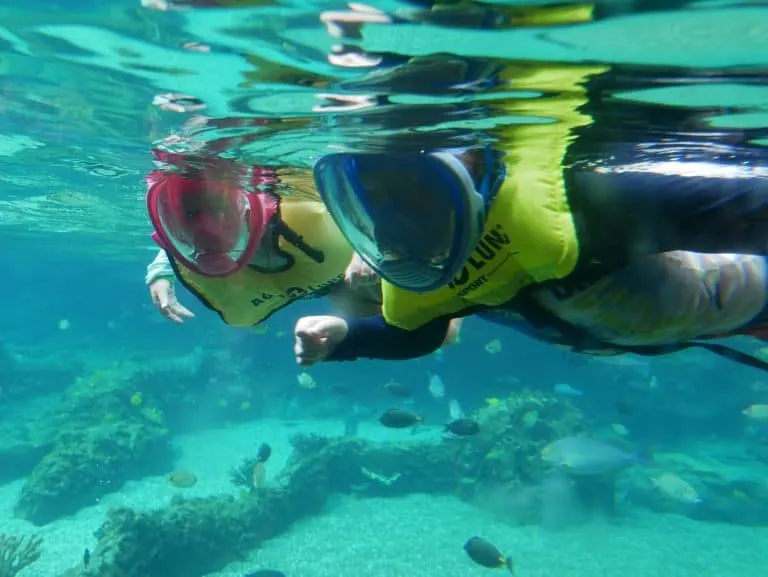 I watched a preschooler float alongside his father with his face in the water, completely delighted by the fish swimming below him.
If you have a sea life lover traveling with you, you may want to splurge on some time at the Makai Preserve, a conservation pool where guests can wade in alongside stingrays, starfish, and anemones.
Trekaroo Tip: If your kids really enjoy snorkeling with the fish, you can purchase a rainbow reef pass for your whole stay which is less than the cost of two individual day passes.
The gear provided to you daily is able to be used each day until 5:00 pm and can be also used at the beach. Leave your gear at home to save on luggage costs and rest assured that the rainbow reef pass at Aulani is worth the cost.
6. Kahola Lagoon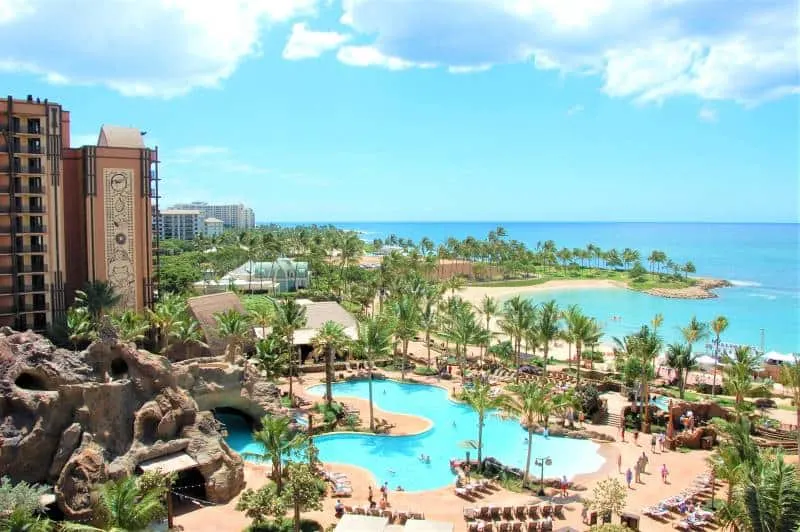 Of course, one water feature that can't be overlooked is the pristine ocean lagoon that Aulani shares with neighboring Four Seasons Resort. The water is calm, warm, and impossibly blue.
While the lagoon may not be great for surfing, it is ideal for kayaking or paddleboarding. I experienced the latter and took a one hour lesson which I booked right on the sand at the resort's rental stand.
Paddleboarding in the calm lagoon with Aulani as my backdrop ended up being the highlight of my stay. My friendly and encouraging guide gave me all the confidence and instruction I needed to feel right at home on the longboard.
Children as young as six were welcome to take lessons on their own boards and younger children are able to sit on their parent's board while mom and dad paddle.
Trekaroo Tip: The best snorkeling near the Aulani can be found by following the waterfront path past the neighboring Four Seasons Resort until it ends.
Walk along the rocks at the water's edge and two coves up, just past the Paradise Cove Luau, you will find a protected cove filled with dozens of brightly covered fish. The scuba gear given to you at Rainbow Reef is yours until 5:00PM, so why not make the most of it?
Want to explore more of Oahu? Check out the top 5 kid friendly beaches in Oahu.
7. Laniwai Spa and Painted Sky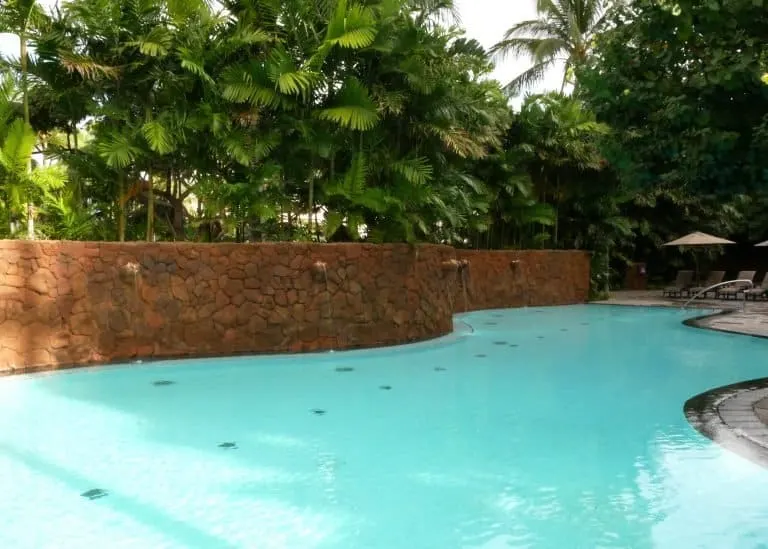 The spa at Aulani, Laniwai, features treatments that reflect the islands such as Lomilomi massages or the Magical Niu coconut scrub and wrap (which the Vacation Gal's Kara Williams speaks quite highly of).
A hydrotherapy garden is sure to make any parent want to move in permanently, but this spa is not designed with just adults in mind.
Teens will be in heaven at Painted Sky, a spa designed specifically for them (aka: mom and dad are not welcome). This space is meant to be a place for teenage guests to hang out and connect so in addition to spa treatments, teens can also enjoy Xbox Kinect games, mixology stations, and a yogurt station.
One unique experience offered at the spa is the rental of the Ohana room. Ohana means "family" in Hawaiian and here, families enjoy a group spa experience. While one parent is receiving a massage from a professional, the remaining parent and children learn how to give massage to one another.
New parents can even use the Ohana room to receive massage and learn how to massage their newborn which helps aid in digestion and calm the baby down for nap time.
8. Aulani Hotel Rooms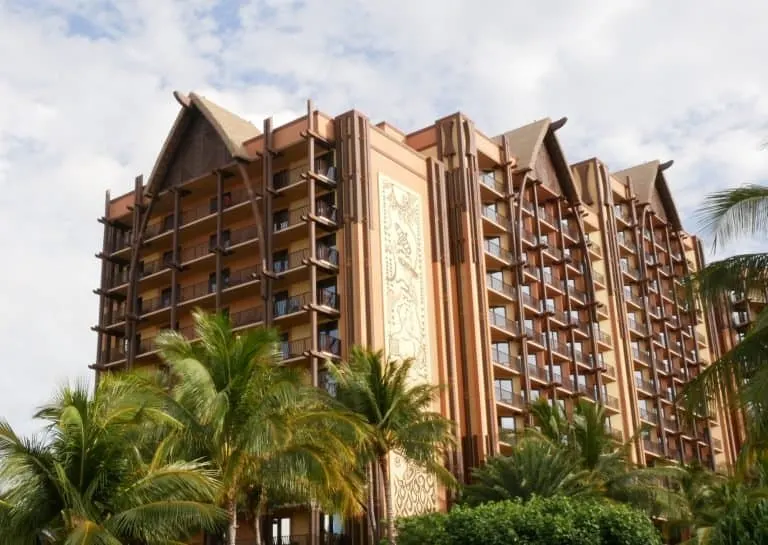 While the Aulani resort prices are higher than some other family friendly hotels on the island of Oahu (but generally on par with the other major Ko Olina area resorts), there are easy ways to stretch your budget when booking hotel rooms at Aulani.
First and foremost, to receive the best value book your stay at Aulani during the offseason. Avoid major holidays and any time that kids are out of school.
Second, choose the right room category for your family. All of the Aulani hotel rooms are equipped with a small fridge. Deluxe studio rooms also have a toaster and microwave. Villas come equipped with full kitchens and dining areas.
When choosing between Aulani hotel rooms, it is important to factor in the cost of dining and room service. Families can save a lot of money by picking up groceries on the way to the resort.
Aulani provides free use of outdoor gas grills, located beside the Hālāwai Lawn. With just a small fridge, my family was able to enjoy breakfast daily in our room.
Trekaroo Tip: Save money by packing less. A crib/playpen is waiting for families in the closet of every room, along with sheets and a mini-fridge. Bed rails, bottle warmers, outlet covers, booster seats, and high chairs can also be checked out from the front desk.
Go island hopping! Here are the best things to do in Kauai, Maui, and the Big Island of Hawaii with kids.
Why Disney Aulani is Worth the Cost
Authenticity was also incredibly important to Disney when designing the property. From the hotel room drapes that were designed after a traditional Hawaiian Kapa cloth created by renowned Kuma Kapa Dalani Tanahy to the flora and fauna, the efforts towards authenticity add an important layer to the magic of the entire Aulani experience. It is these little details that in combination with the on-site amenities that show Aulani is worth the cost.
More Hawaii Travel Coverage: