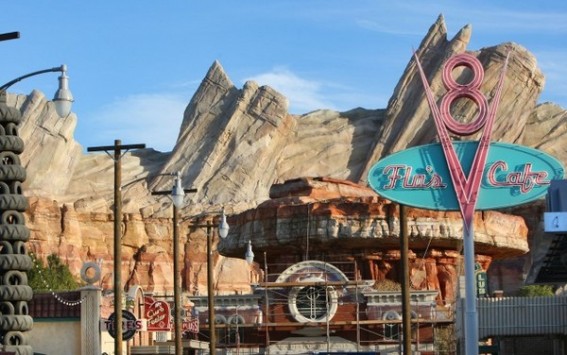 The gates are now open to a newly refurbished Disney California Adventure with a brand new Buena Vista Street, Carthay Circle Restaurant and Lounge, and (my kids favorite) Cars Land. I couldn't be more  excited! Recently, I sat in Flo's V8 Café for a media preview with an impressive view of the towering buttes and a waterfall cascading down the rocky cliff, and I had to ask myself, "Where in the world am I?" I really felt like I was on Route 66 in the Arizona desert, sitting at a beautiful roadside café and enjoying my vanilla milk shake. Families are going to love the all-new Cars Land, as well as the amazing new shows, shops and restaurants. Here is a sneak peek to give you inside information and a few tips on the attractions that your family will love.
Buena Vista Street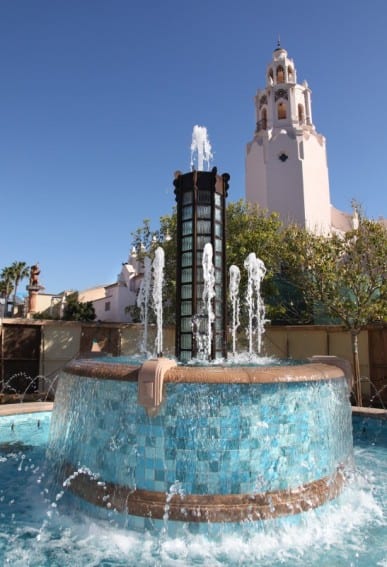 As you walk into the gates of Disney California Adventure, be prepared to be transported to the 1920s when Walt Disney first came to California. Keep your eyes peeled for Calvin the Cop, Fifi the Photographer and Donna the Dog Lady, just a few of the Citizens of the Street who will entertain guests with their antics on Buena Vista Street. A brand new statue of Walt and Mickey captures the theme of a young Walt coming to California. With his jacket slung over his shoulder, they face the Carthay Circle Restaurant with their dreams dancing in their heads.
Tips
The Carthay Circle Theatre is famous for hosting the premier of "Snow White and the Seven Dwarfs" in 1937 which launched the career of Walt Disney. Inside this iconic building, families will find a downstairs lounge and bar and an upstairs restaurant. Both are welcoming to children and families styled in an elegant, yet comfortable air. Classic cocktails, wines and California craft beers will be available in the lounge. The restaurant will serve the flavors of Southern California with farm fresh vegetables, sustainable fish and a seasonal menu.
Tips
Make reservations now for the Carthay Circle Restaurant by calling 714-781-DINE.
The downstairs lounge is the perfect place to get appetizers to share or a light lunch
Mad T Party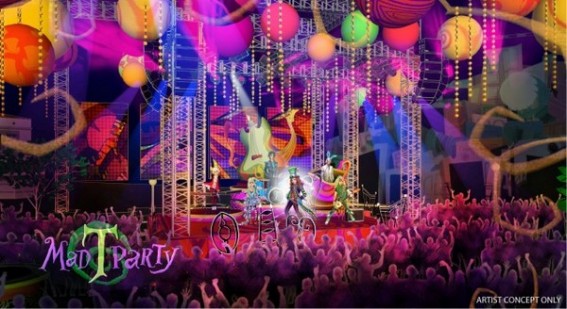 Currently closed (as of 3/11/2016)
Jump down the rabbit hole into the wild world of the Mad T Party each evening in the Hollywood Pictures Backlot.  Blend 80s glam rock with Tim Burton inspired "Alice In Wonderland", and you have an explosion of color, sound, and fun that kids should enjoy. Band members will represent characters from Alice as they play every hour, while a DJ from "House of Cards" with lit-up rabbit ears will entertain guests with dance music in between. Play "Whack-a-Hat", "Cheshire Cat's Smile Smash" and other fun games at the Arcade and make sure you don't tangle with the Tweedle's Bouncers.
Cars Land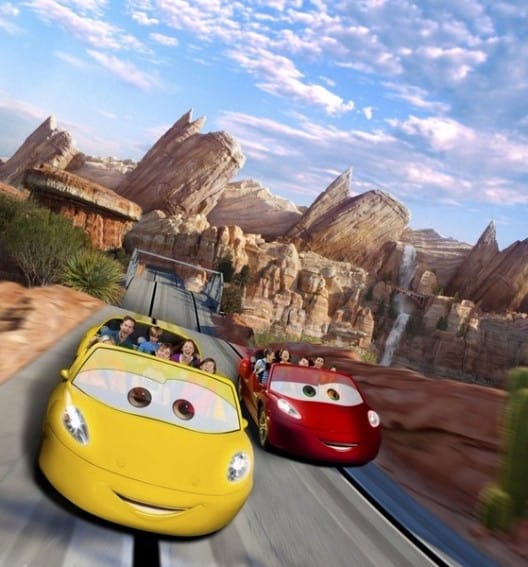 Welcome to Radiator Springs, the cutest little town in Carburetor County! Just past the entrance to Bug's Land is Route 66, the historic highway that leads right into the town that Lightning McQueen found himself stuck in before his big Piston Cup Race. Guests will feel transported right into the Cars movie as they walk past Sarge's Surplus Hut, the Cozy Cone Motel, Lizzie's Place, Ramone's House of Body Art, and all the way to the Courthouse. Race down the road in Ornament Valley on Radiator Springs Racers, dance with Luigi's Italian cousins on Luigi's Rollickin' Roadsters, and spin and twist on a tractor in Mater's Junkyard Jamboree. Kids will love dancing with the ultimate party car, "DJ's Dance 'n Drive". Delicious treats can be found at Sally's Cozy Cone Motel with options such as "Chile Cone Queso" (an edible bread cone filled with chili, topped with Fritos), "Pop Cones" (unique flavors such as dill pickle pop corn), "Frozen Cone Conctions" (Fresh Lemonade and Pomegranate Limeade with the adult option of a High Octane Vodka splash), and my personal favorite "Red's Apple Freeze" (100% apple juice with a frozen passion fruit foam). Flo's V8 Café will serve up American comfort food such as a "Citrus Turkey Rotisserie with Mashed Potatoes", "Veggie Tater Bake", "Pie-O-Ramas" (you HAVE to try the Apple & Cheddar), and "Milkshakes with Road Gravel Pellets".
Tips
Be prepared to have kids get wet at "Red to the Rescue!" with Red the Fire Truck and his comic "Volunteer Fireman"
Get FASTPASSes for Radiator Springs Racers in front of "It's Tough To Be A Bug" in Bug's Land. These typically are not available past the morning.
Guest Services personnel will be roaming the streets with iPads with up to date information on wait times. Be sure to check it out!
Height Requirements:

Mater's Junkyard Jamboree: 32"
Luigi's Rollickin' Roadsters: 32"
Radiator Springs Racers: 40"

Mater and Lightning McQueen will be available for Meet 'N' Greets in front of the Cozy Cone Motel all day long.
Try the breakfast options at the Cozy Cone Motel such as "Brioche French Toast with Salted Caramel and Bananas" and "Chicken Tamales with Scrambled Eggs."
Fillmore's Taste-In will have fresh fruit and beverages… "All natural, man"
Be sure to check out the amazing chandeliers in Flo's V8 Café made from car parts.