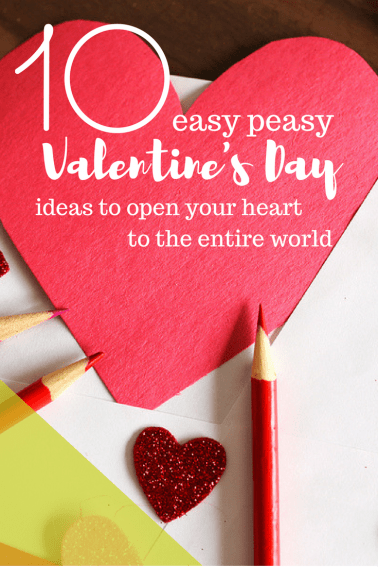 This winter, while vacationing with family at a VRBO rental house in the central California coast's wine country, we lost the water in our pipes one morning due to a very frigid cold front that froze our pipes. We called the owner of the rental house and were assured that there was nothing we could do but wait.
We sipped our hot coffee, made from filtered bottled water we had on-hand, made breakfast (eggs, bacon, sausage, and French toast), and chatted the morning away during this "frustration."
If there is one thing that world travel has taught me, it is that my little slice of life in suburban America is far from typical. From running water that works 99.9999% of the time to comfortable bedding, forced heat, and an abundance of food, to even the ability to "get away from it all" at a new house on vacation, we really have no idea what it is like to survive a winter in most of the world.
I love traveling with my family. And to be honest, I love enjoying life's luxuries. I'll take a five-star hotel any day over camping, and I prefer $5 soy lattes a bit too much. But it does me well, and my family well, to open our hearts to the concept that our lives of liberty, freedom, protection, and security – even when these seem to go awry – are not the world's standard.
So this Valentine's Day, as your family celebrates a day of hand-cut hearts, x's and o's and hearts full of love, I challenge you, as I am challenging my own family, to open your heart to the world with these 10 simple ideas for creating a global mindset for the next generation.
Lead Photo by: Bigstock/Christin Lola
10 Valentine's Day Ideas for global good that Spread Love & Human Compassion for the World 
1. Support a child through World Vision 
A glance through World Vision's website will open you and your child's eyes to the everyday plight of kids all over the world. My three girls each support a child through World Vision. 12-year-old Celeste from Bolivia shares a birthday with my eldest daughter, 10-year-old Marie from the Democratic Republic of Congo shares hers with my middle, and 7-year-old Anele from Swaziland with my youngest. When they write and receive letters or emails (my girls LOVE sending pictures via email!) with their sponsored child, they often find things in common: similar subjects learned in school, similar interests, and similar passions. It is just one small way to make the great big world a bit more relatable. If you are already a child sponsor, consider taking the leap to becoming a World Vision Advocate this year as I did.
2. Plan and book an international trip
You might not be able (or willing) to travel to some of the world's poorest countries on your first international trip, but you certainly can open your mind to other cultures and ideas through travel. This Valentine's Day, sit down with your family and open your heart to a new cultural experience often found just outside the border of the US. A quick tip: don't stay glued to your resort pool the whole time – get out there and explore the world!
Read up on tips for your first international trip with kids.
3. Read with your kids
Books abound that teach kids about global citizenship, cultures, customs, and countries other than the United States, which – gasp – is not the center of the earth. If you don't want to purchase titles (we've linked to a few favorites below), your local library should house a wealth of text and picture books to give kids a glimpse into daily life around the world. This Valentine's Day, pick a picture book to start with and get reading.
4. Research new cultures online 
In addition to print-based books, the internet has opened up the world to most North American families. Grab a laptop (or even your phone) and explore the world with your child online. A great starting place is Time for Kids' Around the World. Pick a country and explore the "Day in the Life" page that follows a school-aged child from wake-up until sleep throughout a "typical" day. National Geographic Kids' site is another exceptional, kid-appropriate resource for exploring the world online. Parents can research how to raise global citizens with this collaborative resource from "All Done Monkey."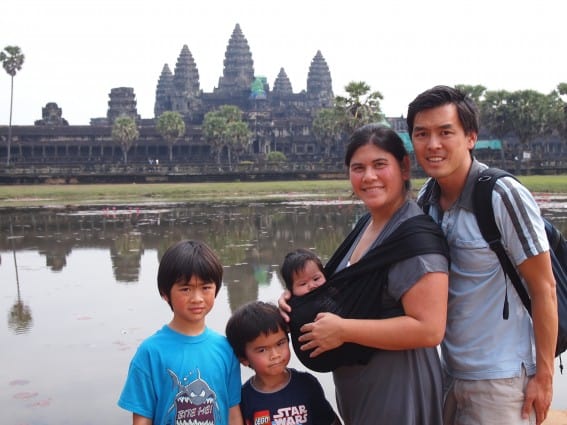 5. Be inspired by traveling families
Follow along with Trekaroo's inspirational founders, LiLing & Brennan Pang, as their family drops their "regular lives" and travels long-term to Guatamala and then into South America on a variety of service trips. Follow Trekaroo on Instagram, Twitter, and Facebook to be sure to hear about their stories.
We've also got some great ideas to get your kids volunteering their time and energy to become better global citizens through travel: Why Travel is Our Favorite Way to Educate Kids | Check out our entire Road School Series
Follow Trekaroo on [social_icon title="Twitter" url="www.twitter.com/trekaroo" profile_type="rss" window="yes"] [social_icon title="Facebook" url="www.facebook.com/trekaroo" profile_type="rss" window="yes"] [social_icon title="Instagram" url="www.instagram.com/trekaroo" profile_type="rss" window="yes"] [social_icon title="Pinterest" url="www.pinterest.com/trekaroo" profile_type="rss" window="yes"]
6. Donate Valentine's gifts 
Instead of giving and receiving Valentine's Day Gifts this year, consider making a family donation to a worldwide charity instead. Some of our favorite charities to donate to are currently: World Vision & Compassion International (both featuring child sponsorship but offering various pathways for giving), Water.org and Preemptive Love Coalition, the latter providing emergency relief to Syrian refugees and to date nearly 30,000 victims of war in Aleppo.
If you must give chocolate on Valentine's Day (some traditions are hard to part with), please consider buying Fair Trade/Slave Free chocolate that helps keeps kids out of slavery and back into schools worldwide. A quick Google search can help you find some great brands, but many are on Amazon (affiliate links below).
7. Sign up for a family run/walk to support global awareness 
I am sure that lots of possibilities exist, but we love World Vision's Global 6K for Water (it is nationwide!) and plan on participating for our 2nd year this May. Sponsored by World Vision, the leading provider of clean water to the developing world, the run/walk is 6K long, which is the average distance people in the developing world walk to get their water. While actually walking it, your kids will learn firsthand that not everyone can turn on water with a simple turn of a handle. See highlights from last year's run in the YouTube video below:

8. Make Valentine's Day cards for sick kids
Although you can certainly mail cards directly to local hospitals if you don't want to drop them off in person, your family can also make and mail Valentine's greetings to kids around the US via cardsforhospitalizedkids.com.

9. Start a UNICEF mission
For Christmas we got my middle a UNICEF Kid Power Band; it is a fitness tracker that not only counts steps but also features "missions" that get kids active and involved in the lives of other kids worldwide. Short videos give children the details on what they are walking, running, jumping, and dancing for, teaching them about global issues while getting active at the same time. Some missions are included with the purchase of the fitness tracker, but others cost additional money, funding that particular mission's goal.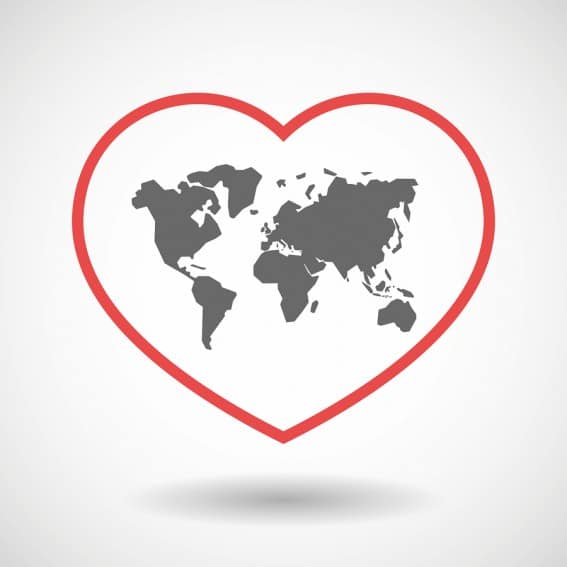 Photo by: Bigstock/jpgon
10. Pray
It might not be your particular bent, but my family believes in the power of prayer. Start a personal prayer map of the world this Valentine's Day. As you learn about a country, pray over them for their safety, for clean water, for medical care, and for peace.
Disclosure: Although I worked on this post in a collaborative partnership with World Vision, I was not compensated in any way for this article. I do not work for World Vision, nor do I represent them in any way officially. All opinions are completely my own.