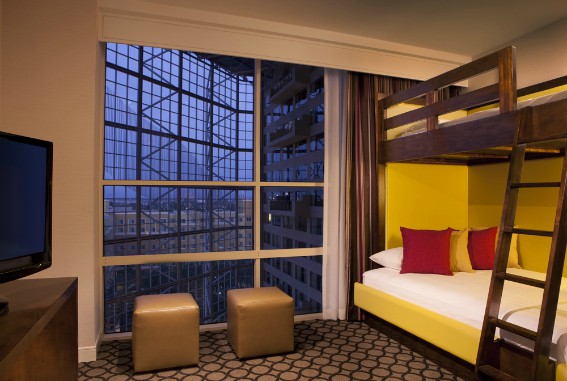 Photo Courtesy of Hyatt Regency Orange County
When most people think of Disneyland, they think of Anaheim. When I think of Disneyland, I think of Hyatt Regency Orange County, located about a mile away from the park in Garden Grove. The Hyatt Regency Orange County features beautiful modern décor, family-friendly suites with bunk beds, and close proximity to the happiest place on earth, Disneyland. Mostly though, this hotel offers incredible value without compromise. Don't go broke providing your family the ultimate Disney vacation. Be among the elite group of parents who've discovered a way to have it all without spending it all. Parents in the know choose Hyatt Regency Orange County.
Family-Friendly Rooms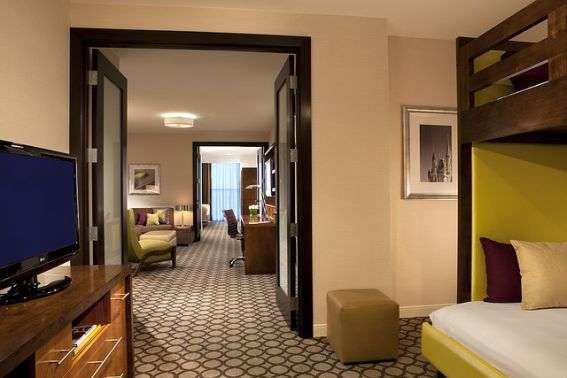 Photo Courtesy of Hyatt Regency Orange County
Hyatt Regency Orange County offers a variety of room plans but my favorites include the 700 square foot VIP Family Suite featuring a master bedroom, kids room, living room, two full bathrooms, three 42″ flat-screen televisions, and drum roll please–BUNK BEDS! For families with older kids, this suite comes with two master bedrooms instead of a room with bunk beds. VIP Family Suites sell for as low as $252 a night when booked online through the Suites on Sale promotion. Wow!
The 375 square foot Kid's Suite offers visiting families two spacious bedrooms separated by French doors. After a long day at the park, come home to a private bedroom and 42" television while your kids enjoy their own private room equipped with a second 37" flat-screen TV and bunk beds.
While writing this article, I booked one of these rooms for $149 per night. My rate included free daily breakfast for two adults during our 4-night stay over New Year's Eve! At Disneyland's Plaza Inn, the Minnie and Friends Character Breakfast on Main Street U.S.A. is $23.99 per adult and $11.99 for children ages 3-9. A family of four with 2 children over age 3 can expect to pay about $72 for breakfast there. For just $77 more dollars, the same family of four could be sleeping in separate rooms (with bunk beds).
Funny side story:  Once, at the Surf's Up character breakfast (a different character breakfast from the one mentioned above), my son (age 2), punched Pluto below the belt. I took out my phone to capture what I thought would be a pic of Pluto hugging my son, but instead shot this priceless photo. My guess is that he's not a huge fan of $72 breakfasts either.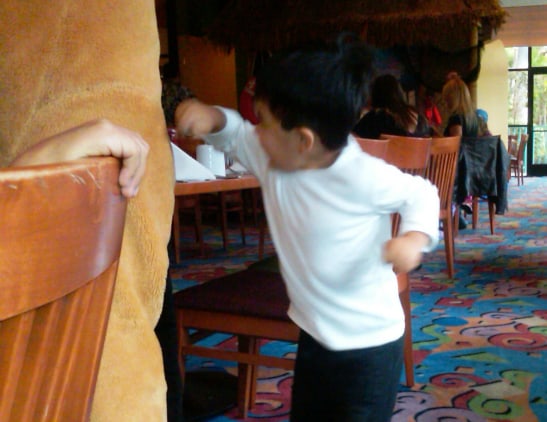 Wow Factor Amenities
Sweet in-room amenities include individual climate controls, in-room movies, a microwave for popping popcorn, a personal mini-refrigerator for storing drinks or formula, and Jack Packs featuring two electrical outlets with USB, VGA, and audio input. (VGA connects your computer to the TV so you can play movies from Amazon or Netflix.) Bye -bye $13 in-room movies.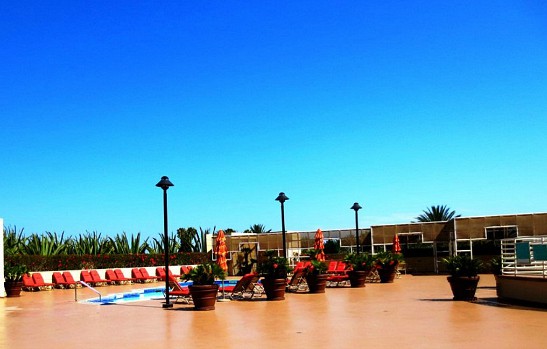 Families will love the free poolside Disney movies shown every Saturday night at dusk (summer only) and the option of an early check in for the nominal fee of $25. Teens and fitness moms will fancy the full-sized basketball and tennis court, the 24-hour gym with integrated LCD TVs for each and every machine, and the use of a second heated outdoor pool.
Everyone has different selling points. For me, it's Starbucks. Not only is there a Starbucks in the hotel lobby, there's also an adjacent kid's lounge. In the morning, I was able enjoy a chai tea latte in peace and quiet while my son fraternized with other children over pint-sized chairs and Toy Story 3.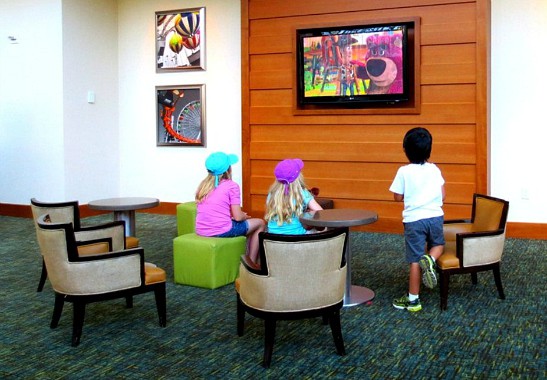 With Disneyland Resort and California Adventure Park roughly a mile away, your family could easily walk to the resorts and stop at the IHOP for breakfast on the way. With coupons from the Sunday paper, I've managed to feed a family of 4 for $20 at IHOP. Not up for walking before you spend an entire day walking? I don't blame you and have no fear. Hyatt Regency Orange County also provides shuttle service to and from the parks every half hour for just $4 per adult, per day. Children 10 and under ride for free. The shuttle even plays Disney movies!
Parents traveling with infants and toddlers can arrange for baby supplies or baby gear to be delivered to their hotel room prior to their arrival by placing an online order with Babies Travel Lite. A two-week lead time is preferred.
Kids Eat Free with Paying Adult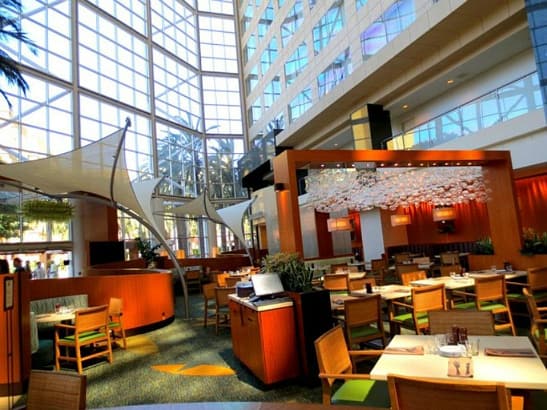 TusCA is Hyatt Regency Orange County's signature Italian restaurant. During my stay, the delicious and convenient breakfast buffet was offered at the reduced price of $9.95 per adult for families who eat between 6am and 7am. Children under 12 always eat for half price. After 7am the buffet is $19.95 per adult.
Dinner is where the real savings lie! One child ordering off the children's menu eats for free with each paying adult entree purchase. On the first night of my stay, I split a cheese pizza with my mom for $14 and my son ate for free. On the second night, we split the delectable Bistecca Fiorentina (rib-eye steak, rosemary mashed potatoes, sauteed garlic spinach, and black truffle sauce) for $33 and my son ate for free. Let it be known that the food here is incredible. Restaurant.com sells gift certificates to TusCA and the Hyatt's other restaurant, OC Brewhouse.
Want more Disney trips and tricks?
Disney Vacation Resources – Blogs with Disney Stories and News
Disney Vacation Resources – Useful Trip Planning Tools
Disney Vacation Resources – Tips for Those Visiting with Disabilities
Share your scoop by writing reviews of your favorite Disney rides, attractions, and restaurants.
For more details about the resort, read my entire review of the Hyatt Regency Orange County.
Disclosure: The author received complimentary lodging and meals from Hyatt Regency Orange County. All opinions are her own.
---
Travel with kids to: CA |CO | DC| FL | HI | IL |MA | NC | NJ | NY | OR| PA| TN | TX | UT | VA | WA