I will be honest- if I had my way, I would never bring my kids with me to Vegas.  I like sitting at the Pai Gow table for a couple of hours, sipping on an adult beverage, and not having to be responsible for anyone but myself for a couple of hours.  But sometimes, we have no choice but to bring the kids.  Vegas may be a stop on the way to a final destination such as Zion National Park or the Grand Canyon.  Or it may be that childcare is not available and the only option is to bring the kids along for a Vegas vacation.   Luckily, family friendly Vegas does exist.  As a matter of fact, a family vacation in Vegas can actually be alot of fun.  So what should you do, where should you at, and where should you stay while in Vegas?  Here are some of my tips on how to have a successful family friendly Vegas vacation.
Stay someplace casino-free: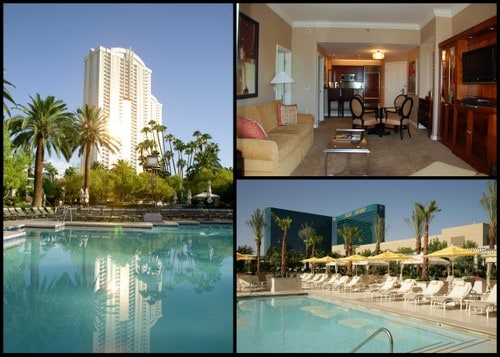 Hotel/casino combo resorts may offer non-smoking rooms, but the smoke from the casinos always seems to drift its way up into the guest rooms.  Spare your children's lungs (and your lungs as well!) and book a stay at a hotel that is not attached to a casino.  In addition to being smoke free, these properties are typically much less rowdy and provide a more family friendly environment.  The Signature at MGM Grand is a great option because it offers spacious suites with full kitchens which are perfect for family travel.  The hotel has its own pools which are very nice, but kids may be more excited by the fact that quests of The Signature are given access to the MGM Grand's huge pool area which features a huge lazy river.   After all, nothing is more important to kids while traveling than whether or not the hotel has a cool pool!
Read my entire review of The Signature at MGM Grand.
Check out wildlife: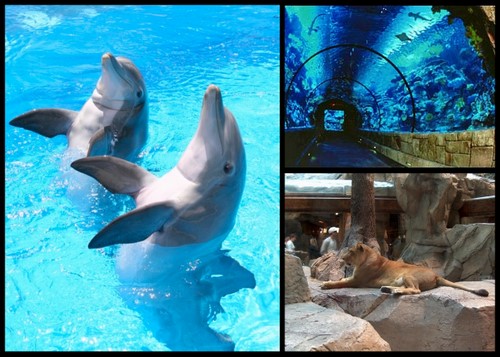 The Las Vegas Strip may be lined with concrete and neon, but it isn't very hard to find the wildlife.  Sure, the animals may living life Vegas-style, but that doesn't make them any less fascinating to kids.  Where else can you walk underneath a lion than at the MGM Grand's Lion Habitat?  At the Mandalay Bay Resort, the Shark Reef Aquarium gives kids a chance to see sharks , turtles, jellyfish, and many other creatures of the deep up close.  The touch pool is always popular with the little ones.  Dolphins and albino lions, tigers, and panthers all reside in Siegfried & Roy's Secret Garden which is located in the Mirage Resort.
Take in a Show: No, I am not talking about taking your kids to see the Thunder Down Under!  There are quite a few family friendly shows to be seen in Vegas if you know where to find them.  The Mandalay Bay Resort is currently home to the award winning Lion King musical stage show, which is a classic family favorite.   There are seven different Cirque de Soleil shows currently being performed in resorts across Vegas, and children aged 5 and older are welcome to attend these amazing spectacles of art and acrobatics.  All of the shows are extremely popular and come highly recommended but some Cirque de Soleil plots are more family friendly than others, so be sure to do a little bit of research before booking your tickets.  For families looking for a free show, the Bellagio offers a water fountain show in front of its resort throughout the day.  I have yet to hear of anyone, regardless of age, who didn't love it.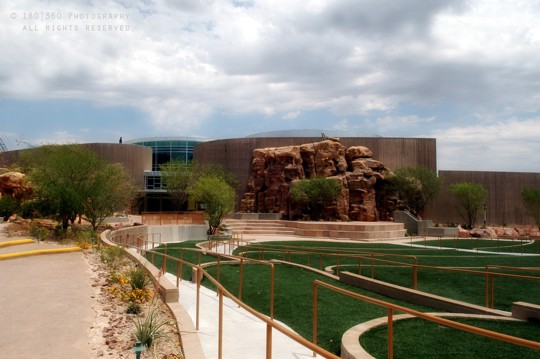 The Springs Preserve is new to the Las Vegas landscape but is already making a lasting impression on families who have had the opportunity to visit.  Opened in 2007, the preserve consists of 180 acres of desert botanical gardens, galleries, outdoor concert venues, an indoor theater, and nature trails winding through a wetland habitat.  Younger kids will love playing on the desert canyon themed playground and older kids will enjoy the arcade games centered around sustainability.  The live exhibits featuring creatures of the desert demonstrate how animals have learned to adapt to the harsh environment.
Enjoy Las Vegas's culinary offerings: In the past decade, Vegas has become quite the foodie destination.  However, most of us have little desire to dine at a celebrity chef's posh and trendy bistro with our kids.  Luckily, there are some fun restaurants lining the Vegas Strip that are perfect for families.  The MGM Grand is home to the Vegas installation of the Rainforest Cafe, a jungle-themed chain that is wildly popular with children.  Serendipity 3, located in front of Caesar's Palace, is a great place to go if you have a sweet tooth.  The restaurant is famous for its outrageously decadent specialty, the frozen hot chocolate.  Cheeseburger at the Oasis, located inside the Planet Hollywood Hotel, is the Las Vegas version of the popular Hawaiian burger restaurant, Cheeseburger in Paradise, and a fun place to take the kids.  If you are looking to add a bit of medieval flare to your dining experience, than perhaps your family should head on over to the Tournament of Kings at the Excalibur.
Yes, a family vacation in Vegas will probably be much different from the Vegas you are used to experiences sans children.  But with a little bit of planning and some altered expectations of Sin City, I think your family can still have a great time.
– – – – – – – – – – – – – –
Sharlene Earnshaw (aka doubleadventure) is Blogger-in-chief for Trekaroo and the blogger behind Double the Adventure.

Travel with kids to: CA | CO | DC | FL | HI | IL | MA | NC | NY | OR | PA | TN | TX | VA | WA