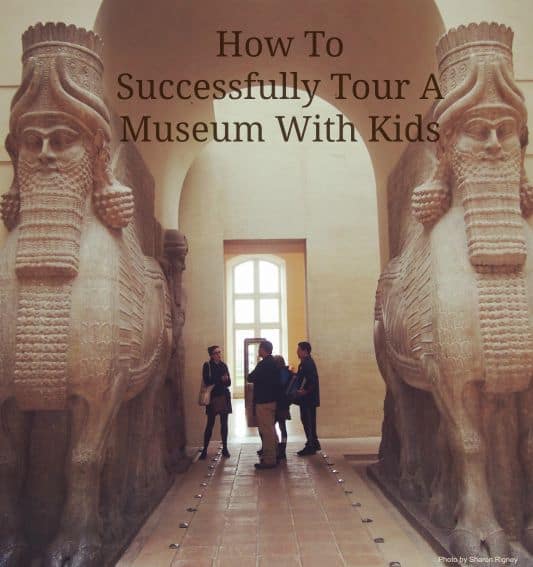 Even for adults, touring a museum can be a bit of a bore. Add a kid or two, and it can quickly become the nightmare of your vacation. As grownups, we usually come to a museum equipped with a bit of background knowledge or at least some sort of vague interest. Children are often along for the ride and have no such knowledge, interest, or patience to be able to get very much out of the experience. So how do you conquer visiting a museum with kids while on vacation or even near your home?
Here are a few solutions on how to successfully tour a museum with kids.
Enlist the Help of a Docent
When my fourth grader visited the Michener Museum in Bucks County, Pennsylvania with his class, I tagged along as a chaperone and remember thinking, "This ought to be good. A class full of 9 and 10-year-olds at a museum. Let's see how long they stay interested." When we arrived, we were assigned a docent, a museum employee who acts as a guide and shows people around. This particular docent had been a teacher for years, understood kids, and spoke to them on their level. She made the works in the museum relatable to them, let them comment on things, and solicited their opinions, feedback, and participation – all of which allowed them to create a personal connection to what they saw. The kids learned things, I learned things, and it was a fun experience for us all. Had we just meandered about the place with no direction or points of reference, it would've been a completely different experience, and probably one I wouldn't want to repeat. Having a docent was the way to go.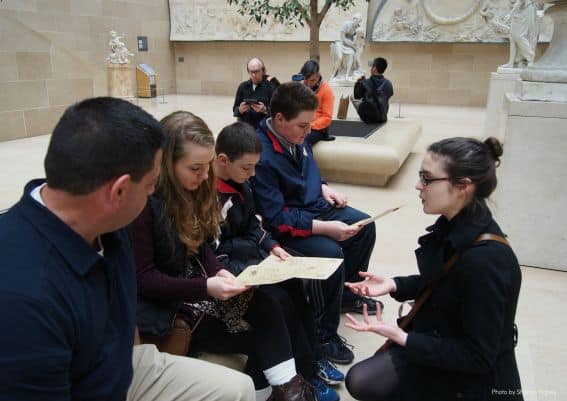 Take a Museum Tour Geared Specifically for Kids
When my family visited Paris, I knew I wasn't leaving without visiting the Louvre. I also wanted my kids to experience it, but was not sure how best to approach it. We had done a tour at another large tourist site earlier that year that was geared more towards adults and my kids hated it. I didn't blame them, but I also didn't know how to make a museum fun. So I did some research, and decided to leave it to the experts. I signed us up for Paris Muse's Louvre Quest Tour and hoped for the best. Paris Muse Tours caters to kids, and aims to make exploring the museum (and other sites) more relatable to them by turning the experience into a game. Guides help kids as young as six and as old as teenagers learn about the works housed in the Louvre without making it seem like a boring art history lesson. They break it down into chunks of history and bits of information that kids can grasp, use this information to help the kids complete a puzzle, and more or less "conquer" the museum.
The Paris Muse Tour also came highly recommended. My brother and sister-in-law and their daughters had taken a tour with this company because it was geared towards younger kids and their experience had been excellent. Additional kid-friendly tours in Notre Dame and discovery walk in Paris are offered as well as tours for adults. The kid-friendly tours are divided into one for younger children (ages 6-12), or the one we took that's best for ages 13 and up.
Adults will feel engaged on these tours as well, so don't think that you'll be bored with your kids in tow. I found that the material was easy to understand, not at all overwhelming, and certainly helped to turn the huge museum into a more manageable place to navigate. The guide we had was personable, incredibly knowledgeable, sensitive to our family's pace and attention levels, and really worked with us to make the whole experience a good one. This was especially important to me since in addition to my older teens, I also had a 9-year-old and was concerned he'd be lost or overwhelmed. Our guide made sure he was engaged, understood the material, and helped him when he needed it. In the end, I think my youngest was the one who enjoyed the visit the most!
For smaller museums, I would recommend limiting your time to about two hours. Focus the visit towards a specific exhibit. For larger museums like the Louvre that is often a once-in-a-lifetime visit, this may be the exception. The Paris Muse Tour is several hours long, covers many of the top "have to see" masterpieces, yet allows visitors to emerge at the end of it with a positive experience and a sense of accomplishment to boot. That's a win-win in my book!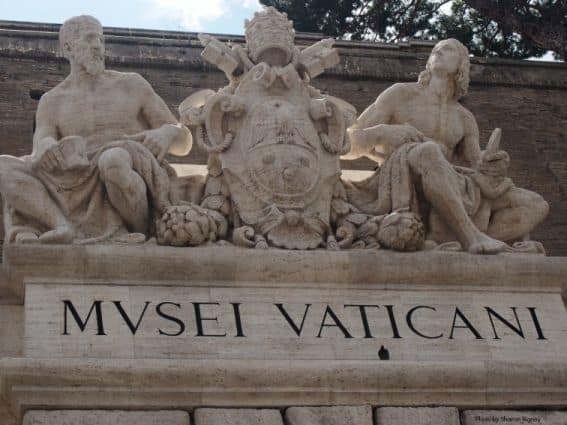 Try to Make the Visit Fun On Your Own
If affording a personal tour guide or joining a group tour is not within the budget, there are other ways to visit a museum in a family-friendly way. A tactic I read about recently suggested stopping by the gift shop inside the museum, purchasing a bunch of post cards, and then enlisting the help of your kids to find the items on the postcards, creating a little scavenger hunt. If your kids are competitive, pit them against each other (in a fun way of course) to make it a bit more challenging. This will help the kids to focus when walking through the museum, instead of just meandering.
Another tactic is to prepare the kids before the visit, so that they have some background knowledge to draw from. If headed to the Louvre, for example, talk to them about why it's famous, why you're going there, and throw in some cool facts. Use the fact that the Louvre was once a fortress used as a prison or that the building is the size of three American football fields. Some families play Museum Bingo, and have the kids try to find things like a painting with a lion, a statue of a dog, something made of gold, a vase, and so forth. It can help make the walk through the museum a bit more fun than simply staring at paintings and displays for  hours on end. Should you be able to relate any of the things at the museum to things they are talking about at school or things in their everyday life, all the better. Even asking them simple questions like "Do you think you could sculpt something like that?" "Look at how many colors he used in that painting." "Where would you hang that picture if we had it in our house?" Any way to allow your children to connect to the works helps make their experience a better one. I remember the docent at the Michener Museum telling the children how the artist of one of the exhibits created clay pots decorated with lots of colored glass pieces by exploding glass in the pots to make them look more interesting. The kids, of course, loved hearing that the artist blew things up!
Whether you're headed to a small museum nearby with kids, or visiting a bigger, famous landmark, these tips can help make your visit more pleasant when touring a museum with kids. Employ the help of a museum staff, private or group tour company, or simply create a game to help make a family trip to the museum a truly memorable experience.
For suggestions on where to use these tactics, check out our list of The Best Children's Museums in the USA or The Top 10 Science and Technology Museums.
*Disclosure: I was provided with a complimentary tour of the Louvre with my family through Paris Muse Tours in order to facilitate this review. The opinions stated herein, however, are entirely my own.