Next week I will be loading up the van with my 6 kids and a whole lot of gear, and heading off on an 8000-mile 4-week road trip, traveling from New York out to see the sights of the Great American West. Is this an awesome, crazy, inspiring, yet scary endeavor? Sure it is. But it has been a long-time dream of mine to take a road trip out West to show my kids the national parks and the natural treasures that make the United States so unique, and I feel that they are finally old enough to appreciate and enjoy the journey (ages 7-12). Now of course my husband can't take four weeks off from work to join us on this entire adventure, but he will be flying out to meet us for one week of our trip, and I have other family members who will be joining us periodically as well. So while I won't be entirely on my own, there are many days that I will be the only adult managing 6 kids, which means that I need to be prepared and have a well-planned itinerary, and I need to have an organized and carefully packed car so that I can check in and out of hotels easily. Are you curious as to how I planned and prepared for this Troo American Road Trip?
I'll be sharing tips on planning your family's road trip this entire week starting with step one: gathering input from the kids!
Gather Input from the Kids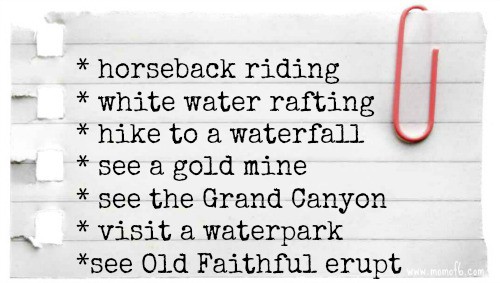 Since the dream to travel the United States was my own, I knew that I needed to partner with my kids to plan activities and visit the places that they wanted to see, so that this trip would become their dream too. For several nights over dinner, we brainstormed a list of things that we each wanted to see and do, making sure that everyone had input and contributed at least one or two items to the list. Since our destination was the West, the kids came up with activities such as horseback riding, white water rafting, hiking to see waterfalls, and visiting a gold mine. We looked through one of our National Park books and the kids helped to choose our destinations- including the Rocky Mountains, the Grand Canyon, Yellowstone (to see the geysers), and the red rocks of southern Utah.
But they also listed some basic tried-and-true vacation standbys like mini golf, swimming, and visiting an ice cream shop. Armed with this list, I set about creating an itinerary that would include all of these activities.
Check out this video of my family getting ready to hit the road:
Follow Our Journey!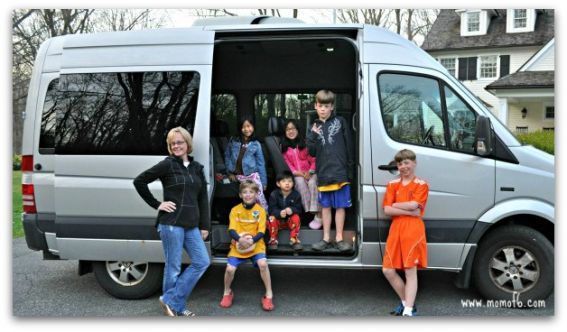 We would love for you to follow our big road trip adventure! We will be tweeting and sharing photos on Instagram using the hashtag #Trekarooing and #TrooTrip. We will also be sharing updates on the Trekaroo Facebook page  (T-Roo, who is joining our adventure has his own facebook fanpage!) and pinning our adventures on Pinterest.  You can stay on top of all the social media buzz and updates at our Troo Road Trip Central.  Read our Road Trip Diaries on Tuesdays and Fridays over at Momof6. But even better, I will be driving our Trekaroo branded van all throughout this trip-so if you spot me while out on the road or out and about, please wave, say "hello" and feel free to ask me about what makes Trekaroo such an awesome family travel planning website. Happy Travels this summer!
Superoo Sharon Rowley (sharonmomof6) is the busy Mom of 6 kids ages 7-12 and managing this large family calls upon all of the super-organizational skills she can muster! Sharon shares her ideas for Moms every day on Momof6, and you can also find her on Pinterest (sharonmomof6) and on Twitter @sharonmomof6