Sharon Rowley, a fabulous superoo mom about to embark on an 8000-mile 4-week road trip with her six kids, has been busy sharing her pre-road trip tips with us, including gathering info from the kids, and working on the itinerary (with a bonus section on how to keep the "Are we there yet?" cries at bay!).
Today, you can glean from Sharon's amazing organizational skills as she teaches us how she packs her car for a road trip!  Be prepared to be amazed!
I like to pack the car for road trip using a system of bins and shopping bags- organizing and packing clothes into bags by day rather than by family member. This makes it very simple to check into a hotel for the evening- I simply grab a bag of clothing, a toiletries bag, a bag of pajamas and possibly a swim bag, and we are good to go. It really helps to not have to unload the entire car in order to get at what I need for just one night.
Follow Sharon's Journey!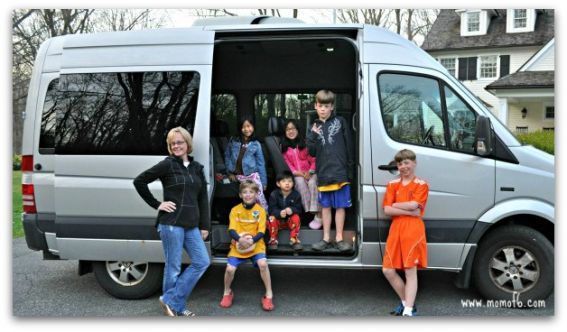 We would love for you to follow Sharon's big road trip adventure! They will be tweeting and sharing photos on Instagram using the hashtag #Trekarooing and #TrooTrip. We will also be sharing updates on the Trekaroo Facebook page  (T-Roo, who is joining our adventure has his own facebook fanpage!) and pinning their adventures on Pinterest.  You can stay on top of all the social media buzz and updates at our Troo Road Trip Central.  Read Sharon's Road Trip Diaries on Tuesdays and Fridays over at Momof6.
Sharon will be driving our Trekaroo branded van throughout this trip-so if you spot her while out on the road or out and about, please wave, say "hello" and feel free to ask her about what makes Trekaroo such an awesome family travel planning website.  She may even have a surprise for you!
Who is this superwoman Sharon?  Superoo Sharon Rowley (sharonmomof6) is the busy Mom of 6 kids ages 7-12 and managing this large family calls upon all of the super-organizational skills she can muster! Sharon shares her ideas for Moms every day on Momof6, and you can also find her on Pinterest (sharonmomof6) and on Twitter @sharonmomof6