Montreal, Quebec is a festive city for families to enjoy year-round. But the Christmas season makes the city lights sparkle even brighter as the town shares its best family-friendly activities.
Whether gathering for stunning performances, Christmas shopping, glittering displays, or outdoorsy activities, celebrate with these Montreal Christmas events for families. Updated for the 2020 season!
Downtown Montreal Christmas Events For Families
Photo by: Benoît Durocher
With so much going on downtown, your family will inevitably be drawn to Montreal's active city center. The holiday season de Montréal gets started with the lighting of Place Ville-Marie's Christmas tree. Here families can begin to celebrate Christmas in old-world style.
Get into the holiday spirit with a visit to the annual Santa Claus parade (the Défilé du Père Noël). Festivities on Mont Royal Avenue include caroling, visits with Santa, a Christmas parade, and Christmas in the Park during Noël sur l'Avenue. This event has not updated their website for 2020. It may be cancelled.
Be sure to walk through Quartier des Spectacles. Here you will find Luminothérapie, a wintry spectacle of illuminated interactive artwork from November 26, 2020 – February 28, 2021. Looking for an indoor activity? Then take in the classic Christmas concerts.
Old Port and Old Montreal Christmas Activities for Families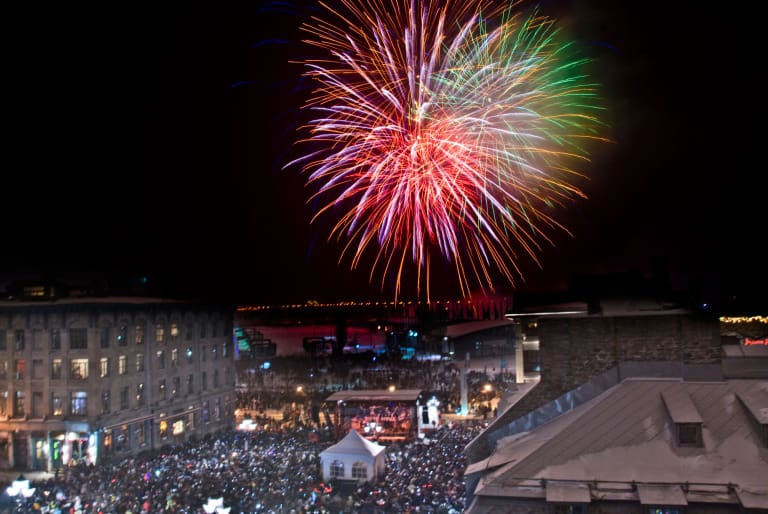 Photo by: Old Montreal's Extravaganza
These events appear to be cancelled for 2020.
Meander through the weekend festivities at Merry Montréal which include theatrical performances and traditional Christmas Markets in charming Old Montreal. Natrel Fire on Ice takes to the skies for nightly winter performances that combine pyrotechnics and Christmas music.
In nearby Old Port, families can enjoy the stunning fireworks displays, launched from Bonsecours Island, during Montreal's New Year's Eve bash.
Your family can also bundle up and enjoy ice skating on the Old Port's Bonsecours Basin anytime from mid-December through mid-March. Nearby, the Montreal Science Center features a number of interactive exhibitions and offers holiday-themed IMAX shows for families.
Christmas villages and shopping opportunities include: the Nutcracker Market at Les Grand Ballet, Marché des Fêtes, Salon des Métiers d'Arts, the German Christmas Market, Parc Des Compagnons, and Marché de Noël de L'Assomption.
Espace Pour la Vie & Olympic Park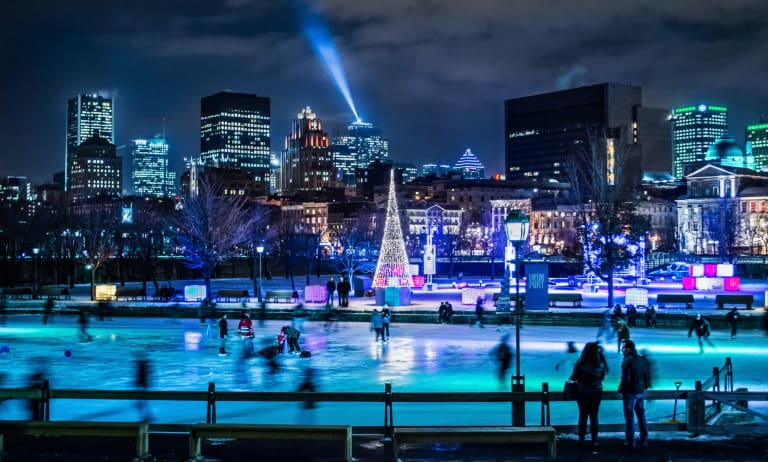 Photo by: Micheal Vesia
Olympic Park gets in on the holiday spirit with its own Winter Village, offering ice skating rinks, sledding, ice trails, and more. When you need to warm up, go inside the Biodome for a Tropical Adventure. On December 26 of each year, the animals get to celebrate Christmas! This event appears to be cancelled for 2020.
Check for hotel availability in Montreal.
More Montreal Christmas Events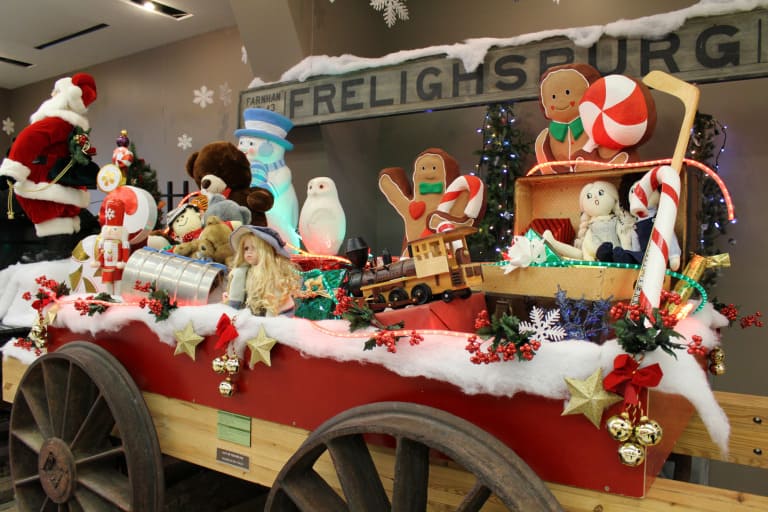 Photo by: Exporail, the Canadian Railway Museum
Santa takes over the Stewart Museum on St Helens Island in the middle of the St Lawrence River. It's a festive and free exhibit!
Head just outside town to explore Railway Christmas at ExpoRail. The Canadian Railway Museum, features holiday crafts, storytelling, and writing letters to Santa to be sent from the mail car. All around town, you're likely to stumble upon beautiful holiday decorations and entertaining activities for the entire family this season! Cancelled for 2020.
Mount Royal, which sits at the highest point overlooking the city, offers outdoor family fun during the holiday season. Activities include snowshoeing and tobaggon trails that are sure to summon the magic of Christmas alive. Check website for limited offerings during 2020 due to Covid-19.
Look for the best hotel prices in Montreal.
Visiting Montreal during another season? Check out these amazing things to do in Montreal with kids year-round.
Pin this to bookmark all the holiday fun; we update it yearly:

Featured photo by: Shutterstock