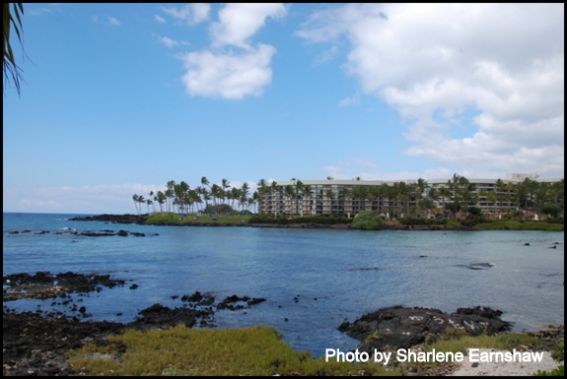 Once upon a time, it was all nothing but one giant lava field. That was until the economic boom of the eighties, when a group of developers with a dream of a tropical resort bigger and better than all the rest, got to work. The result of their efforts is Hilton Waikoloa Village, a sprawling resort covering 62 acres with lush landscaping, expansive water play areas, and towers of spacious rooms to rest tropical travelers' weary heads. Make no mistake, Hilton Waikoloa Village is huge. Vegas huge. But unlike Vegas, it trades in adult-oriented excess and ostentatious neon for natural beauty and a kid-friendly vibe.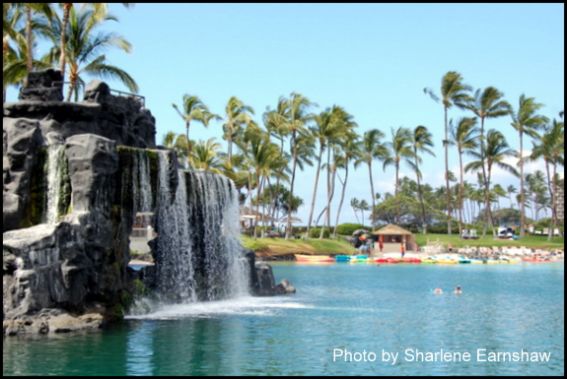 The heart of Hilton Waikoloa is its natural salt water lagoon. Ocean dwellers such a bright tropical fish and gentle sea turtles swim in and out of this protected environment, allowing guests to swim, snorkel, and paddle alongside them. Because of the lagoon's calm waters, many guests find it to be the perfect place to have their kids try something new.  I chose to explore the lagoon via stand-up paddleboard and spent several minutes tranquilly paddling alongside a silent sea turtle who peacefully glided through the clear waters.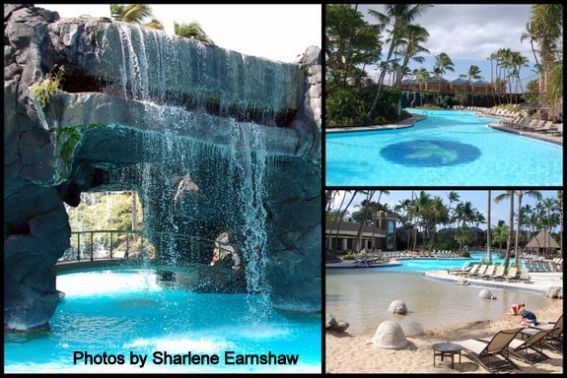 If whirling down water slides is more your kiddos' speed, the resort's sprawling pool complexes should keep them plenty occupied. The main pool area is massive and features a beach entry (ideal for tots), water slide, waterfall, and hot tub hidden in a grotto.
As if lagoons, grottos, and waterslides, weren't enough Hilton Waikoloa upped its game even more with a pod of its very own dolphins! Resort guests can watch the dolphins of Dolphin Quest swim about any time of day, but the real fun is had when guests get inside the water and interact with these friendly creatures.  There are various programs available for a fee, including programs designed for especially for small children.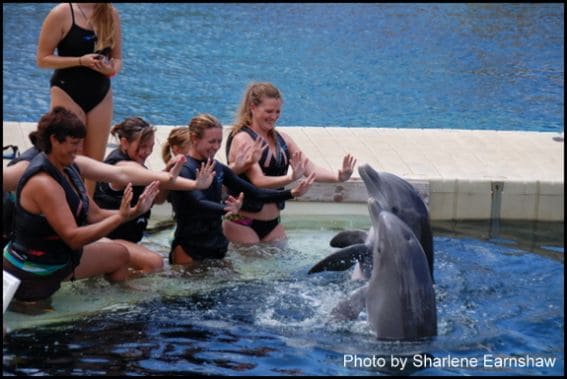 Read my full review of Dolphin Quest.
The dolphins of Dolphin Quest are quite fertile and there are several adorable baby dolphins currently calling Hilton Waikoloa home. One was even born while I was there and now I can say from firsthand experience that the only thing cuter than a month-old baby dolphin is a tiny day-old baby dolphin.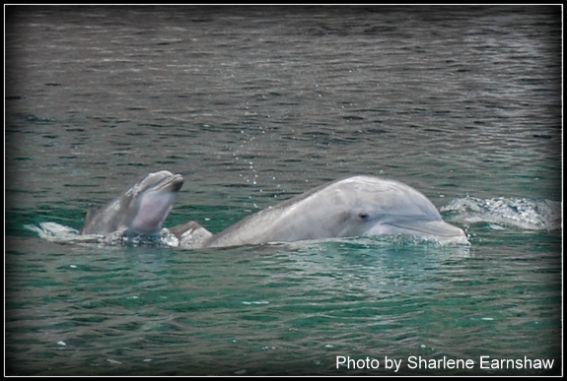 There are several dining options at the Hilton Waikoloa ranging from the casual cantina serviced by the boats that meander through the resort's canals to KPC, a restaurant serving upscale island cuisine amidst breathtaking ocean views. The meal your family may get most excited about is the one offered at the resort's Legends of the Pacific Luau.  The experience begins with a beverage (I recommend the mai tai) and the blow of the conch shell as the imu ceremony- the removal of the kalua pig from the underground oven- marks the start of the evening's festivities. After that, the feast begins with appetizers, music, and a classic Hawaiian sunset. Kids will love getting traditional Polynesian "tattoos" and learning how to swing poi balls while mommy and daddy sip down mai tai number two. After a buffet dinner featuring traditional luau favorites including kalua pork, ahi poke, fish, salads, and fresh Hawaiian pineapple, the real show begins.  Talented young performers put on a show that represents the dances and traditions found throughout Polynesia and keep the entire family captivated throughout.
Read my review of the Legends of the Pacific Luau.
And as if all that wasn't enough to inspire your future stay at Hilton Waikoloa Village, I leave you with this: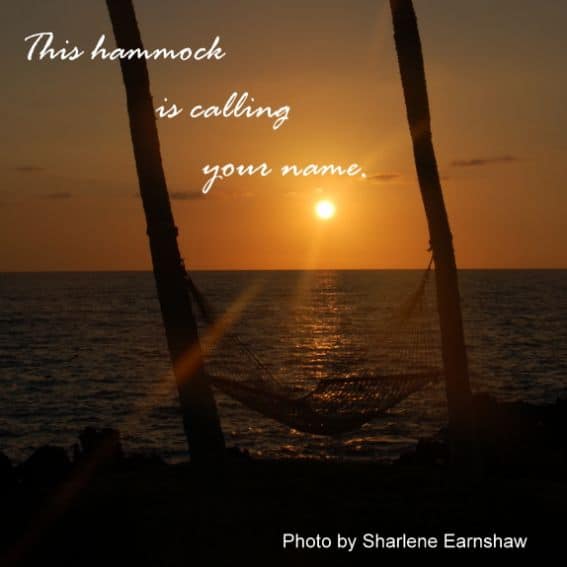 Ready to book your own vacation at the Hilton Waikoloa Village?

Read reviews of the Hilton Waikoloa Village written by parents who have been there.
RELATED: Explore the Top 10 Things for Families to do in Hawaii
Disclosure: The author was hosted on a media stay at Hilton Waikoloa Village in order to complete unbiased reviews and write this feature.  The aloha hospitality was great but all opinions are her own.