Amanda Williams lives in Duluth, Minnesota with her husband and adorable young son. She looks forward to sharing more of her travels with Trekaroo readers.
Exotic places are always alluring, but I am still always amazed at the adventures you find in your own backyard. I am also embarrassed to say that I have not been to a good many of the sites my home state of Minnesota boasts. Excuses, no more—we're off to "the North Shore."
By this, I mean the north shore of Lake Superior. Droves of tourists venture up Highway 61 during the summer months, but most reach their tour destination at Grand Marais, MN. Little do they realize there is so much adventure to be had just a few miles further up the road! Recently my family decided to continue on down the road! Bluebird skies and wonderful fall weather—the golden birches across the horizon against the backdrop of Lake Superior may have added to the overall enjoyment of the road trip too! You can be sure to get a "Christmas card photo" of the whole family on this trip, the stunning opportunities are everywhere!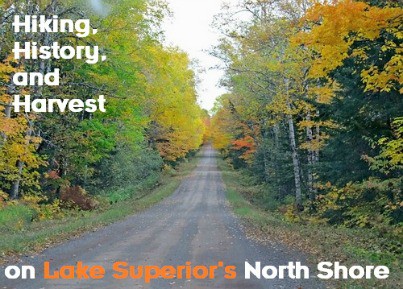 This is a road we traveled is laced with gold and crimson.
Grand Portage National Monument has so much to offer in one place. Families can enjoy hiking, culture, history and nature; making the site great for a fun-filled day trip. The heritage center is open year around, but some of the other attractions are open only seasonally, so plan accordingly. Sometime in October things quiet down, so if that's more your scene, it's worth it to wait a few extra days after the Labor Day holiday!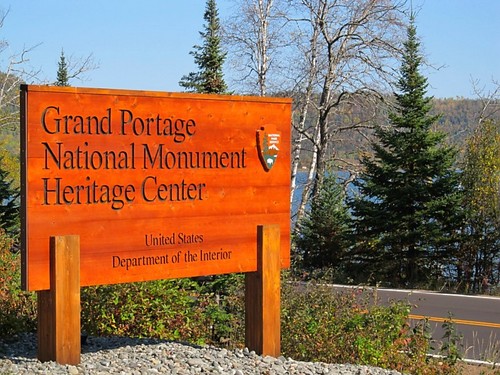 National Monuments are often overlooked as destinations and fall in the shadows of famed National Parks. Don't miss out on what these unique places have to offer.
When we pulled into the parking lot, I noticed a man crossing in front of us wearing really eclectic clothing, and remember thinking, "wow, this place draws all kinds of people!" I'd seen all sorts of styles—but this guy was wearing a paisley print tunic with wool leg warmers and it was 65 degrees and sunny! He also had a giant black ostrich feather in his top hat.  I learned later that the interpreters were dressed in period garb and what I had witnessed was an employee showing up for his shift as a 'guide' during the fur trade era.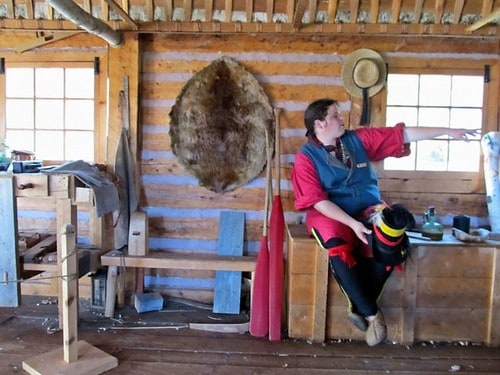 You will see a lot of leather, wool, and fur when you tour. Period characters can be found representing all of the facets of history you will see unfold during your time at Grand Portage.
At the peak of the season, during summer, there are many seasonal employees that carry out demonstrations at each point of interest on the property and interact with guests. These types of tours are spectacular for school-aged children, who will undoubtedly be excited when the 'fur trade era' comes up in American history class and they have experiences like Grand Portage to draw from! Interpreters are not only really well-read and knowledgeable about their subject matter, they are also passionate. These folks love sharing with the audience.  Can you imagine learning French for part of your summer job?  When our guide started singing some of the songs that the Voyageurs sang to keep pace it was pretty remarkable. We slotted about an hour for this site but we actually ended up spending 3 hours at the monument and we loving it!
Make sure to pack a picnic or snacks for your hike! The National Monument had little in the way of food and drink when we were there, but offers great expanses for family picnic fun.
We really enjoyed being able to trek some of the actual Grand Portage! Imagining having a 90 lb. pack instead of a 20 lb. child on my back gave me a greater appreciation of what those fellas did for a living!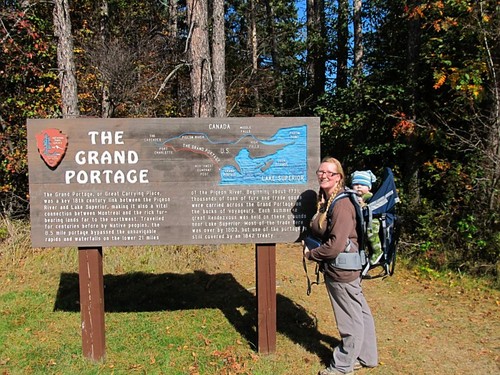 Walk a mile (or 3) in a Voyageurs' shoes! Hike along part of the actual portage used historically by Voyageurs! How awesome is that?!
Grand Portage State Park is another site nearby that is fun for all ages and offers an aesthetic bonanza to families stretching their legs.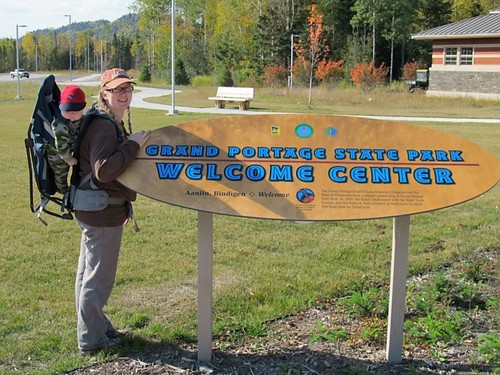 This is the last stop in Minnesota before the Canadian border crossing. If you are planning to continue, bring passports! Otherwise, stop here and learn about the rich Ojibwe culture of the region. This is also where the waterfall adventure begins!
There are several miles of trails of all levels of intensity and difficulty to explore. We chose to hike to the High Falls. It's not very creative in name but is awe-inspiring in beauty. The first half mile of the trail is paved or is a broad boardwalk, making it handicapped accessible and easy-going with a stroller. This accessible trail leads to an overlook of the High Falls, Minnesota's highest waterfall. This is a great park for birding, so bring your binoculars and bird books, or pick up a bird checklist at the heritage center. My kiddo just looked, listened, and hung out in the backpack, enjoying the hike. There is a 3.5 mile hike to Middle Falls which is more difficult but opted to enjoy the sound of the water gushing over the rocks and the crisp smell of fall in the air from our vantage point over High Falls.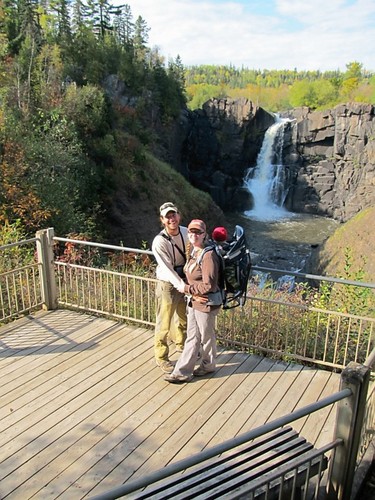 Remember to bring comfortable shoes and dress in layers for hiking comfort–a backpack carrier is a life-saver for the small kiddos.
Moose sightings are common in this part of the state, especially in the morning hours. We happened upon a cow and calf pair as we were exploring the area found it to be quite an exciting treat! Our little guy did not really understand what the big deal was, but my husband and I took roughly one hundred pictures in the short time span the cow moose allowed us to view her and her offspring gorging on a breakfast of submerged lake plants.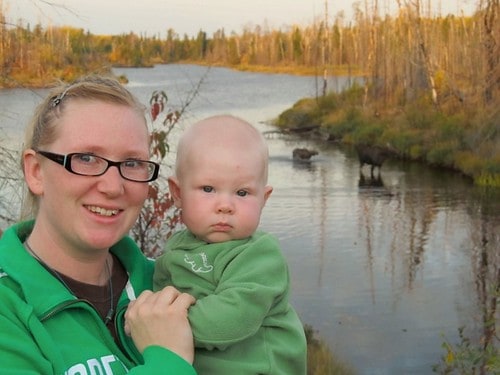 Moose are crepuscular and are usually viewed during those most active times of day by lucky road warriors.
We had such an epic trip that we have decided to make discovering the North Shore an annual pilgrimage. Who knows what we will discover next in our own backyard?
---
Travel with kids to: CA |CO | DC| FL | HI | IL |MA | NC | NJ | NY | OR| PA| TN | TX | UT | VA | WA