(Last Updated On: November 25, 2016)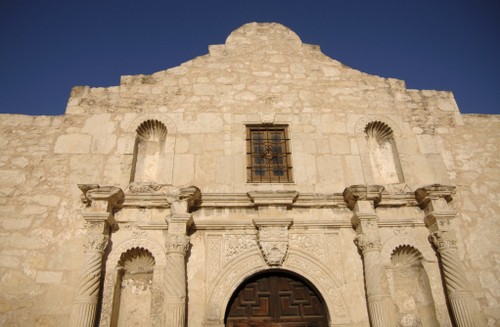 The Alamo. In person, the old mission may appear to be small in size, but it will always remain large in legend. This iconic building gained its spot American history during a legendary battle in 1836, during the struggle for Texas liberty.  These days, the Alamo is part of the National Park System and serves as the symbol of San Antonio.  Tomorrow, Trekaroo Destination Guroo Michelle McCoy and I head to San Antonio for a new adventure, the Race to the Alamo.
Michelle and I were asked to compete as Team Trekaroo in the Race to the Alamo, a 3 day Amazing Race-style competition.  During the 3 days, we will compete against two other teams in a variety of challenges and awarded points based on our performance.  At the end of each day, the team with the most points will win a daily prize for both their team and their readers!  The days will be long and hot (the forecast calls for daily highs of 105!), but the excitement of competing will definitely keep our energy up.
Ultimately, each day of the race will account for 20% of our score, making the competition 60% of our final score. The other 40% is in your hands. That portion of our score is determined by how may votes our team gets on the Race to the Alamo site.
WHAT'S IN IT FOR YOU?  Well besides helping the only family travel blogging team prove that moms can compete just as well as any other team, every time you go to the Race to the Alamo site and vote for Team Trekaroo, you will be entered to win a trip to San Antonio which includes 3 nights at one of San Antonio's great hotels, attraction passes, and a voucher towards  travel expenses!!! The approximate value of this prize is $2500. Now that's a great incentive!
Click here to vote for Sharlene Earnshaw and Team Trekaroo while entering to win a trip to San Antonio!

Grand Prize details:
A  three night stay at the Grand Hyatt, Paella lunch for four at Citrus, $500 Visa gift card for airfaire and attraction passes for four to:
The Alamo Trolley
Enchanted Springs Ranch
Guiness World Records Museum
IMAX, Institute of Texan Cultures
Laser Legend
McNay Art  Museum
Ripley's Believe It or Not & Louis Tussaud's Wax Works Ripley's Haunted Adventure
San Antonio Botanical Garden
San Antonio Children's Museum
San Antonio Rose Live – Country Music Show
San Antonio Zoo
Schlitterbahn
SeaWorld San Antonio
Six Flags Fiesta Texas
The Buckhorn Saloon & Museum/Texas Rangers Museum
Tower of the Americas
Wildlife Ranch Witte Museum
What a prize!!!!! Everyone can vote for Trekaroo once per day through August 31, 2011, and every time you vote you will receive another entry for the grand prize. We know that we can count on Trekaroo members to vote for Team Trekaroo and we hope that you will ask all of your friends to vote for us as well!
Look for Michelle and I to be live blogging, tweeting, and sharing on Trekaroo's Facebook page during the competition this Thursday, Friday, and Saturday. We hope you will follow along, cheer for us along the way, and help us if we need to turn to Trekaroo members for assistance in a challenge.
GO TEAM TREKAROO!!!!
Disclosure: All travel, lodging, meals, activities, and an iPad are being provided by the San Antonio Visitors Bureau so that Michelle and I can compete in the Race to the Alamo. No monetary compensation is being provided and Visit San Antonio did not ask that any specific opinions about their destination be mentioned. All opinions about San Antonio and the Race to the Alamo are those of Michelle and I and reflect our honest opinion of both the destination and the experience.
– – – – – – – – – – – – – – – – – – – – – –
Sharlene Earnshaw (aka doubleadventure) is Blogger-in-chief for Trekaroo and the blogger behind Double the Adventure.

Travel with kids to: CA |CO | DC | FL | HI | IL |MA | NC | NY | OR | PA | TN | TX | VA | WA
Comments
comments