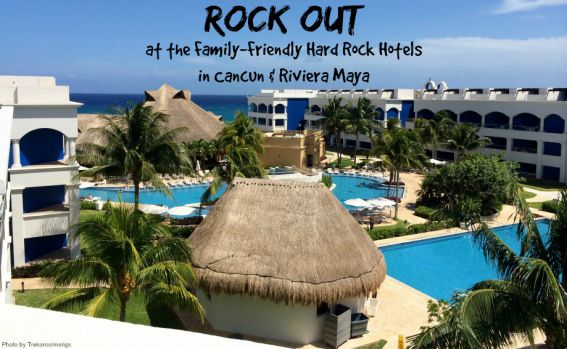 For Trekaroo families that want to add a little rock & roll to their vacation, nothing fits the bill like the Hard Rock Hotels in Riviera Maya and Cancun. These hotels are all-inclusive, meaning you pay once and then all you do us play. The atmosphere is lively and fun, with plenty to do for guests of all ages. Whether spending time by the pool with the kids, taking a day trip to the nearby ruins, or enjoying a meal at one of the many great restaurants on-site, the Hard Rock Hotel is music to a vacationing family's ears.
The Stage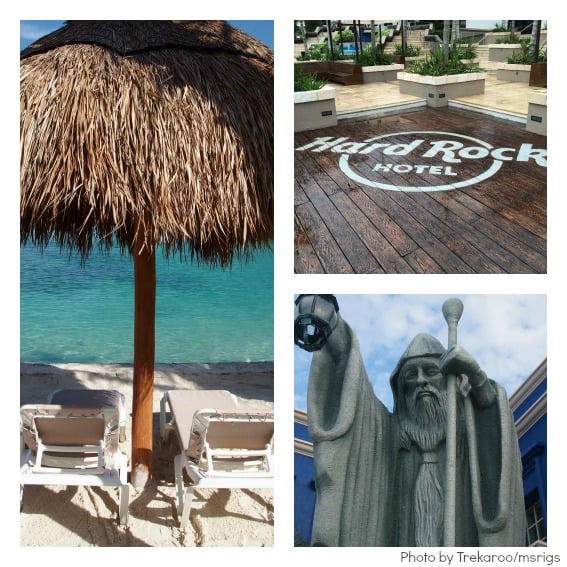 Families staying at the Hard Rock Hotel Riviera Maya will notice how the resort is divided into two separate sections. One side of the sprawling property (Heaven) is adults-only, and the buildings are blue and white. The other side (Hacienda) caters to families, and the buildings are colored orange. It is easy to tell them apart and find your room easily. Each section offers guests several pools, ocean and beach access, and a variety of restaurants and activities. Free WiFi throughout the resort (with a good signal) makes it easy to keep up with trending news, and free phone calls are available from your room to Mexico and the US. Golf carts drive guests from one side of the resort to the other, although it is not that far, and the lush vegetation makes for a pleasant stroll for those in the mood to take in the scenery.
Once in the room, guests appreciate its size and the large bathroom. Many rooms have a large, hydro-spa tub or rooftop hot tub for relaxing. The toilet area is separate so that no one is left waiting for others to finish. There is also plenty of counter space along the double sink area for cosmetics bags. Take a load off in one of the funky chairs in the room, and when the show is over for the night, relax in the comfortable bed. The closet had plenty of room to hang clothing and store shoes and a suitcase. I also appreciated the in-room safe for storing passports so I didn't have to have to worry about them getting lost. The balconies added a nice touch complete with chairs and a hammock to relax in! One of the coolest features of the rooms is the rock and roll decor that helped make the Hard Rock famous. From lyric quotes on the walls to pictures of famous rockers and guitar-imprinted sheets and pillows, cool chairs and black walls, the decor is rock star all the way. Go ahead and pretend to be a chart-topping performer!
One of the most entertaining features of any Hard Rock location is all of the incredible memorabilia they have decorating their walls, balconies, ceilings and stairways. Walk around and see a necklace Jimi Hendrix wore, check out a drum set used by The Police, or imagine yourself rocking out in an outfit worn by Elton John or Madonna. You can even feed your inner rock star by renting an electric guitar to finally show everyone how amazing your solo skills really are!
What Does My Ticket Include?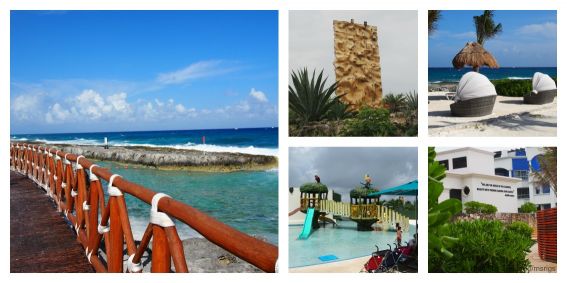 There's more to an all-inclusive than just rooms. Included in the Hard Rock Hotel's amenities are 6 pools, private sand beaches, lounges, a nightclub, shopping, restaurants, a fitness room, a spa, a beauty salon, free musical entertainment, and even music playlists that are available for streaming on mobile devices or downloading to a laptop. Rooms feature complimentary drinks in the refrigerator, a coffee maker with coffee and tea available, deluxe toiletries, hairdryer, plush robes, slippers, an iron, satellite TV, and a clock radio. It was also nice to have a binder with complete information about the resort and available services should questions arise. Families will really appreciate the availability of cold (and free) juice boxes, water, soda, and other drinks to keep tiny rock-n-rollers satiated and happy!
The Entertainment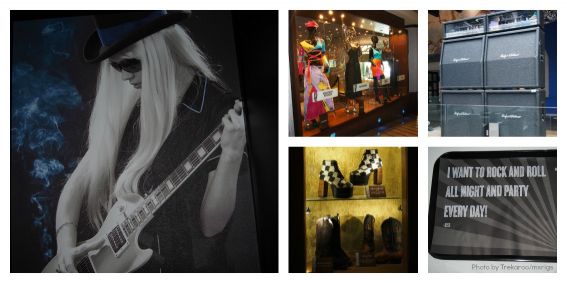 There's nothing worse than going on vacation and having the kids constantly asking what else there is to do. The Hard Rock Hotel offers a variety of awesome options to keep the whole family dancing and singing. Each week they publish a guide, which lists all of the activities around the resort. From organized water games and contests to demonstrations and awesome musical performances, there's always a little something going on. Drum up a good time by trying your hand at water sports, land sports, as well as activities such as the rock climbing wall.  For an added cost, you can arrange a private day trip to nearby Tulum, Xel-Ha, Xcaret, or other tourist destinations. Having seen Tulum in the past, I know it's a great choice for breaking up your stay and working a little history and education into a trip.
What's My Band Going To Eat?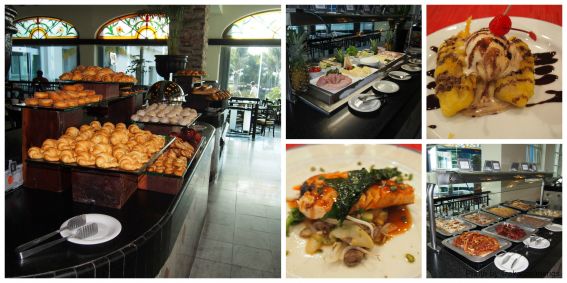 Even rock stars need food. At the Hard Rock, there's no shortage of options. Stop into Ciao, the Italian eatery, take a seat at Ipanema, where they'll cook up a steak to your liking, or simply take it easy by dialing up room service – all included with your stay. (Yes, I did say room service was included, and when I ordered, it was delivered fast and it was delicious.) There are tons of choices for breakfast at the buffet, available on either the Heaven or Hacienda side. I would recommend the prepared-in-front-of-you omelets and breakfast tortillas, but there are also scrambled eggs, bacon, pancakes, fresh fruit, yogurt, cereals, oatmeal, pastries, and a variety of Mexican options to choose from as well. Kids will appreciate the chicken nuggets (nuggets de pollo) available for lunch, as well as other familiar kid-friendly options. At dinner, for a real treat, order the Mexican coffee and watch them set it on fire as they make it – what a show! While I was surprised the menu didn't more closely mimic the food served in the chain's Hard Rock Cafe locations, there are enough choices to keep you fed for as long as you stay. What a great feeling to not have to dig out the wallet for every meal! Additionally, reservations are not needed for the restaurants – just show up and chow down! Now that's music to any busy family's ears.
Who's Running This Show?

The staff at Hard Rock Hotels was very friendly and helpful, and there were plenty of them around. From the staff assisting with check-in to waitstaff to transportation providers, there seemed to be someone nearby if you needed anything at all.  Just look for the folks wearing adorable name tags shaped like guitar picks. The front gate staff was attentive to whomever was coming and going from the resort, and available for directions as well. Although the employees are efficient, be sure to leave yourself time if you are booking other services (such as a spa visit or trip to a local attraction), as these services are handled through the Vacation Planners Department, which can take a bit of time.
If booking a vacation that includes just about everything your family could ask for and gives you a show-stopping experience, book a deal at the Hard Rock Hotels. Both the Cancun and Riviera Maya locations feature suites or connecting room options for families, and they don't skimp on room size. Pay once, and enjoy terrific amenities, activities, entertainment, and food – all complimented by a vibrant and fun atmosphere! It's a break from routine hotel options and it really sets the stage for a jammin' vacation! Rock on!
Disclosure: I visited the Hard Rock Hotels in Riviera Maya and Cancun as part of a press trip. Although all of my accommodations, meals, and activities were provided, the opinions I have stated remain my own.