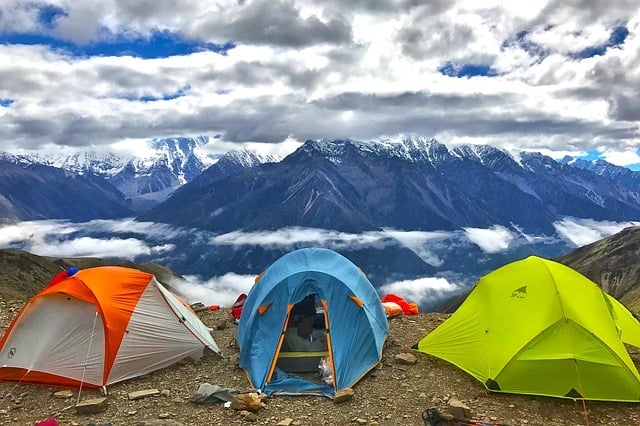 Sitting around a campfire and eating s'mores is an idealistic American dream vacation. We've all seen the beautiful pictures of families smiling at each other and singing happy campfire songs and we've dreamed of having a great bonding vacation like that. But when families face the reality of mosquitos, pitching a tent, sleeping on the ground, and those nasty bathrooms, they may think twice. Whether you are a hard-core family who hikes in with their camping equipment on their backs, or a family who only camps where there is daily maid service and Wi-Fi, we've identified what will make the campground experience as great as possible.
Hard-Core Family: Hike-in Camping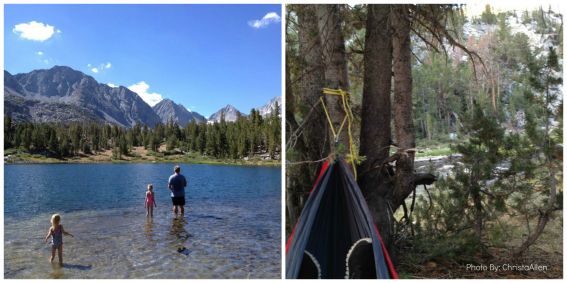 Families who really wants to get away from it all opt for a hike-in camping, or backpacking. When we backpack into our campsite, we're prepared to rough it, from carting our own thin, sleeping pads to small shelters for tents and only the basic food supplies. But in exchange, we enjoy the luxury of solitude. What we lose in amenities like cable and plumbing, we make up in pristine wilderness and open space.
What makes a great campground for those who love to hike-in to campgrounds?
Water source: Plan to camp for the night within easy walking distance of a river, creek, or lake to use as a water source. Don't forget the water purifier!
Beautiful nature: Talk with experts at a local outdoor gear store or read up in guidebooks to ensure your precise camping location is in an idyllic location. It could be that a wild-fire wiped the area out just last year, or spring flooding has made it a breeding ground for mosquitos.
Great destination: Make sure your end destination offers something in the way of recreation. A lake is ideal; kids can swim and play while adults relax. Plus, everyone can rinse the trail dust off!
Safety: If you're hiking into bear or cougar country, be sure to bring a bear canister along to hold all food and scented items. Otherwise, look for a site with a tree with sturdy branches to hang your food at night.
Seclusion: You didn't hike all the way there to be next to someone else. Some backcountry locations only offer a handful of camping sites, which fill up fast. The worst is to hike miles in, just to realize all campsites are already taken!
A level space for the tents: They don't come level like in the campground, so pick accordingly. Find a site with fallen logs to use as benches or tables.
Middle of the Road Family: Car Camping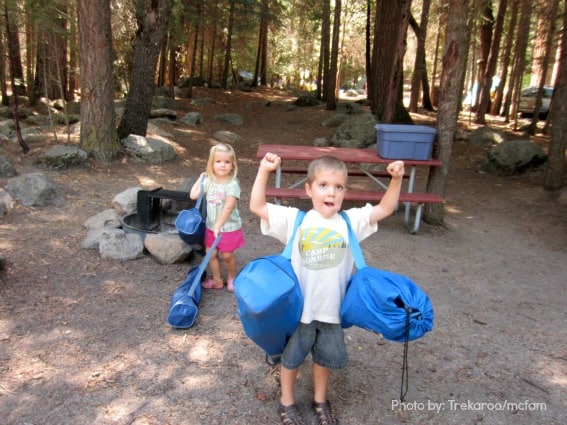 When you see a minivan or truck with the windows filled to the brim with pillows, stuff piled on the roof rack, and bikes hanging off the rear, you can guess that they are going camping! Our family loves to drive to Kings Canyon National Park in California, set up camp for a week, and enjoy spending time with friends and family.
What makes a great campground for those who love to car-camp?
Shade: Tents can be likened to greenhouses. Sit one in the sun for any length of time and the inside will be a good 10 degrees warmer than outside. Key times for shade: morning (you don't want the sun blaring on your tent at 6 am) and afternoon: (any kids or adults that like to nap will appreciate the cool interior).
Drinking water: Campsites that have spigots of clean water or wash basins attached to the bathroom mean that families have fresh and clean water available. Bring a water container, refillable water bottles, and dish washing equipment. Look for this key term when searching for a campsite: "Potable Water."
Clean bathrooms: Bathrooms that are cleaned daily with separate men and women areas are the best. Pit toilets are not good for small children or potty-trainers. More than once have I been terrified that my kid's small body would fall through the hole to the horrible pit below.
Electricity: Don't take it for granted that a car campground will have electricity. Look for "hook-ups" in the description if you want to plug things in at your campsite like toasters. Some bathrooms have electricity, meaning there are lights on at night. This can be good, you can see what you are doing in the middle of the night without a flashlight, or bad, the light from the bathroom shines like the sun on your tent all night long.
Fun activities nearby: After breakfast is cleaned up, you need something fun to do. Pick a campground with entertaining activities that your family will love. Bike trails, nature hikes, rivers to swim or fish in, lakes to boat on, caves to explore, etc.
Ranger programs: Evening programs or guided nature hikes can be very fun for families to participate in. Kids will learn new songs, hear stories, and can earn prizes by participating.
Bear boxes: In parts of California, bear boxes are provided in campgrounds where everyone must store their food to keep it away from the Black Bears. These bears are not usually dangerous to people but they will break into cars to get anything they want. Having a bear box means a secure place to store the food. If you are driving around picking a campsite that has a bear box, look for one that is not directly in the sun. Otherwise, it's a perfect oven for your food, and food MUST be stored in it.
Dirt vs. grass: At all of the National Park campgrounds in the Sierra of California that we have camped in, they all are covered by a fine layer of dirt (which is really decomposed granite and pine needles). We choose to "embrace" the dirt, knowing we will just clean up the kids before bed. But if you have the option of camping on a soft layer of grass, rejoice in the lack of dirt packed into every crevice of your child's body.
Area to play for kids: A campsite that has a generous amount of space, rocks to climb, or a small stream means that kids have a great area to play in your campground. There will be a lot of "down time" for them in the campground while chores get done such as meal prep and clean up and space for them to play is a must.
Safety: Watch for dangerous areas in the campground you choose. Large rocks, steep drop-offs, rivers or streams, or large areas to get lost are all dangers you must take into consideration. One of the first things we do when camping is set clear boundaries for our kids. We tell them the extent to which they can roam, areas to stay clear of, and using the buddy system in going to the bathroom (which can be across the road).
Campfire rings: Most campgrounds have small metal rings around the pit. DO NOT let children play in or around campfires ever. Hot embers can be buried under ash and can burn even when the fire looks out. Place chairs close to campfire ring during the day to create a barrier for small children. Always supervise children when the fire is lit and keep a hand on young toddlers. Toasted marshmallows can burn hands and lips as well, so use caution!
Nearby market: Having even a small market nearby means that you can buy ice to refill your cooler, a newspaper from home, and ice cream for that afternoon treat. You might even score with a nearby restaurant so you don't have to cook dinner!
Showers: Some campgrounds have them, some don't (or have showers in the main market area). Most are coin operated. Plan accordingly to what you desire.
Lack of Pesky nature: Not all nature is friendly. Poison ivy/oak, mosquitos, gnats, and bees can turn any camping trip into a miserable experience. Pick a campsite away from standing water like a slow-moving creek or swamp and with enough cool breezes to blow away the flying pests. Take some time to walk around the perimeter of the campsite to find "leaves of 3, and let them be!"
Weather: Summer is the ideal time to go for families because the days are warm for swimming and the nights are not freezing for sleeping. Check weather forecasts before you go and always be prepared for rain and cold. Higher elevations can mean temperatures below freezing at night. Extra blankets can mean getting a few hours more of sleep!
Space: Look for spots that are on the loop edges and not inside the loop which can mean very close quarters with other campers.
Road Trip Family: RV and Campers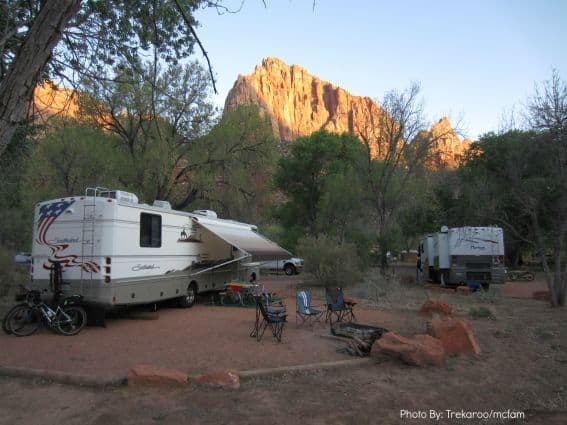 Some families love taking the ultimate road trip with their home away from home with them. They can pull into a campground in the evening and most things are already set up for them in their RV. Some choose to stay in a campsite for a good length of time to enjoy the area. RVs can be the best option for many beach campgrounds because it gives families a chance to warm up, get away from the wind, or relax without the blazing sun.
What makes a great campground for RV families?
Most things that make a great campground for car campers are also very important for RV families, but here are some extra things to look for.
Long parking space: You need room to park that RV or camper!
Level parking space: RVs need to be leveled as much as possible and if the parking space is relatively flat, it makes the job all that much easier.
TV reception: It's not necessary, but it sure is nice to be able to use the TV in the RV.
Electricity: The term "hook-ups" takes on a new meaning to RV'ers because it means they can plug-in their RV and use all the electrical systems. For more primitive sites like those in National Parks, check the quiet hours for rules on when generators can be run.
Dump stations: Look for campsites with RV services so that water reservoirs can be filled and other things can be emptied out.
Easy Street Family: Campgrounds with Rental Cabins or Tents (bonus if there is maid service and Wi-Fi)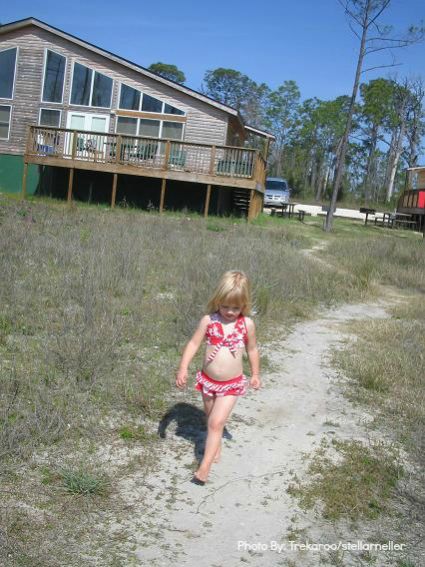 For some families, the furthest they would consider going in the "campground vacation world" would be pitching a tent in a hotel room and letting their kids "camp-out". There are many campgrounds that are absolutely ideal for this kind of family. Cabins with kitchens and cozy bedrooms, or fully stocked tents with outdoor fire pits can be rented nightly. Families can enjoy daily maid service and still cook s'mores over an open fire…. Outside their cozy cabin with indoor plumbing.
What makes a great campground for those who love cabins?
Bare bones vs. luxury: Pick your campground based on the type of accommodations you desire. Some have cabins or tents that have beds and linens, others require you to bring your own bedding.
Indoor Bathrooms: Do you want an indoor bathroom or a nearby common bathhouse? Choose based on your preference.
Daily maid service: Do you want your beds made and fresh towels daily? Choose a campsite with these amenities.
Location in the campground: How far is the cabin you are staying in from the kid friendly hot spots? You may want to be closer so that your kids can play more independently, or farther away for a quieter experience.
Pet friendly: Many are not pet friendly. Choose accordingly.
Fun activities provided by the campground: Look for a campground with fun activities such as a swimming pool, sports equipment, boating, fishing, playground, recreational events planned by staff, and more.
Fun activities nearby: Choose a campground with nearby family friendly activities if you would like options of fun things to do outside of the campground.
Grill, market, or restaurant: Campers will still need to plan their meals. Look for a cabin with a kitchenette, a nearby market with easy lunches, or a burger grill for quick dinners. An ice cream stand is really great for kids in the afternoon.
Fire pits for camping experience: Still want to roast those marshmallows? Choose a campground that has outdoor fire pits and chairs for an evening of classic campfire songs.
Reservations: Most campgrounds fill up quickly so make reservations early before the summer season starts.
Beach Family: Camping With the Waves

Falling asleep to the sound of waves gently breaking on the shore and the stars twinkling overhead sounds dreamy. But not all beach campgrounds are built the same. In fact, we've camped at some that are quite miserable. So take these suggestions to heart!
What makes a great campground for those who love the beach?
No parking lot campsites: Some beach campgrounds are very small and built right next to the road, or on the side of the road. Sleeping in a tent on the road with only a small space between your car and the steep bluff (with the beach 100 feet below) is not ideal. Find a beach campground with plenty of space away from your car.
Quiet hours (not near a freeway or train track): We camped between a beach and a train track one summer. That meant that the people in the train could wave at us as we cooked our dinner, and we could hear the train rumbling down the tracks in the middle of the night. Other campgrounds are near the main highway with a lot of road noise. Look for a campground away from the noise of the city.
Good beach for swimming: Find a beach with gentle crashing waves and no small rocks littering the shore. If the beach isn't fun to play in, there isn't much reason to camp at the beach.
Nearby restaurants: One of the advantages to beach camping is that they are usually near a city. So enjoy eating dinner at the local burger joint.
Nearby activities to get out of the sun/wind/surf of the beach: After spending a day or two in the sun and surf, families will probably want a break, so having nearby hiking trails, bike trails, museums, and fun activities is essential.
Far enough away that you don't go home: Camping 30 minutes away from home is not ideal. The idea of camping is to get away from the demands of schedules and responsibilities. So pick a beach campground a good enough distance away from home that you aren't tempted to sleep in your bed every night.
Shade options: Trees are usually minimal at beaches so bring shade producing tools: Easy-Ups, beach umbrellas, small pop up tents for toddlers to play in, etc. And don't forget your hats and sunscreen!
Showers: Cleaning off the sand after the day at the beach is pretty essential. Many beaches have cold showers in the public areas, but look for a campground with coin operated warm showers.
Thanks to all the Trekaroo families who shared their tips on camping with us. Have a tip? We'd still love for you to share them with our readers.
Featured photo by: Shutterstock