Living in New England offers our family the option to frequently visit the New England states and quench our thirst for adventure. New Hampshire tops the list as our favorite home away from home state. We travel to New Hampshire annually for our usual vacation stops, but this summer we had the opportunity for grand adventure in New Hampshire Grand. 
New Hampshire Grand is comprised of Coos County in northern New Hampshire and part of the White Mountains National Forest. This is a place of the fabled White Mountains, woods, the Connecticut lakes, fishing, hiking, backcountry treks, snowmobiling, ATV rides, boating, and more. There is adventure around every corner in New Hampshire Grand.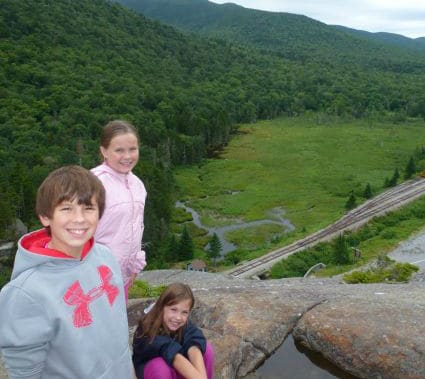 A place to unwind, unplug and listen, our kids were amazed to discover that roughly only 40,000 people live in Coos County. We have 40,000 in our town. Escape to New Hampshire Grand to enjoy the true silence at night, the sound of loons in the morning, and then the roar of the river or the ATV as you pack up for some family adventure!
My family is not comprised of the 'sit by the pool' type of vacationers (sometimes to my chagrin). We like to get out, explore, discover, and get dirty. New Hampshire Grand was made for us. We had a host of options to choose from when vacationing here, but all of them were tied to the great outdoors and allowed for some real family bonding time.
Hiking in Search of Moose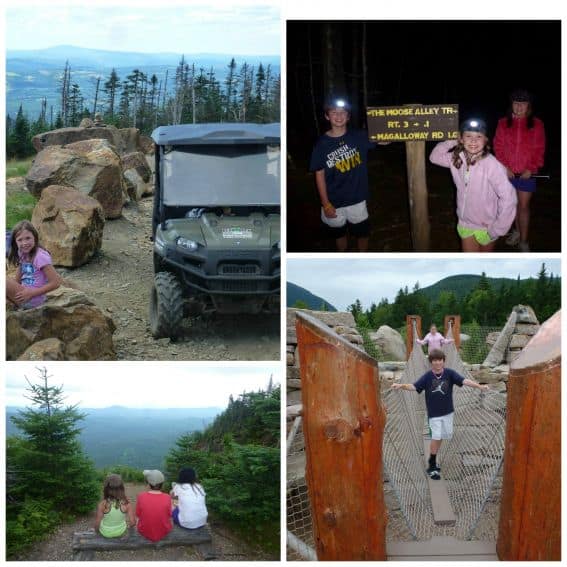 Northern New Hampshire is considered the stomping ground of that klutzy cutie: the moose. We had a fun and, of course with our track record, futile time attempting to spot one. Moose Alley otherwise known as Route 3 travels through New Hampshire Grand and right to the Canadian border. It is an area loaded with moose.
We completed the Moose Alley hiking trail at dusk complete with headlamps for a better chance of a sighting. No luck. There are great hiking opportunities for families and hikers of all ages in the north woods. A back country drive to the trail head of Garfield Falls and Magalloway Tower in our search for the burly beast did not lead to a sighting but did provide more fun family time. (Garfield Falls offers up a terrific and refreshing swimming hole complete with a fabulous waterfall.) The Magalloway tower hike was a bit more strenuous but of course the views were phenomenal. A snake popped his head out of the rocks where my daughter was sitting and we saw a baby mouse rolling down the trail, but no moose. We got to do more climbing without so much exertion on an ATV tour with Bear Rock Adventures. We piled into our 6 person ATV and rode into the dirt and mud of the Grand North Woods, all the way up to the peaks where we got out for lunch surrounded by more views into Canada and Vermont. While northern New Hampshire has long been known for its snowmobile trails there are also over 1000 miles of ATV trails to explore in the summer.
Adventures on Water

Our land adventures were complemented by some water adventures in northern New Hampshire. We went whitewater rafting with ELC Rafting. They offer rafting trips from 'mild to wild' and as we are adventurous, but novice, rafters we went for the mild adventure down the Androscoggin River. Our guide Jim was terrific. He is an educator and a certified, experienced rafter. Everyone enjoyed some flat water and rapids riding. Jim knew how to keep the kids engaged and we may or may not have had a water blasting war with a rival outfitter. I think we lost. We also went on a wildlife tour pontoon boat tour on Lake Umbagog with ELC. Our guide Eric was knowledgeable of the area and also knew how to keep the kids interested while they were learning. He brought fishing poles, pie, and stopped along the way for the kids to get out and explore the lands around the lake. We did spy a loon and osprey, but no moose. The sunset on the lake however, was unbelievable.
We got a workout kayaking in the beautiful First Connecticut Lake. We jumped into the kayaks and paddled on the smooth glassy water across the lake to jump out for a swim in the sun. We discovered the wind on our way back! At least we were wet and cool for that workout! The scenery was amazing. There were very few people on the lake and we felt a collective sense of family solitude.
Quiet Accommodations
Our kayaks were supplied by Lopstick cabins in Pittsburg, NH. They have a rental desk for guests and non-guests alike at the cabin office. We were guests of the cabins and stayed at Lakeview, which as the name suggests has a view of the First Connecticut Lake. Lopstick offers a variety of cabin accommodations around their property, but all are kitchen efficiencies with TV, Wi-Fi, and housekeeping. What is remarkable about Lopstick is the silence. We sat on our deck in the evening and heard nothing. Sleeping was amazing. The staff were able to provide us with hiking plans, restaurant options, and outfitters. They have Orvis-endorsed fly-fishing guides on staff and a shop including equipment for all skill levels. The kids had a bunch of fun casting and catching some trout in a stocked pond on the property. We will have to practice our skills for a riverbed tour with the Orvis guides on our next trip!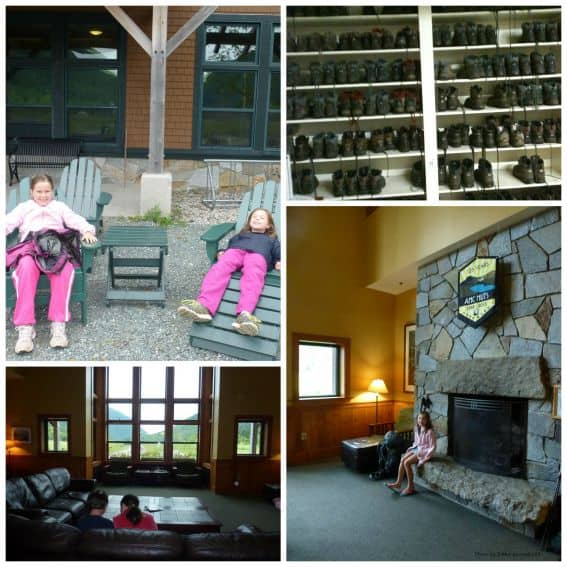 Farther south, another option for accommodations is the Appalachian Mountain Club (AMC) Highland lodge. The lodge is located in Crawford Notch on a table land in the White Mountains. There is an Alps like view at this very family friendly establishment. The AMC staff and members strive to conserve and upkeep the land of the Appalachians trail which encompasses part of the White Mountains. The lodge offers families comfortable rooms, dinner and breakfast included, and tons of programming including hiking, safety, track casting, and more. We spent the morning climbing Elephant's Head, learning about flora and fauna from a knowledgeable guide, and picking blueberries. If you do not come with the right gear, no worries, the lodge has an equipment room for free rentals of boots, packs, and more. This is truly a place for an outdoorsy family to spend a vacation.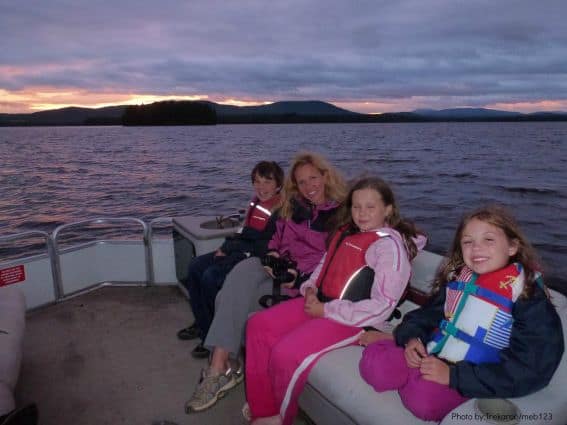 Whether your family is a group of seasoned adventurers or a group of want to be adventurers, New Hampshire Grand has something for you.  Looking for more tips, see www.nhgrand.com/ for recommendations on what to do with your family.
Disclosure: My family and I were provided accommodations at Lopstick Cabins and AMC Highland Lodge as well as activities for our tour of New Hampshire Grand. I was not required to detail a specific opinion and as usual, all opinions are my own.