Tiger Woods starting playing the game of golf at the age of two with his dad. Yet, what do you envision of when you think of the sport of golf? I know in my mind it didn't really conjure up visions of children. Did you know, however, that many clubs offer not only lessons, but Junior memberships as well as leagues for kids? This sport is one your family can participate in together, or your children can get involved in themselves – it's a sport they can play all throughout their lives, with others or by themselves. My kids (ages 14, 11 and 7) and I had a chance to dabble in the sport one weekend at the Jersey Shore. Here is what we did.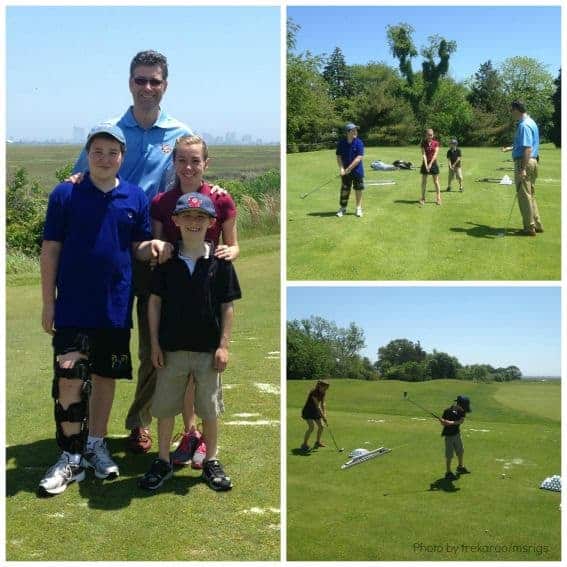 Our weekend started off at one of America's oldest and most prestigious golf clubs, the Atlantic City Country Club. Here, we were able to meet and tour the grounds with Charles Fahy, PGA member and general manager. He pointed out interesting sights as well as cool facts about the 110-year-old course: Did you know that the term "Birdie" was first used here on the twelfth hole in 1903, as well as where the term "Eagle" was coined? At least 6 USGA major championships have been played here over the years as well as countless charity outings, benefits, and other events. We were able to get on the greens and experience a lesson as part of their Junior Golfing Program. This program gives young people the opportunity to experience the game and develop their skills by focusing on fundamentals such as posture, stance, grip, and acceleration. My kids were able to practice holding the club correctly, and positioning themselves to better hit the ball. Mr. Fahy also demonstrated how certain clubs are meant for hitting in certain situations, and how just hitting the ball hard isn't always the best way to make it go where you're intending. Each of my kids learned more about the sport of golf and were able to take away things from the lesson that they hadn't known before. It was a wonderful way to introduce them to this iconic pastime! For families already into the sport, Junior Golfing Programs are a great way to get a chance to brush up on your skills and spend some time together.
After our lesson, we took some time to dine at the Taproom at the Atlantic City Country Club. Staffed by Chef Ed Daggers who has year of experience creating culinary delights, this restaurant serves up a delicious lunch or dinner. Coupled with views of the fairways, it was a meal we won't soon forget. Everything was cooked to perfection and we enjoyed speaking with Chef Daggers about the restaurant and its history. Perfect for older children and adults, the Taproom is not just for golfers, as anyone can dine here and experience a nice respite from the hectic every day.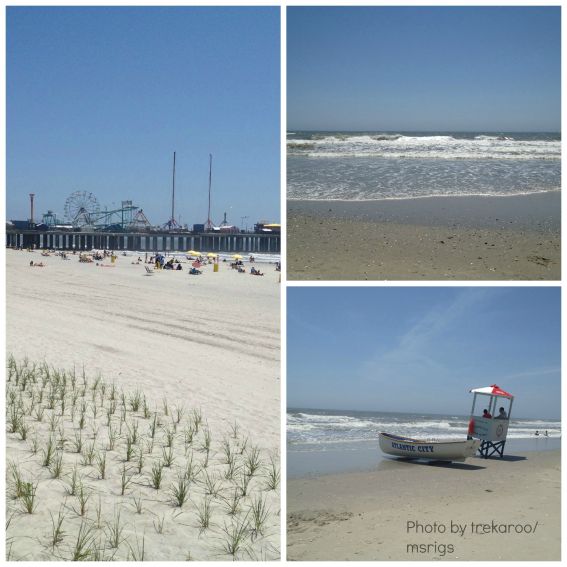 Staying the night in Atlantic City offers many options. We found that Caesar's Hotel and Casino fit our needs quite well and was located close to many local attractions. From here you can easily visit the Atlantic City Boardwalk (the most famous boardwalk in the country), as well as area shopping venues, a variety of restaurants, casinos, and more. It's a great opportunity to stop and take in all that this famous city has to offer. On a nice day you can also wander down to the beach and stick your toes into the Atlantic Ocean or just enjoy some time in the sun. What kid doesn't like the simplicity of the beach?
While at Caesar's we had the chance to dine at Nero's Tuscan Steakhouse as well as nearby Harry's Oyster Bar and Seafood. Both were quite family-friendly and served up delicious meals to top off our stay. Either one would make a fine addition to a stay in Atlantic City.

Whether you've got a young Tiger Woods or just a child looking to try golfing for the first time, Junior Programs such as the one at Atlantic City Country Club can get your child started on a sport he or she can enjoy for a lifetime. For those interested in taking it further, there are also Junior Memberships at many clubs as well as leagues and tournaments for an added level of competition!
Explore more ideas for enjoying Atlantic City with Kids.
Been to Atlantic City with little ones? Share your tips and ideas in the comments below.
Disclaimer: My lodging while in Atlantic City as well as some restaurants and activities were complimentary. I received no other compensation and the business owners did not state any requirements that I express a particular point of view. The opinions I express are entirely my own.