Before we'd even arrived at Central Oregon's Pronghorn Club, we were impressed:
located 15 minutes from Bend, the club's property sits on miles of acreage of sparse
high desert landscape where nothing but scrub pine and the alert ears of coyote
poke up out of the thick sage. After almost four miles on a private road beneath a
larger-than-life blue sky, we were greeted with a smile by the Pronghorn gate guard
and waved into the tastefully luxurious complex of common buildings and homes
that comprise the club.
We checked in at the Clubhouse front desk, which also houses the resort's spa, fine
and bistro dining, and wrap-around decks with stunning views. Overnight guests
of the club (which is made up primarily of home owners) stay in the beautifully
appointed townhouse-style lodging across from the Clubhouse and adjacent to
the family-centric Trailhead building. We were given a three-bedroom unit with
full kitchen, dining room, great room, theater system, outdoor patio and upstairs
balcony, wifi, three bathrooms, and probably a partridge in a pear tree (it wouldn't
have surprised me). The kids had their pick of rooms, and spent the first hour (and
several hours throughout our stay thereafter) playing rousing games of hide-and-
seek in the large space.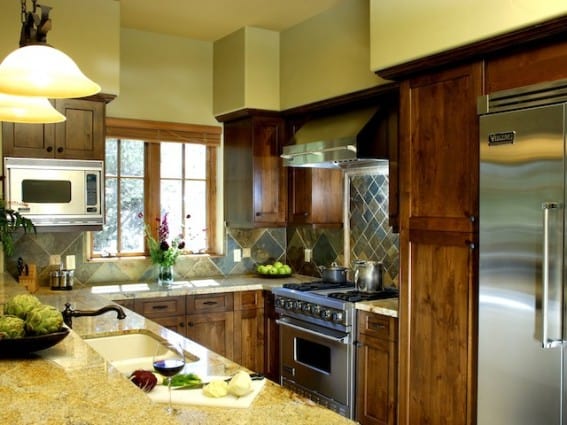 Pronghorn's lodging units (for which studio and 1-4 bedroom units are available)
sit on the 18th green of one of the resort's two signature golf courses. Designed by
Jack Nicklaus, these courses are arguably the jewels in the Pronghorn Club crown,
but if you or your family are not golfers, there's plenty more to do. Family fun
centers around the Trailhead, located adjacent to the Clubhouse and housing two
large outdoor pools (one with zero-depth entry and waterslide), two hot tubs, the
Trailhead Grill (family-friendly with service pool-side), Pronghorn Adventures
concierge desk (where families can book regional excursions), and Camp Pronghorn,
an entire wing dedicated to kids age 5-18.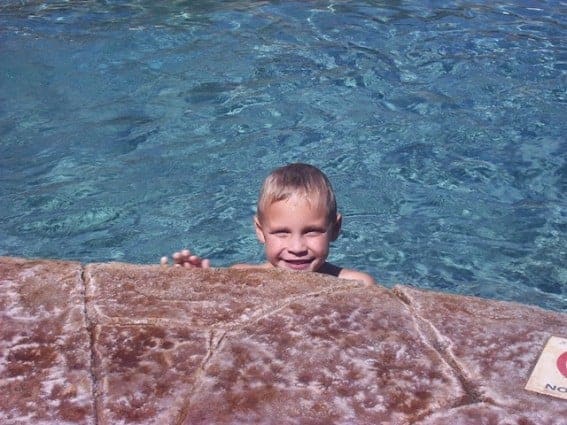 Camp Pronghorn's two large game rooms feature a media and gaming center, ping-
pong, foosball, pool, and space for arts and crafts and are open all the time (with
parent supervision for those under age 8). Their daily programs offer child drop-
off five days a week (Saturday through Wednesday from 9:30-4) We love that Camp
Pronghorn is much more than simply a babysitting service for kids: three days per
week (during summer months and winter holidays), Pronghorn camps offer off-
site excursions for the kids, which can include zip-lining, hiking, bike riding down
Bend's Paulina Plunge, exploring Newberry Crater, rafting the Deschutes, and more.
Families can check the camp schedule to see what's offered upon arrival, or check
the Summer Camp schedule online (reservations are encouraged). During our visit,
our three kids (12, 10, and 6) went cave spelunking and zip-ling at a private course
with Pronghorn Club leader Beau Kelly. Kelly is not only a professional educator and outdoor enthusiast, but a Central Oregon native: he knew all the great places to see
in the area, making him an excellent tour guide and a valuable resource for regional
outing ideas. I loved that my kids saw so much of Central Oregon in one day, and
they had a blast doing so (lunch included). The Pronghorn staff was very organized
and friendly, even snapping photos of the boys upon their arrival at the club in
order to create personalized name badges (to be secured on their complementary
Pronghorn backpacks).
Somehow between swimming, spending time with Beau at Camp Pronghorn, and
enjoying our home away from home, we carved out time to raft the Big Eddy of
the Deschutes River with Sun Country Tours (a Pronghorn partner). Organized by
Pronghorn Adventures, the off-site afternoon rafting tour was only 1.5 hours long
(3 hours door-to-door) and allowed the kids to experience the biggest whitewater
they'd ever faced (Class 3). Once again, our guide was friendly, knowledgeable, and
an expert with both the kids and the river, and since we were Pronghorn guests, the
Pronghorn Adventures concierge was able to arrange our tour (and we could pay for
it with a room charge).
During our stay, we dined at both the Trailhead Grill (poolside) and Casada, the
Clubhouse's bistro restaurant. Despite its upscale location, Casada's dining room is
cozy with its warm tones, leather furniture, and crackling fire in the fireplace, and
the Trailhead has a relaxed, fun atmosphere. Both restaurants feature signature
dishes as well as staples like burgers and fries.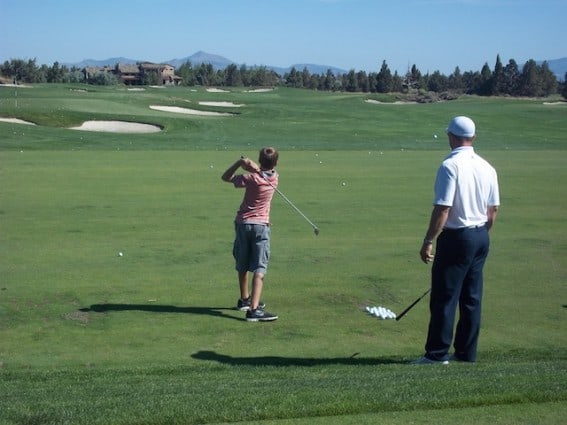 Pronghorn's golf courses can't be beat for quality (and, in my husband's opinion,
difficulty!). Since the kids and I are beginners, we were booked a lesson in
Pronghorn's PGA TOUR Academy, to be taught by head instructor Mike Palen, who
I am told is one of the best golf instructors in the country. While in the academy,
Mike helped us improve our swing by utilizing high tech video analysis, which was
immediately emailed to us for further reference back home. He was wonderful with
the kids, and I learned more in one hour than I'd learned in a semester of (long ago)
college golf lessons!
Overall, I was impressed by how much Pronghorn Club offers. So much more than
a golf resort, Pronghorn goes the extra mile (literally!) to show guests all Central
Oregon has to offer. With a plethora of outdoor adventures on tap, families visiting
in any season will have more to do than they have time for!
The Details:
Pronghorn guests have the option of booking overnight stays of varied lengths. We
stayed two nights, and could have used at least a few more to do everything we
wanted! Pronghorn guests have access to the Jack Nicklaus public golf course (at an
additional cost unless booking a golf package) and full use of the resort pools, Camp
Pronghorn (free for on-site parent-supervised use, $75 per day per child for full
camp days), tennis courts, playground, and bike rentals (free for first two hours on-
site). Because Pronghorn is primarily a members' club instead of 'one size fits all',
family resort stays are completely customizable. The reservation staff is trained to
meet the needs of individual families, and can build resort packages around what
you like to do. If you don't see what you're looking for on the website, call and ask!
Directions to Pronghorn:
Pronghorn Club is located at 65600 Pronghorn Drive, Bend Oregon. An easy flight
from anywhere in the U.S., Pronghorn is an ideal summer or winter family getaway!
Disclosure: The author received a complimentary stay at the resort in order to write this story and a review. The resort did not ask that any specific opinion be expressed and all opinions are the honest thoughts of the author.