Get Up and GO
My first sight of the GO camping trailer was a kind of "wow" moment. Streamlined and tucked neatly in my garage bay, I had never seen anything like it. And with a smaller footprint than my sedan, I was left marveling: How does such a cool looking trailer with a sleek, aerodynamic top convert into a 4-sleeper camper? Check out this video of how we found out and then read on for my full review:
GO Tent Trailer Review
Pros:
Super-compact tent trailer
Lightweight and haulable by regular sedans and SUVs, no need for a gas-guzzling pick-up
Multi-use and adaptable to uses other than camping
Perfect for a family of 4
Comfortable off-ground sleep.
Hauls a ton of gear and equipment.
Hyper-engineered with much attention to detail and functionality
Super Cool
Attention-getting conversation starter at campgrounds
Cons:
Cost
Light on Creature Comforts compared to other tent trailers.
Curiously Cool Way to Go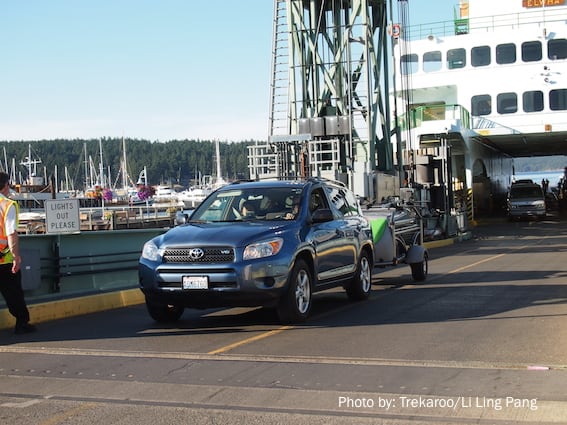 The trailer, weighing in at 840 lb., glided smoothly and hook-up was a snap, okay, four snaps: hitch mount, electrical, and two safety cables. The utility space is deliberately open to accommodate lots of gear, to be used as a toy hauler or to handle other types of transport (for example, the GO website – which is also very cool – shows the trailer with a loaded refrigerator). For my own gear haul, Rubbermaid storage boxes fit nice and snug when the trailer top was cranked down to its lowest position. Generous gaps in the trailer's side bars, though, mean that small or narrow items have to be well secured onto the trailer. Case in point: my folding chairs could have easily slipped through. A simple solution was to bind all four of them together with a good strap and wedge them between other items.
GO also accommodates roof rack systems for mounting bikes, boats, and cargo boxes – an added plus for loading "toys" in addition to (or instead of) a vehicle roof rack. What's nice is that the low profile of the trailer makes loading easy, even for shorter people like me. My unit came fitted with a bike mount, and I loaded my bike, a nice option for GO owners who will want to bring all their outdoor toys with them on their camping trip.
Road Warrior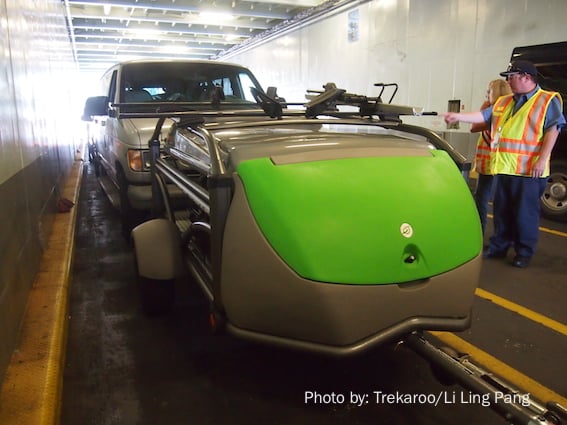 Gear secured, I hit the road for a two-hour drive to the ferry terminal at Anacortes, WA, heading for San Juan Island. I'm new to trailer hauling and wondered how GO was going to feel behind my SUV. As I started out, I wondered if I was pulling anything at all. In fact, I could hardly even see the GO profile in my rear or side view mirrors. Expecting to have to compensate more for turns, I experienced almost no difference – in fact, I overcompensated. Pulling GO actually added a fun dimension to the drive. No rattle or shifting. Smooth as sailing. All a credit to what SylvanSport calls their "hyper-engineering."
Meanwhile, I was curious as to what the other drivers on the road were thinking about this road warrior. Sure enough, I did get long sideways glances from people in vehicles. And I smiled back. Yes, this is a cool trailer. And fun to pull.
At the ferry terminal, I experienced another plus. With GO measuring in at about 12 feet, my combined vehicle + trailer was well within a 30-foot length. Three feet more of trailer and my $94 ferry ride would jump to $251 (GO started to pay for itself already!). Ferry savings aside, the trailer maneuvered well with its compact size. As I pulled on to the car deck, three ferry personnel sauntered over to examine GO with admiring stares.
Camp Mode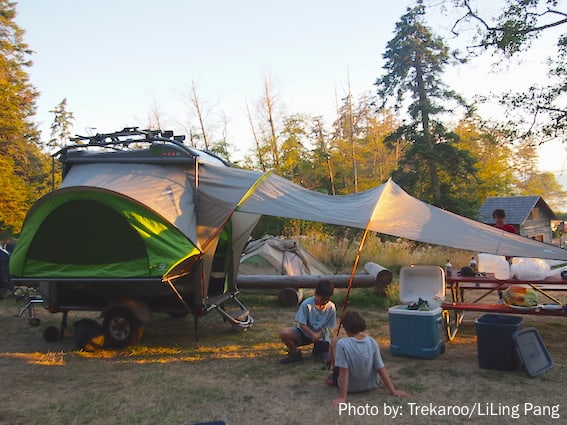 Our campsite, located on the west side of San Juan Island, overlooked the picturesque the Haro Strait, with Vancouver Island (Canada) visible in the distance. As we drove GO into the county park, inquisitive gazes abounded. Campers are particularly interested in others' gear, and as I started to set up, one neighbor visited our site, practically beside himself with enthusiasm for GO. Even the veteran camp host wandered over to take a gander at this novel trailer.
The only frustration in the whole setup process came at the initial stage of setting the feet. They are spring loaded and flip down easily, and a sturdy bar is provided to jack them into height position. But because we were on uneven ground (it's a grassy pull-in area) and the legs have a rather limited extension, GO ends up unbalanced. I also found it difficult to get good leverage on the jack because the bar is short; an extra six inches of length would make a big difference for using one's foot. In the end, I had to repark GO to a more even spot and set the feet again, and the trailer now sat level.
The GO dealer was able to set up the trailer in camp mode in 11 minutes. It took me considerably longer for my first try but the result of your efforts is nifty: a camp trailer with ample head room that allows one to walk up-and-in by a sturdy, fold-down step; a durable yet well ventilated two adult-sized sleeping berths cantilevered out from the trailer on each side; a fold-down dining/work table suspended over the floor, with the two sleeping berths (and accompanying mattress pads) serving as benches; and a sizable vestibule that extends outward from the back for protection from the elements. GO has the option to accommodate two smaller persons in between the adult berths with an additional panel and set of mattress pads. This option eliminates the table function (at least for nighttime sleeping), but it's a reasonable compromise, and I found that the cavity beneath these additional berths was a good place for personal gear storage.
Our family of five (including a teen, two tweens, and two smaller adults) spent the night in the trailer. It was much more comfortable than our regular tent. Though the self-inflating camp mattresses are a little thinner than our own, the flat platform more than made up for it and being off the ground was a definite bonus, keeping the tent cleaner and reminding the kids of the need to take off their shoes before entering. The air circulation inside was excellent and we appreciated still being able to see the trees and the stars from our sleeping positions, which for me, is the essence of tent camping.
Coolest. Camper. Ever.
There is no mistaking GO from other travel trailers, even in its camp mode. I found myself looking over it from the campfire, walking around it, and admiring it from different angles. National Geographic Adventure calls it "Coolest.Camper.Ever," – a line that GO now sports on its trailer decals. And it's hard to argue otherwise.
Cool does come at a price, however. At $8,500 as of 2014 (and that's before a delivery charge that can range from $525-$995, unless you plan to take free delivery in Brevard, NC), GO does not come cheap. And so this extraordinary trailer is not likely to be jumped at by ordinary families in the market for a serviceable camping trailer. There is a large variety of trailers that provide even more amenities and creature comforts for significantly less cost. But for a family who intends to haul a lot of gear and large "toys," this is an ideal set up.
Disclosure: I was loaned to GO Trailer by the manufacturer, Sylvan Sport, for this review. I was not asked by the company to express a particular point of view. This review is based on my own experiences with the trailer and the opinions are entirely my own.