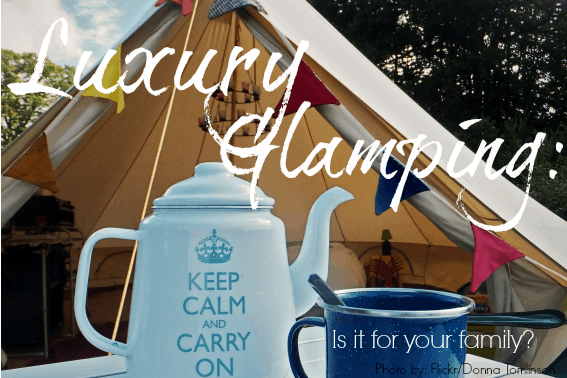 Can camping and luxury unite? This was the question that my family set out to answer while glamping (glamour camping) in north central Idaho. We love the outdoors. We love to fall asleep to the sound of a rushing creek and we love to wake up to the sounds of chirping birds. We love to tell ghost stories and roast marshmallows. My family loves to camp. But, we don't love packing mounds of supplies, setting up the tent, sharp rocks under sleeping bags, leaking tents, muddy kids' feet, or vault toilets. For these reasons, glamping was appealing to my family.
Is Glamping Right for Your Family?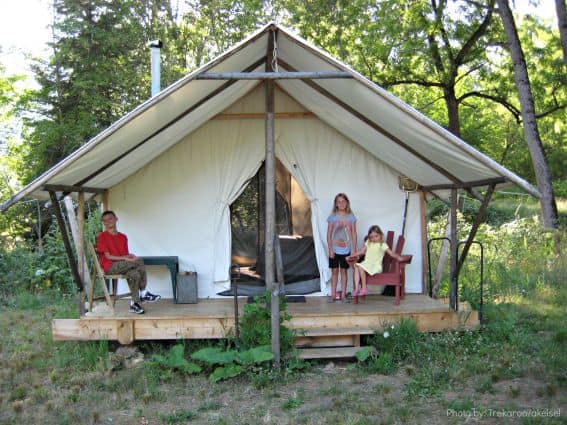 Mix European aristocracy with African exploration and you get a grand safari. Glamping most likely derived from these grand safaris which required several porters, cases of champagne, luxurious furnishings, and lavish meals. Today's grand safaris exist in glamping resorts where glamorous amenities and levels of luxury may differ, but the distaste for the air mattress is consistent. 
What could be better than a comfortable king-sized bed and an outdoor tub in a peaceful mountain setting? Not much. But, there are a few things to consider before booking your family glamping getaway. First, be aware that some glamping tents are designed to sleep only two, so you may need to split the family in to multiple tents. This might not be conducive to large families or families with very young children. Second, your glamping experience may be greatly impacted by your glamping neighbors. Most likely you'll be glamping next to like-minded, outdoor loving, polite guests who won't disturb your stay. However, there is also a chance that you might run in to a rowdy crowd who are trying to blend the words camping, glamorous, and keg in to something that I would call "glampkegging." Finally, in-door plumbing and electricity may be optional amenities. Be prepared to unplug your gadgets and learn how to flush a composting toilet.
Where to find Family-Friendly Glamping
If you are convinced that a glamping getaway is the ideal vacation for your family, check out these family-friendly glamping resorts.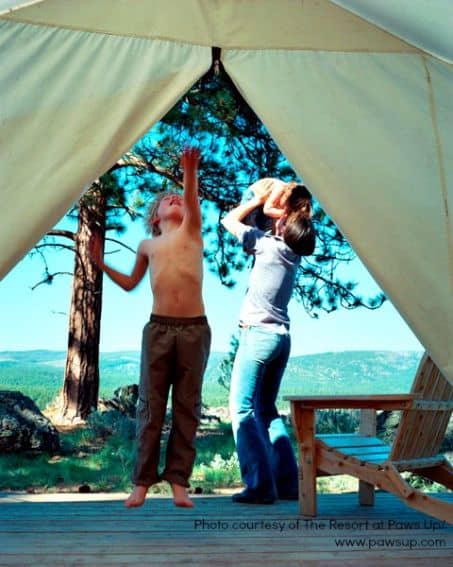 River Dance Lodge
The River Dance Lodge is located along Idaho's pristine Clearwater River and offers guests the option to glamp in one of three luxurious tents. This resort can customize an all-inclusive vacation package to include gourmet dining and kid-friendly activities. Don't miss out on river activities when visiting River Dance Lodge. This resort is affiliated with ROW Adventures, a leading adventure tour company that offers kid-friendly river trips. Spend a day kayaking down the tranquil Clearwater River, and then count the stars while soaking in your heated outdoor claw foot tub.
Bar W Guest Ranch
The Bar W Guest Ranch is an all-inclusive guest ranch located at the base of Spencer Mountain in northern Montana and offers glamping accommodations throughout the summer months. Horse lovers will especially love the location of these glamping tents, a private setting nestled near the pasture. Wake up early enough and you may even be able to help out with the ranch chores before breakfast. This guest ranch also offers a special kids' program where camp counselors entertain the little cowpokes while parents hit the trails on their mounted steeds.
The Resort at PAWS UP
The Resort at PAWS UP is a luxury guest ranch located on 37,000 acres in the heart of heart of Montana's Blackfoot Valley. This resort prides itself on luxury and service. Do you need a fire started? Just ask the camping butler. Are you getting hungry? The camp chef will whip up a gourmet family-style meal. Meals and various activities are all-inclusive at The Resort at PAWS UP. Numerous guided adventures and a day camp for kids, the PAWS UP Corps of Discovery, can be reserved for additional fees.
Yellowstone Under Canvas
Yellowstone Under Canvas  is located near the entrance to Yellowstone National Park and is the ideal place to experience glamping near wild nature and wildlife. Where else can you check-in and receive instructions on how to use bear repellent spray? Larger families will especially love the option to add a tipi next to the glamping tent and let the kids glamp independently. Yellowstone Under Canvas partners with several local outfitters so the resort can easily coordinate an activity schedule or vacation package suitable for any outdoor adventure loving family.
The Ranch at Rock Creek
The Ranch at Rock Creek is an all-inclusive guest ranch in Philipsburg, Montana encompassing 6,600 acres and is surrounded by miles of endless mountains. This ranch offers guests several glamping tent options, including a large two bedroom tent perfectly fit for families. Activities are endless at this ranch which features miles of access to the infamous Rock Creek  available solely to guests, as well as stocked trout ponds, which result in some pretty legendary fishing. Kids will especially love the ranch's get back to nature kids' camp called The Little Grizzlies Kids Club, where outdoor activities are both fun and educational.
I'm Not Ready to Get Rid of the Family Tent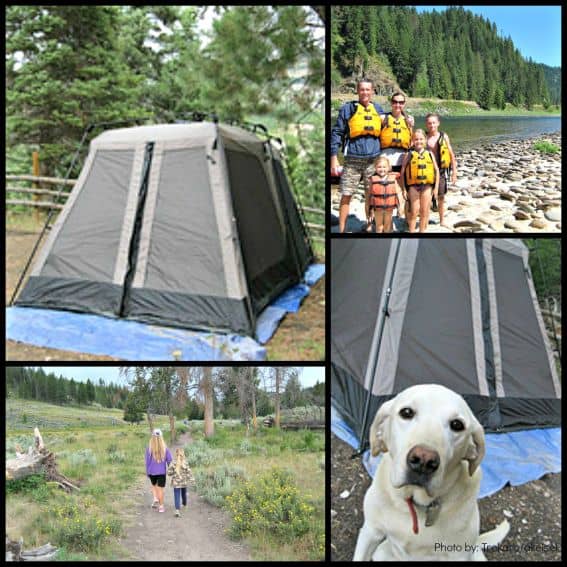 My family loved our glamping experience and we will certainly add glamping to our regular travel repertoire. I learned that luxury and camping can unite. But I'm not convinced that it's time to get rid of the family tent quite yet. Whether we are living like gypsies on a remote mountain road or lined up like sardines at an overbooked KOA, our family tent goes wherever we want to go. There's still a place for the family tent in our trunk. Now, if only I could figure out how to squeeze in a claw foot tub and a plush king-sized bed.
 Disclosure: The author received complimentary lodging, dining, and a river kayaking from River Dance Lodge.