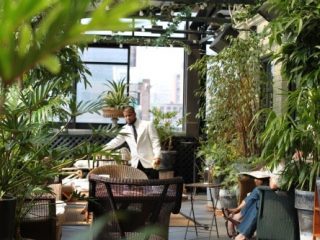 My friends who live in New York City consider the Gramercy Park Hotel a hip and
trendy go-to spot for lunches, drinks after work, dinners at Maialino, spa treatments and
more. If the ground floor (or perhaps the roof terrace) is as far as you venture into this
boutique hotel, the art and eclectic vibe doesn't scream "family friendly." However, my 4
year old (experienced in 5 star travel) begged us to stay past the 5 nights we booked, and
even my hard to please husband raved about the experience. We all loved it, and I'm not
surprised that the hotel is also a top choice among celebrities and the jet set.
A Prime Location Away From the Hustle and Bustle
The Gramercy Park neighborhood is an oasis in a big city. There are no skyscrapers and it's quieter. The subway is right around the corner as are numerous cafes, a wine shop, Walgreens, and other convenience stores. Hotel guests have a key to the exclusive Gramercy Park, a privilege normally reserved for area residents. This is now definitely our neighborhood of choice for future New York City family vacations.
Rooms in a Renaissance Color Palate
The rooms are paneled with gorgeous dark mahogany, offset by vibrant red and royal blue. Hand-stitched signature chairs are focal points in each room. Once I removed a silk throw from our sofa, I didn't feel like a 4-year-old in our Avenue Suite was going to jeopardize anything. Despite the magazine worthy interior design, the room was very comfortable.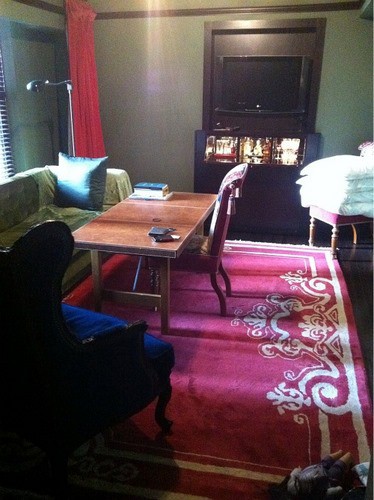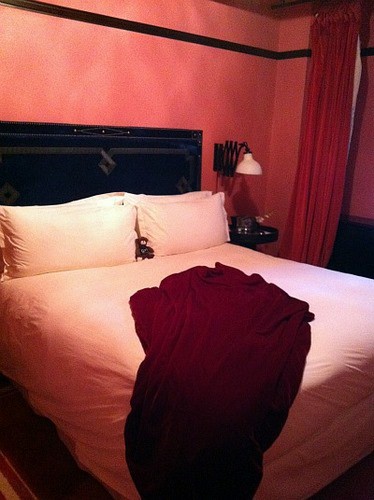 The living room completely closed off from the bedroom and bathroom. The sofa folded into a bed so family of 4 would fit in an Avenue Suite just fine. Our bathroom didn't have a bathtub, though some rooms do. You can check the floor plans online. Amenities are from a "Best Of" collection (I love the wheat germ lotion). WiFi is available for a fee, though our signal was a little weak.
Dine In Or Out: The Choice Is Yours
Gramercy Terrace is on the top floor. It's filled with lush greenery and gorgeous mix and match patio furniture. The weather was nice enough that they retracted the roof. What an amazing place to enjoy breakfast, lunch and/or a cocktail!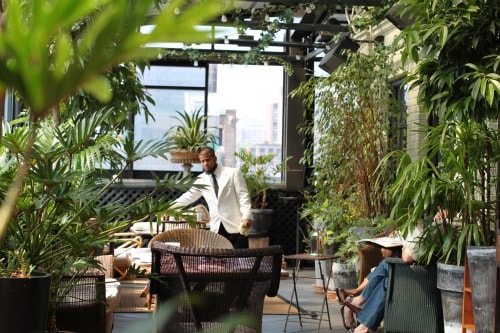 It's hard to walk by the continental breakfast buffet with kids and not have them ask for it, though I should warn you it's $29 per person and there is no kids menu here. We did receive a breakfast credit of $80 at Gramercy Terrace. We came close to maxing that each morning, even though my husband isn't a breakfast eater.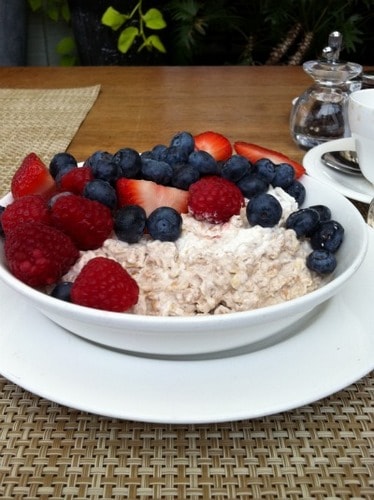 Room service is available 24 hours a day, and if you are flying in from the west coast, you may be grateful for this when you arrive. There are kid friendly options.
One evening, we met some friends in the Rose Bar, where most celebrity sightings occur, for a few early drinks and appetizers. Our daughter was welcome, as it was early.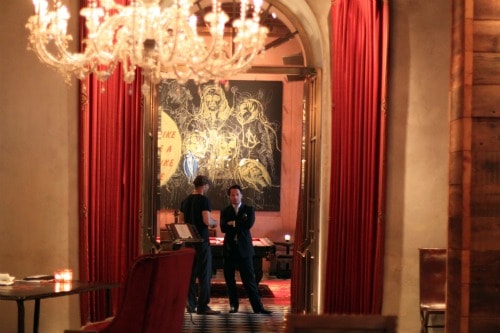 If you would like to dine at Maialino, the hotel's popular Roman style trattoria, it's best to make a reservation in advance, though they have several small tables in the front for walk-ins. I didn't see a kids menu, but my 4 year old loves parma ham and stinky cheeses so we didn't need one. Do make Maialino a part of your experience, if you think your kids can handle it. The buzz of conversation in the restaurant will hide the occasional squeal.
There are many restaurants that deliver to the Gramercy Park Hotel, for times when leaving your room would be a giant effort. The beyond helpful Concierge provided us with a New York Pizza delivery option that knocked our socks off.
Kid-Friendly Activities
Children's Museum of Manhattan: The Children's Museum is a preschoolers dream with Dora, Curious George, Diego and more to entertain them on multiple floors. Attendees seemed like they were mostly NYC residents who make the museum part of their summer time routine. It was crowded when we went, probably because it was threatening rain outside.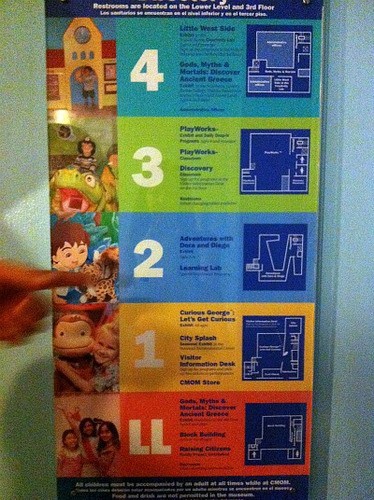 Read reviews of the Children's Museum of Manhattan.
American Museum of Natural History: Your kids will be blown away by the dinosaurs. I remember seeing them when I was about 9 and they are still impressive as an adult.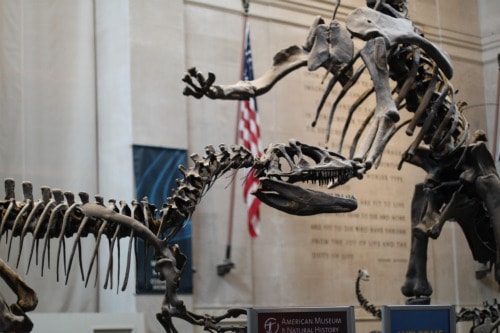 Read reviews of the American Museum of Natural History.
The Metropolitan Museum of Art: Most of the art is advanced for young kids. However, our daughter enjoyed the Degas Ballet Dancers (thanks to Olivia on NickJr), Monet Water Lilies and the mummies. I bet we could have seen more, if we would have had a stroller.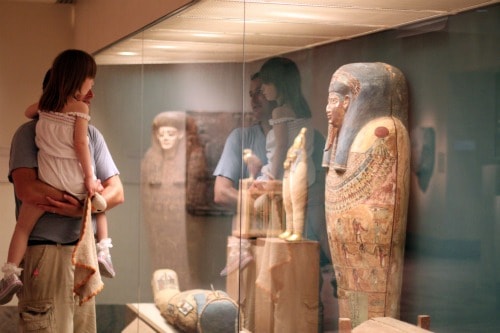 Read reviews of the Metropolitan Museum of Art.
Central Park: Grab a hot dog, pretzel or gyro from one of the vendors and walk inside. Weave your way to the little carousel and rest your legs while you ride. Definitely set aside and hour or two to visit the Central Park Zoo. The penguins were a big hit with my daughter and it was a nice change of pace from the city streets.
Read reviews of Central Park.
Top of the Rock: The most spectacular 360 degree view of the entire city is here at the top of Rockefeller Center. Do bring some entertainment for the kids, as we experienced a wait on our way to the top.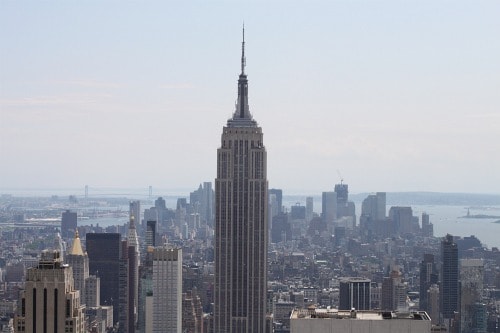 Read reviews of the Top of the Rock.
Some Rest and Relaxation at the Hotel For Mom and Dad
Enjoy a facial or massage at the spa or perhaps work off your pizza at the gym. Babysitting can be arranged with a little bit of advance notice through the Concierge.
Gramercy Park Hotel Family Fun Offer
– 4 nights accommodation
– Daily continental breakfast for 4 at Gramercy Terrace
– 4 tickets to the Central Park Zoo
– 4 tickets to the Children's Museum of Manhattan
– 2 tickets to the Central Park Carousel
– Preferred entrance to Top of the Rock for 4 people
– Gramercy Park Hotel teddy bar
$2,200 for the Deluxe double/double package | $2,600 for an Avenue Suite | $5,400 for a One Bedroom Suite connected to a Deluxe double/double.
My only caveat is that if your kids are particularly rambunctious, this might not be the place for you. Also, in line with other 5 star hotels in New York City, you can rack up a whopper of a room service (or bar) bill if you're not careful. However, the Family Fun Offer is honestly great value for what you receive and we will definitely return.
Katie Dillon writes La Jolla Mom, a lifestyle site covering parenting, travel, cooking with kids, home management and local happenings. After seven years of expat life in London and Hong Kong, she is now grounded in the seaside community of La Jolla, CA with her husband and preschool aged daughter.
The author received a complimentary night's stay, a media rate for 4 nights, and the tickets in the family fun offer. Opinions are always her own.