Recently, my sister-in-law, a group of her girlfriends, and their daughters decided it would be fun to plan a girls only trip to Port Aransas, TX.  It was an opportunity to cool down in that legendary Texas heat, get away from the stress of every day life, and to bond in a way that only girls can. After looking through the pictures she sent me and seeing the pure joy on the girl's faces, I insisted that she share some of their experiences with us. As with so much of life, things didn't go exactly to plan and they had to cut their trip short due to Hurricane Alex but they still managed to find some fun one the way home down by the Riverwalk in San Antonio. Here, in pictures and words, is your inspiration to start planning a mother daughter vacation with your favorite little ladies:
As a California Native, it's hard to imagine planning a beach trip in the state of Texas. But these days Austin, TX  is the place I happily call home and a trip to the California Coast does not fit into our current budget. Luckily we found a much  more economical way to visit the beach with friends. We headed on down to the Texas gulf city of Port Aransas and embraced those warm salty waters!
It was only a month ago that my girlfriends and I came up with the idea of a Girls Only Beach Vacation. "The Girls" consisted  of 3 mom's and 7 girls ranging in ages from 5 – 11.  The goal of our vacation was to give the moms & the girls time together to catch up, play and enjoy the simple things:  ocean, beach, pool & plenty of smiles & laughs along the way.
Our trip began early on a Monday morning as we traveled the back roads through small towns in Central Texas. Prior to this trip, I wasn't aware HWY 183 would take us from Austin to the Gulf Coast. We took this path as it kept us off the busy freeway system and out of traffic. We passed through Luling, Lockhart, Gonzales,Yoakum, Cuero, Goliad, Refugio, and Rockport on our way to Port Aransas. I wish we had made time to explore some these places along the way. Next time, I think we need to plan stops in each city to really experience all that small towns in TX have to offer. Interesting food, shopping, and historical landmarks fill our roadways and it would be great to experience them with our kids.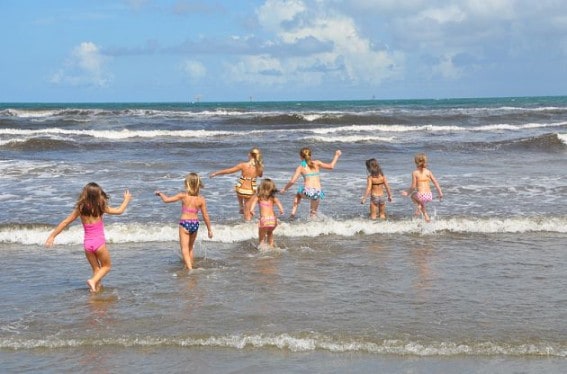 We opted to try a fun and different way to get to Port Aransas and make our entry into our trip a little more memorable- the ferry. The girls loved it, the moms felt a little seasick. Upon arriving in Port Aransas, the girls were anxious to unload the car & hit the beach! We spent a wonderful afternoon looking for shells, digging for crabs, jumping waves, body surfing and feeding the birds. After a fun-filled day at the beach, we grilled some hamburgers and hotdogs and enjoyed dinner together up in our condo. After our meal, the girls were ready for more fun. This time, they hit the pool and watched a sunset on the beach. The girls had a blast climbing the sand dunes and exploring the beach at dusk.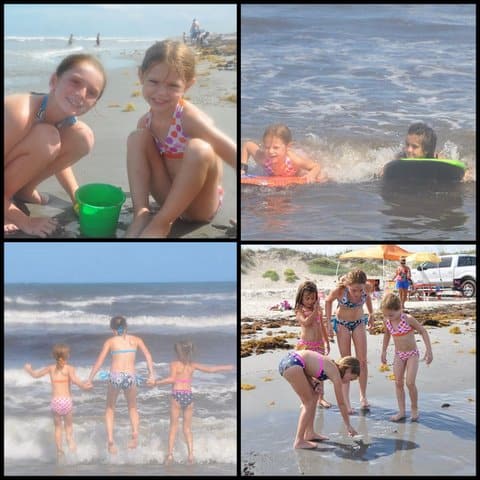 Day 2 started off with a bit of a worry. Hurricane Alex heading towards the Gulf Coast and it looked as though Port Aransas was in it's path. It rained in the morning, so we made the best of the gloomy weather and broke out the nail polish! Manicures and pedicures were had by all. By the time our colorful toes dried, the skies cleared, and our girls were given another beautiful day at the beach and by pool. Seaweed was everywhere, but that didn't keep the girls from enjoying the waves and surf. That evening we headed into town for a seafood filled dinner (fish & shrimp…yum) at Virginia's on the Bay followed by a fun night of shopping at all the local beach shops. The girls all picked out $0.99 shark tooth necklaces to remind them of their special trip together. We topped off our night with popsicles and  TV as we all snuggled on the floor of our condo in our PJs.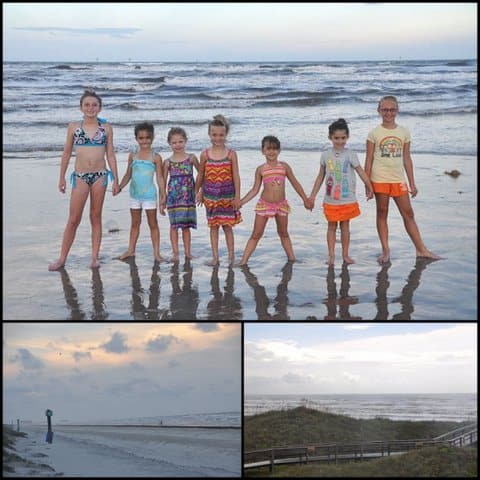 By day 3, Hurricane Alex was getting closer and we had tropical storms in Port Aransas. During a short break in the rain, we all made a quick trip to the beach to see how far the tide had come in due to the storm. By 1pm we knew it was time to leave town. So on our last day of our beach trip, we took the bridge out of Port Aransas, made our way to Corpus Christi and drove into San Antonio just in time for the rain to stop and to make a quick trip to The Alamo with our girls, or so we thought. Unfortunately, The Alamo closes at 5pm during the week, but we quickly discovered Ripley's Believe or Not across the street next to the San Antonio River Walk. The girls were able to enjoy three adventures for $16 and had a blast making new discoveries together. Tip:  The Haunted House is not recommended for young children. Following our trip to Ripley's, we topped off our trip and our day with dinner on the River Walk. The girls enjoyed watching a mama duck and baby ducks in the river and danced as a mariachi band came by our table to play us a song. It was a wonderful way to top off a great trip with our girls.
Playing along with Delicious Baby's Photo Friday.
Comments
comments