Does your camera just float around in a bag when you travel with your kids? Or do you simply leave that bulky DSLR at home? I know so many moms who have fantastic cameras that take the most amazing photos- but they rarely bring them on daily adventures with kids. Either the camera is too bulky or they don't have a good bag to safely carry it in. I have a great solution for you! No more regret for not taking your camera with you to capture quality images of your kids!

The Tenba Messenger bag is a stylish and expertly crafted bag to safely carry cameras, equipment, water bottles, and all the things parents need. This is not your standard bag that you stuff a camera into but rather one with a waterproof bottom panel, water-repellent (and cute) nylon fabric, the best hardware for zippers, clips, and velcro, interior pockets galore, and a padded interior with removable panels that can be arranged to best secure your equipment. A slot next to the padding can hold an iPad or laptop depending on the size of the messenger bag.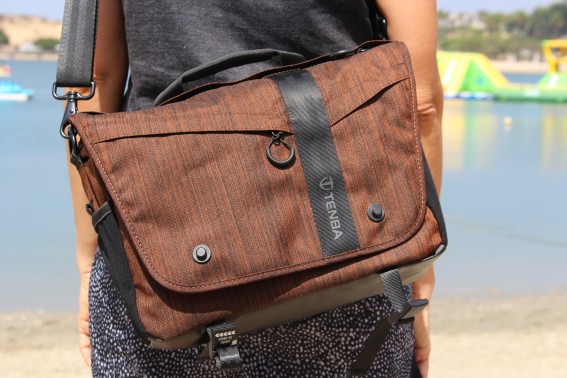 I especially loved the style of an over-the-shoulder messenger bag for carrying to the beach, to a meeting, or anywhere. The padding on the shoulder is gentle yet secure. The key is a security strap that can be used to attach to the main strap which will keep the bag from slipping forward when riding a bike – or carrying small children. As a parent, I like all the many pockets, but especially appreciate the easy access to the inside of the bag with a cleverly placed zipper access in the top of the flap.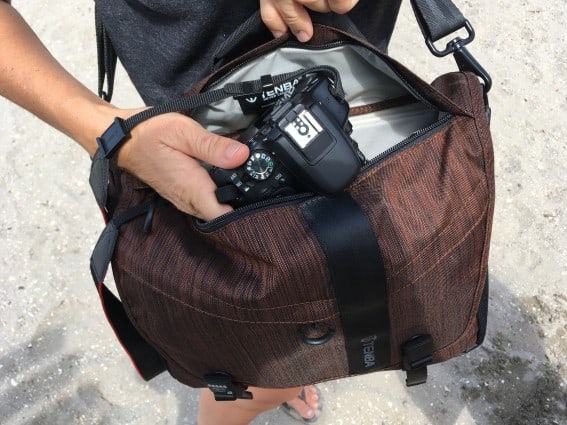 Pros of the Tenba Messenger Bag:
Fashionable style with great fabrics.

Durable materials that are weather resistant and will stand up to heavy use.

Easy access to the interior bag with a zipper in the flap plus essential pockets for keys, wallet, phone, and cards.

Waterbottle pockets on the side.
Cons of the Tenba Messenger Bag:
For parents who have to carry many things in a diaper bag or backpack, they may not want to add another bag to the mix.

The majority of the bag is dedicated to camera equipment – but most parents have cameras as an addition to all the other things they carry.
Buy on Amazon: Tenba Messenger DNA 11 Camera and Laptop Bag – Dark Copper (638-374)
Features of the Tenba Messenger Bag:
Messenger bags are available in a variety of colors and sizes to fit everything from small mirror-less cameras up to a pro DSLR body with an attached 70-200mm 2.8.

All Messenger bags are made with water-repellent 600-1000 denier nylon, YKK® zippers, Duraflex® clips, steel D-rings, a waterproof bottom panel, Fidlock® patented magnetic clips which allow quick release and drop on attachment, quiet velcro reduces sound when flap is opened, quick access top zipper gives aces through the top flap, a trolley strap for travel with a rolling case, a security strap, and an included reversible weather wrap that protects from rain and heat.
I sampled the Tenba DNA 11 – Dark Copper:
Weight 2.2 lbs/1.1 kg

Dimensions: Outside: 13" wide x 9.5" high x 7.5" deep

Capacity: mirrorless camera with 3-5 lenses and flash or DSLR with 2-3 lenses and flash

Fits: iPad, tablet or laptop up to 11 inches
Conclusion
Tenba is a long standing company that has a great reputation for quality bags and equipment to keep cameras safe. This is one of their quality bags that I would recommend to anyone wishing to travel with a camera. It would make for a great Christmas present or birthday gift. Anyone who loves taking pictures, whether an amateur or professional, will especially appreciate the quality of this bag.
Disclosure: I received a complimentary sample of the Tenba DNA 11 for a review. I have not been asked to present a particular point of view and all opinions are my own.
All photos are the property of Michelle McCoy.
Featured photo by: Michelle McCoy