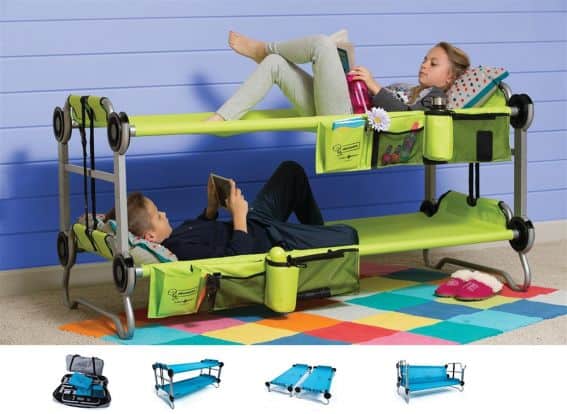 Need additional sleeping space?
Space in a hotel room for all the kids to sleep. Space in a crowded family tent for everyone to lay their heads at night. Space for visitors to rest their weary heads at night. Kid-O-Bunk offers families a versatile, space-saving sleep solution that is ideal for road trips, camping, sleepovers, and out-of-town guests. This system combines function, comfort, and ease of use into a product that has proven to work well for my family, both at home and on the go.
Features
Can be used as two single cots, a bunk bed, or a bench.
Velcro-attached side organizers which have spots for cups, books, and all sorts of essential bedside goodies.
The sleep area on each cot is 62″ L x 27.7″ W.
Designed with children ages 7-12 in mind but can handle a weight capacity of 200lbs per cot.
Stores easily in a two zippered carrying bags (one per cot).
Retail price is $289.99.

Pros
No tools are needed for assembly and instructions are very clear and easy to follow. I found it very easy to both set up and take down the Kid-O-Bunk. It took about 15 minutes to set up the first time and 10 minutes each additional time. With two people, set up would probably take 5 minutes.
The cot material is both water resistant and machine washable.
I appreciated the versatility of being able to use this system as either a single cot, side by side cots, or bunk bed. It is a great solution for travel as well as visitors/sleepovers.
Cots store small and flat in their carrying bags, saving precious trunk space on road trips.
Bunk bed has a low profile, making a it a nice solution for tent camping.
Cons
Even though the box shows children carrying the cot bags, the bags would be heavy for a young child (under 10) to carry on their own. Luckily, they are not too heavy for us adult pack mules.
The bench is not very comfortable without a firm pillow for cushioning due to a metal bar. That said, with the pillow it is actually quite cozy and a nice option for campers.
Conclusion
The Kid-O-Bunk really is a product that solves a variety of sleeping problems. It disassembles small enough to make it a good option for popping into the car to use when visiting out-of-town family and doesn't take up much space in our garage when not in use. I really appreciate how easy it is to assemble and that the material is machine washable because let's face it, kids tend to get everything dirty. I am most excited about this product because it is a space-saving addition to our camping kit. The extra space will be much appreciated in our tent. Since it does convert into a bench, we can also use it as seating while camping. When friends come to spend the night, they always request the bunk beds and I don't mind because they are so simple to set up. This product is an easy one to recommend.
Disclosure: I received this product from the brand so that I could write an unbiased review on behalf of Trekaroo. All opinions are my own.
"Note: This article contains affiliate amazon links."