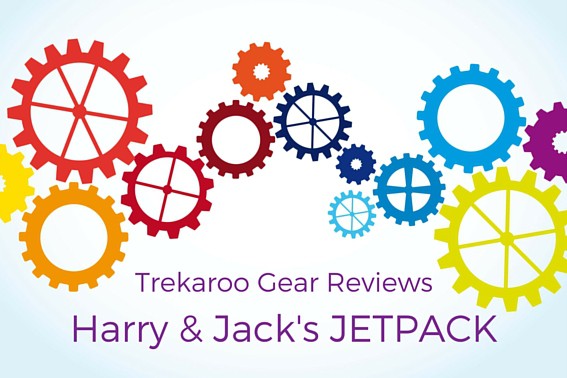 The Harry & Jack JETPACK backpack is a super adorable bag that is a perfect size for a younger child (think preschool – to just entering school age range). It is a red backpack with "rocket boosters" on the back as my kids described it when we first saw it. As far as cute backpacks go, this one is at the top of the list. Every time my kids put it on, they immediately pretend to blast off into space! If you want something for your child to get those imagination muscles working, this is a great way to explore the uncharted territories when they travel or go back to school this year!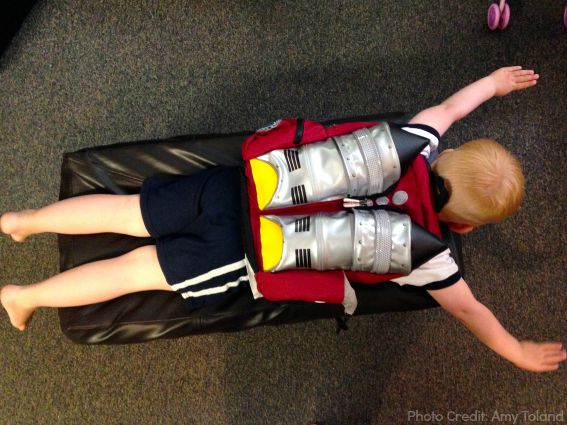 Features:
This is a very well-made product. You can tell the fabric is sturdy and will take a lot of wear and tear with kids, and the stitching seems secure. Major bonus points for construction!
The jet tanks on the back (what my kids refer to as "rocketship boosters") unzip and have Velcro so you can open them. Very special space to store snacks, toys, and little treasures. My kids used these to hold their special little friends who were flying into space with them!
An outside water bottle pocket is always handy, and I love that this one can be "cinched" up to secure the bottle further. The other side has a zip-up pocket that's also perfect for a snack, small item you want easily accessible, etc…
Reflective patches on multiple areas of the pack add to the 'space' fun as well as serve as an added safety feature.
The straps are adjustable and have little hooks on them; the top has a handle to pick it up with.
The main compartment has a sturdy zipper.
One of coolest features is a Velcro wrist strap that comes off. My kids loved strapping that on and communicating back to their "space station" while they were off flying around. Too fun!
The pack is currently listed for £22.50, (around $35 at publication) on their easy to navigate website.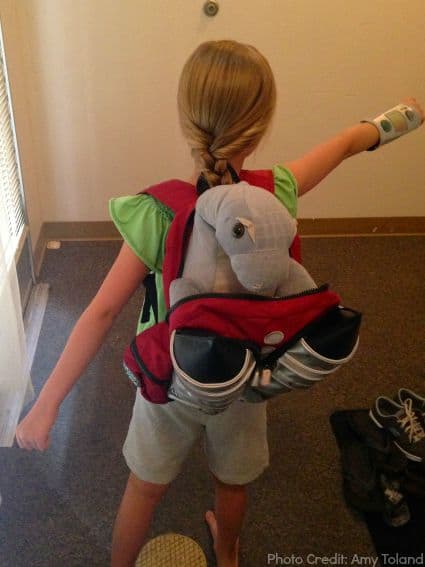 Pros:
Very well constructed; this is a durable product.
The size is perfect for a smaller child, without overwhelming them or being too bulky while they run around.
This pack is a simple design with a ton of fun. It's not "too much" when it come to the decorations, while at the same time has just enough fun features to promote a LOT of imaginative play!
My kids both said it is comfortable to wear; and easy to put on and take off.
Cons:
Neither of my kids (ages 4 and 6) were able to easily re-close the outside jet tanks once they opened them to put items in. This led to some frustrations, and then my husband or I would have to intervene and help out. I think because there are two parts to closing it (first lining up the velcro to close it, my son couldn't master this at all… then zipping the top part closed), that it's just a little advanced in that aspect for little hands to tackle–but for flying and transition from car to hotel, etc., it's a good way to know you're not losing "lovies" or other important property!
My 6 year is very tall for her age, and although this fits her, it would be a tough choice for her to take to school every day. My preschooler however, doesn't take as many items so this is still a good choice for him. They just want to play with it though to be honest! It has quickly become a favorite for heading to the park with us as well. It would be a good size for a carry-on and would also be easy to identify in a jumble of luggage!
Conclusion:
The JETPACK is a fantastic find if you're looking for something that will hold up well with vigorous use, while also being adorable! This pack inspires creative play so easily, it's a no brainer in the fun department! I would recommend this product for kids in the 3-7 age range for imaginative fun and play, and also as a great day pack or carry on size bag for explorers on the go!
Disclosure: The author received a complimentary product to facilitate this article. No other compensation was received and she was not asked to express a certain point of view. All opinions are her own.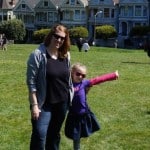 Our Superoo Reviewer: Amy Toland is an elite Superoo Reviewer and is a proud mama of two great kids, ages 6 and 4. Originally from Colorado, they have enjoyed living in the midwest in the past, and now call northern Nevada home. The family loves exploring and learning about new places!