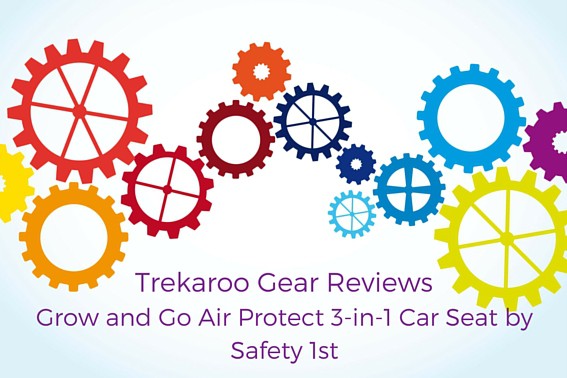 Car seats are a big deal these days. Remember the "good old days" when you were just rolling around in the back of the station wagon with the family dog while the groceries were in the front seat? Sure, those days were fine. But they're long gone. Car seats can make your kids cozy (and quiet) for a road trip, or they can lead to a bumpy road. The new Grow and Go Air Protect 3-in-1 car seat by Safety 1st is perfect for various ages and stages of life for littles looking for a more plush ride while in the backseat!
Review of the Grow and Go Air Protect by Safety 1st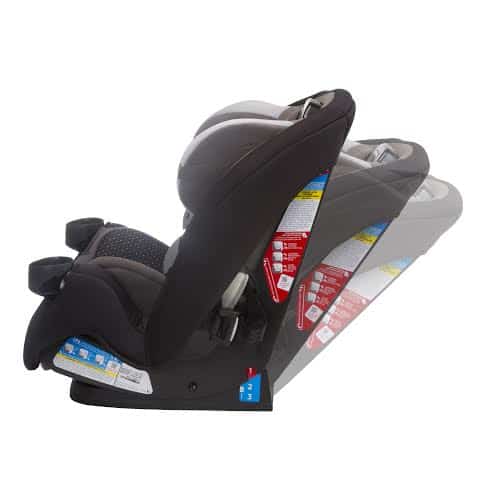 Photo Courtesy of Safety 1st
Features
– Versatile car seat with a long lifespan – intended from 5 to 100 pounds
– Rear facing from 5-40 pounds
– Front facing from 22-65 pounds
– Booster seat from 40-100 pounds
– Light weight – only weighs 18.7 pounds
– Two cup holders (they are attached, non-removable)
– No re-thread to switch the harness height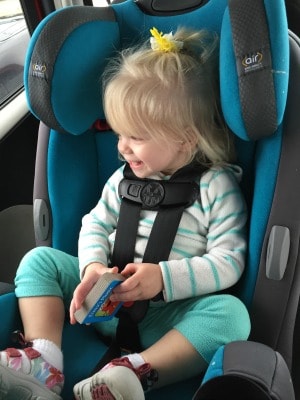 – Machine washable cover
– Relatively compact measuring: 24 inches high by 19 inches wide by 19.5 inches deep
Pros
– The harness has a place to go when the child is not in the seat and keeps the straps out-of-the-way when trying to put a child in the seat.
– Easy to install and transfer between vehicles
–  The model we tried was called "evening tide" colored seat and it was a gorgeous, unisex teal blue color.
– The harness holders are awesome to keep the straps out-of-the-way — this is genius! Maybe the best feature that is new-to-us.
– Fabric is durable and easy to clean and is also quite plush and comfortable. Like a hybrid feel somewhere between organic cotton and soft terry cloth.
Cons
– The straps were a little tough to tighten a couple of times, almost like they were stuck in place.
– I couldn't get a good fit with the strap covers on, although they were easy to remove and I got a great fit without those on the straps.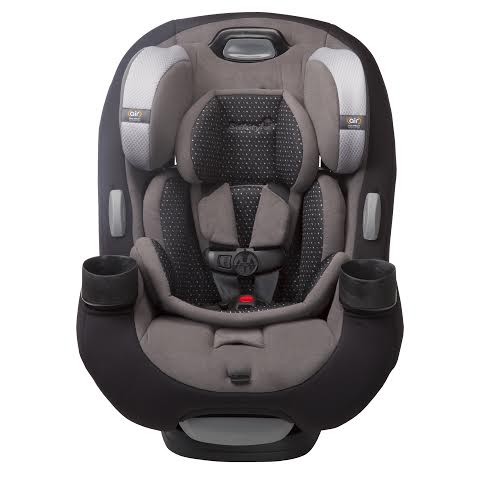 Photo Courtesy of Safety 1st
Conclusion
The Grow and Go Air Protect 3-in-1 by Safety 1st is a good fit for a family looking for a one seat solution. I was very impressed with the quality of the materials in manufacturing as well as how it holds up against a toddler. At right around $189.00, it's a mid-range price point for a car seat that follows a child through growth and varied positioning, but I felt it was a good value because of the quality of this seat. I found it really easy to use and our daughter always seemed comfortable in this seat. It is nice that the cover easily comes off and can be machine washed, between the pretzel crumbs, the milk that leaked out of the sippy cup, and the fruit snacks, ground in deep, our seat quickly becomes filthy! I was thrilled to be able to rehab the situation with ease. The versatility of this seat is outstanding. I feel very confident that our daughter is safe and secure each time we buckle her up.
Disclosure: I received a complimentary car seat to test drive for the purposes of sharing this review with the Trekaroo community. All opinions are my own. 
"Note: This article contains affiliate amazon links."