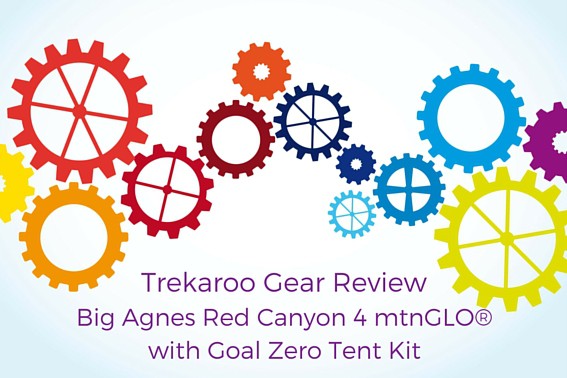 If you aren't an ultralight camper and you would like to be able to stand tall in your tent you MUST make the switch! The Big Agnes Red Canyon 4 mtnGLO® with Goal Zero has space in spades plus so much more. The tent has all the bells and whistles, utilizing solar technology and light integration to make your camping experience illuminating to say the least.
Review of Big Agnes Red Canyon 4 mtnGLO® with Goal Zero Tent Kit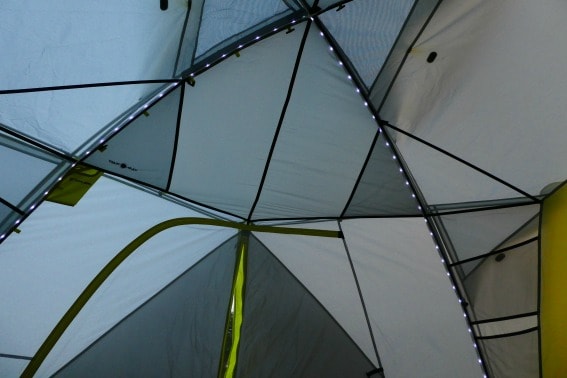 Photo by: Amanda Williams
If you love Big Agnes products, then you know that "Red Canyon" must have a backstory and was not simply pulled out of a hat from a list of trendy-sounding names from a backcountry Colorado topo map; most products with a place name will have a backstory that is interesting and unique. Red Canyon was actually the trailhead drop off point for reintroducing bighorn sheep that were once native to the area. The herd has been successful in establishing itself and has grown since the 2005 initial size of around 40 members! We love hearing conservation success stories AND the cool themes throughout Big Agnes products that provide for teeny learning opportunities! Totally an obscure thing, but one that we love!
Features
LED light strand is integrated into tent seams
Features patent-pending mtnGLO®® Tent Light Technology using durable LED lights
Light strand can also be powered by any USB source
Goal Zero Solar kit includes – 7 W solar panel, fan, lantern, Flip 20 battery
Fly and floor have 1500mm waterproof polyurethane coating
Tent body, fly, and floor are polyester and polyester mesh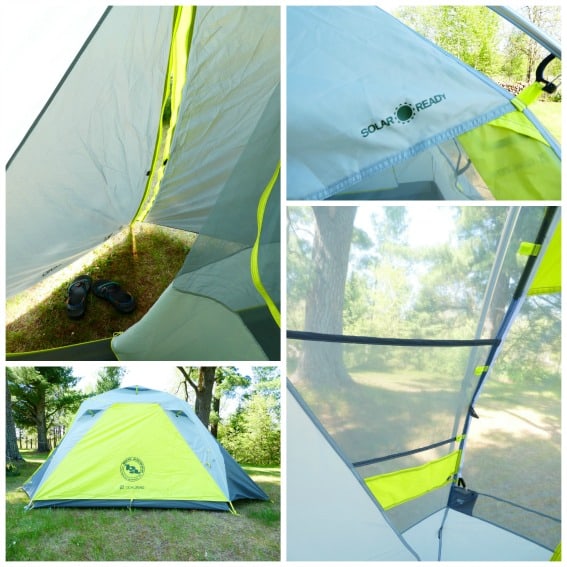 Photo Credit: Amanda Williams
Storm flaps on vestibule zipper
All seams taped with waterproof, solvent-free polyurethane tape (the seams are really quite impressive!)
Lightweight aluminum pole system, 13 aluminum stakes
Briefcase-style carrying bag with clear sleeve for solar panels and cords
12 Gear pockets
Compatible with Big Agnes Entertainment Center loft and PowerCase/Loft- sold separately
The whole thing is right around 13 lbs.
Pros
Reflective Guy lines – I still remember the sensation of being momentarily weightless as I flung through the air, having catapulted myself courtesy of an "invisible" tie-down line as a senior in high school on a camping trip. No more face-planting due to these tricky lines at night! Win!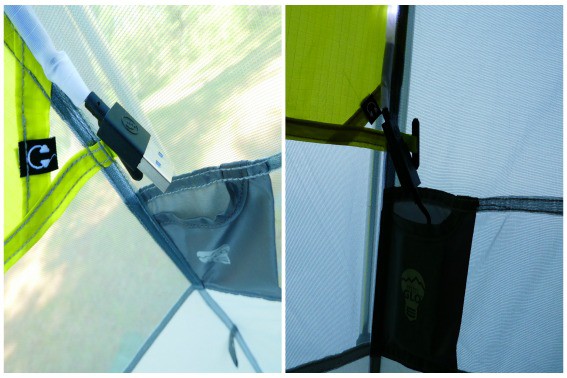 Photo Credit: Amanda Williams
Integrated LED lights – LED lights are built-in to the roof of the tent body to light up the night. This patent-pending mtnGLO® tent light technology is handy for timid kids and first time campers or just to hang out a little later than the sun will allow. We've had the tent up and down several times and the lights are still totally functional, so it seems like they are well-made for the constant packing and re-packing essential to making and breaking camp.
A feature that my low-tech mind is thankful for is the super-easy remote to control the lights. Three settings – full power, half power, and off toggle the brightness of the lights. Great for middle-of-the-night latrine trips when you don't need the lumen-power of NASA to unzip the tent and find your shoes.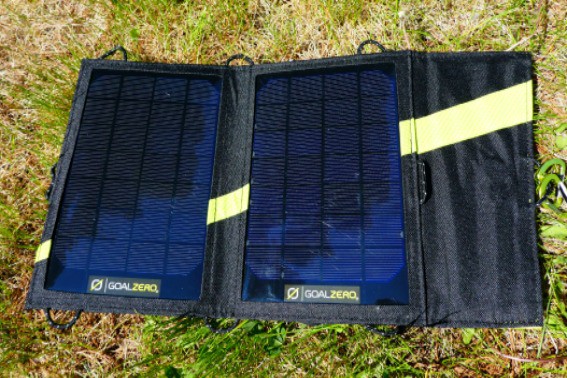 Photo Credit: Amanda Williams
Solar option – this is (with Goal Zero) the part of the tent. It's an awesome addition for those that still want some of the comforts of civilization while out in the sticks. You can charge your phone (or most items with USB/12V cables), run a fan, and a lantern from the quick kit adapters and cords that come with the Nomad 7 solar panels. You can also run the lights using the solar instead of using AAA batteries. The system is water resistant (includes a Nomad 7 Solar Panel, fan, lantern, and Flip 20 battery). There IS a small user manual with the solar panels and if you haven't worked with solar, it is a tad intimidating at first, so having that little paper manual takes the edge off! The panels are the size and weight of a small tablet and have a super well-designed containment system making care for them and carrying the panel easy and relatively stress free!
Two roomy vestibules and two doors is an "extra" that I mostly like – it means an extra place for the kids to let mosquitoes in through – BUT it also means one vestibule can be for shoes or storing anything you want close at hand but not IN the tent itself without clogging up you doorway in and out. I like having a dedicated entry.
The vents along the fly have a sturdy rod in them along with industrial quality Velcro to secure them when opened to the outer flap. Actual airflow can be had with this simple but much-appreciated detail.
Twelve mesh pockets including media pockets in the tent interior. I seriously LOVE this and wish all tents had this type of stowing system. It's so nice to organize eyeglasses, a book, a phone, and even a couple toy cars when the play time is over so you aren't playing the role of the princess wondering about the proverbial pea under your sleeping pad as you toss and turn on a small plastic toy in the night!
A family favorite feature: no more humble kneeling all day and evening – with 68" of head room you can stretch your aching' back or do the hokey-pokey. This is our first time having the luxury of standing room and we LOVE it. There's no going back!
Cons
Though this is also a pro – I like having a manual in-hand for anything new and we didn't have one for our initial set-up included– but I appreciate the effort to be a greener and eco-friendly company. Plus, the set-up is color-coded and once you dig in, it is rather easy. We were also able to find the manual online easily and most folks can render a cell signal for their smartphone and ask Siri how to assemble the tent almost anywhere these days! However, if you didn't do a "dry run" in the backyard inspecting your gear (which we highly recommend each season), you run the risk of being in the campsite wondering how exactly each part should look. While you probably won't be without shelter even if you do it slightly wrong, it's nice to have that security blanket of how-to in written form for some.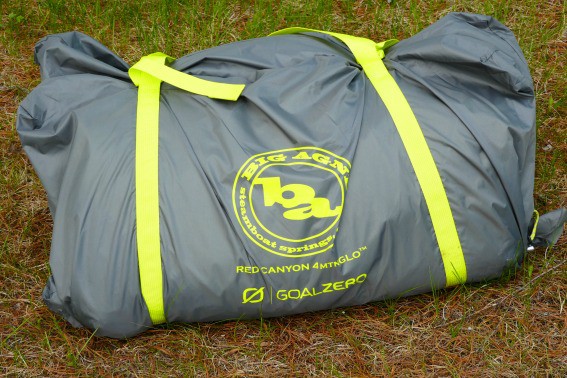 Photo Credit: Amanda Williams
There is some weight to the tent but it's what I would consider a pretty posh set-up too. Totally worth the weight for our family but might be considered a con for those that like to go light.
Cost is prohibitive for some with this one. The added luxury and function of the solar panel elevates costs a bit and this is a higher end tent with good quality. It's a fair price for what you get and should last several seasons with good care, but that initial investment is a consideration; the tent retails for around $699.95.
Bottom Line
Coming from a wildfire background, I've hand my hands on several dozen tents through the years. Some were fantastic while others pinched my fingers or completely disintegrated in high winds and with weather. I love the feel of the fabric that Big Agnes uses for this tent in particular (it's not the fly-weight smooth nylon of the 90s). The material is solid, the lights are fun. Not just fun but really quite functional – I'm famous for blinding the family with my headlamp as I try to make conversation, while they're slowly going blind with my annoying torchlight in their eyes. Now, the ambiance of gentle light from above (and not blazing into your face) combined with crickets, cicadas, frogs, and random creature noises make for the ultimate in family camping Zen-making.
The kids can focus on learning about their surroundings, be it the 10,000 stars they can see or the sounds of nature instead of fearing everything and being intimidated by darkness. Though I see the functionality of the mtnGLO® for adults, the reason we were interested in exploring with the integrated LED lights was because of the ubiquitous fear among young campers of pitch black nights. We still bring the glow sticks and headlamps for other around camp uses, but we no longer rely upon them. No more roughing it for us – we now have lights and fans and if we were so inclined could have our tech too! Truly fantastic, practical innovation for the camping scene, the Big Agnes Red Canyon mtnGLO® with Goal Zero is a superb choice for families looking for not only a spacious stay but an illuminating one as well!
Disclosure: I received a complimentary tent to share our experience with Trekaroo. We're big fans of Big Agnes, but as always, all opinions are our own.
"Note: This article contains affiliate amazon links."