Every once in a while a hotel truly impresses my family. Considering the number of nights we spend on the road every year reviewing properties in hopes of discovering the best in family travel, our hearts are not easily captured.  Time and again, one brand reigns supreme in the world of luxury family travel, Four Seasons.  As a matter of fact, our recent stay at the Four Seasons Resort Scottsdale at Troon North may have been our best yet. Many of you may have stayed at a Four Seasons property for a romantic getaway but until you have stayed at one of their resorts with the entire family, you have yet to experience what this brand really has to offer.
A Classic Four Seasons Experience
The Four Seasons Scottsdale Resort is nowhere near downtown Scottsdale and I couldn't be happier. Not that I don't love downtown Scottsdale, I do, but I love when a hotel offers a sense of place while reflecting the culture and style of the surrounding region. The property features adobe-style architecture, immaculate desert landscaping, and is nestled into a Saguaro cactus and boulder covered hillside in Scottsdale's northern reaches. Our one bedroom suite was filled with classic Four Seasons sophistication and touches of Southwestern elegance. While my children swooned at sponge letters spelling out their names atop the sunken tub, my jaw was dropping at the sight of our private outdoor shower.  I couldn't decide which fireplace I wanted to use first, the one in our cozy living room or the one sitting out on our private patio next to the hot tub. And I could hardly contain my squeals when I saw the tiny robes hanging in the walk-in closet for my kids or the telescope with a map of the Arizona night sky tucked into the corner of the living room.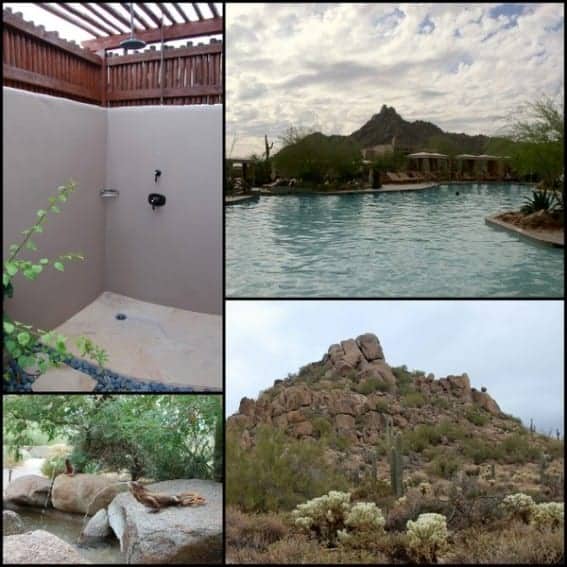 One thing I love about Four Seasons properties is that their children's program, Kids for All Seasons, is complimentary to all guests. My kids loved the club so much that we had to drag two resistant children out of there on more than one occasion.  What kid wouldn't love ping pong, foosball, video games, a theatre room with reclining seats and a popcorn machine, crafts, and a Barbie Dream House?  My husband and I couldn't leave the club ourselves without sneaking in a game of ping pong or two!
Coloring with the counselors at Kids for All Seasons
Read my full review of the Four Seasons Resort Scottsdale at Troon North.
A Dining Experience for All Ages
Most restaurants will throw a box of 3 crayons and a paper menu with nothing but chicken fingers, hot dogs, cheese pizza, and macaroni and cheese at kids (because evidently that is all kids eat) and be done with it.  The restaurants at the Four Seasons Scottsdale are not most restaurants. Children dining at Talavera, the resort's upscale but casual steakhouse, are in for a first class experience from the moment they are presented menus shaped like cows or pigs with different cuts of meat highlighted in mosaic along with a paper chef's hat and crayons to create their own culinary fashion masterpiece.  While mom and dad are in heaven indulging in melt-in-your-mouth bites of Wagyu flat iron and sinful gruyere mashed potatoes, the children can enjoy their own appropriately portioned filet of beef.  After dinner, my kids put on their newly decorated hats and headed back into the kitchen to meet the chef and help put the finishing touches on their dessert. If that isn't a VIP experience, I don't know what is!
Families looking for a casual dining experience should head to Crescent Moon. The restaurant features Modern Mexican cuisine and while the usual "safe" foods such as pizza are on the children's menu, the focus is on dishes that compliment the adult menu such as carne asada tacos with rice and beans, as well healthy options like grilled salmon with rice and veggies (which my daughter left no trace of on her plate).
Nearby Fun for Families
Most resort guests will probably only enjoy stunning Pinnacle Peak from one of the three pools (including a large but shallow wading pool for little ones, but I highly encourage families to go for a hike or rock climb in the 150-acre park that surrounds this 3,171 foot peak. Views are impressive as the 1.75 mile trail climbs to a maximum elevation of 2,889 feet and include panoramas of the Four Seasons Resort, Troon North Golf Club, and surrounding mountains.  Wildlife is abundant and my kids delighted in spotting lizards sunning themselves on rocks and a cottontail sneaking out for a midday snack.  Best of all, after the hike, we were able to head back to the resort and soak up the satisfaction of relaxing poolside with the peak we had just climbed looming in the background.
One activity that no equine-loving child should miss is a horseback ride on one of the desert trails at McDonald's Ranch. Unlike most ranches which have a minimum age of 7 or 8, McDonald's flat trails and gentle horses allow children as young as 5 to go out for a ride. My daughter fell in love with Sheik, her handsome white horse with a sweet disposition, and enjoyed being led by Cowboy Mikey, the "silly" cowboy who kept us all entertained the entire ride. In between laughs, Mikey pointed out a red-tailed hawk perched on top of a tree, bones left behind from the ranch's cattle days, and a Saguaro cactus shaped like Vanna White (the similarities were uncanny!).
After your ride, take time to visit the animals in the petting zoo, go for a run in the hay bale maze, and have our turn at some of the ranch games. My son was drawn to the lassos, and after seeing our unsuccessful attempts at trying to rope a mounted steer, a friendly ranch hand was happy to spend several minutes teaching him the tricks of the trade. Eventually, my boy not only roped the steer, but Daddy as well!
Read my full review of McDonald's Ranch.
Disclosure: My family received a complimentary stay and meals at the Four Seasons Resort Scottsdale at Troon North as well as complimentary trail rides at McDonald's Ranch in order to write unbiased reviews for Trekaroo. Neither business asked that I express anything other than my honest opinion.
---
Travel with kids to: CA |CO | DC | FL | HI | IL |MA | NC | NY | OR | PA | TN | TX | UT | VA | WA